RSVP: Reinventing Spaces into Vibrant Places
Home
> Articles > Press Releases > 2019 > RSVP: Reinventing Spaces into Vibrant Places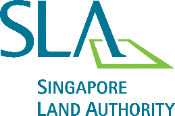 PRESS RELEASE
RSVP: Reinventing Spaces into Vibrant Places
A call for innovative projects to transform
State properties and land into vibrant places for the community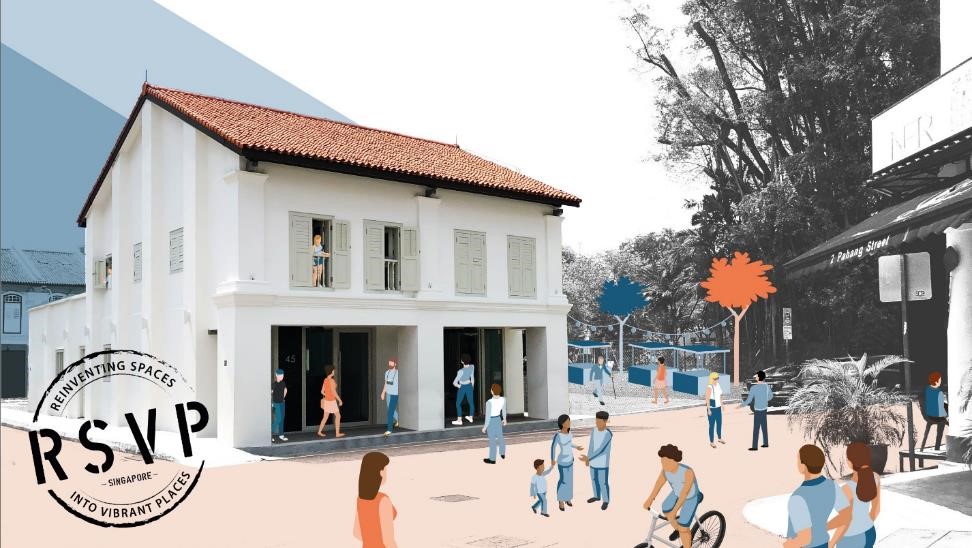 1.
The Singapore Land Authority (SLA) and the Urban Redevelopment Authority (URA) are jointly calling for innovative proposals to transform State properties and land into places that will inject vibrancy and enhance the character of precincts under a new programme called Reinventing Spaces into Vibrant Places (RSVP).
2.
RSVP aims to activate available State-owned spaces in key selected precincts, and turn them into attractive places that will add to their charm and benefit the local community. Besides putting these spaces to interim uses, RSVP can help to encourage community interactions and create shared memories.
3.
The programme also serves as a platform for business owners, architects and designers to team up to test creative business concepts. The overall concept and proposed uses of the site should complement other offerings in the precinct to enhance the visitor experience and add to the vibrancy of the area through suitable programming.
4.
Six State properties and parcels of State land have been identified under the first phase of the RSVP programme in existing areas with unique character and identity (See
Annex A
). SLA and URA will continue to identify potential sites island-wide for concept tender under RSVP, and these can range from shophouse units and standalone buildings to utility infrastructure and public spaces.
5.
"As the custodian of State land and properties, SLA strives to optimise available sites in creative ways to benefit the community. Many State properties such as the Old Kallang Airport and Bukit Timah Fire Station along the Rail Corridor are iconic and have a long and rich history. We see opportunities for these sites to be creatively adapted for different uses that can complement and meet the needs of the community," said Yap Eai-Sy, Director of Business Planning and Development, SLA.
6.
"We hope that the RSVP programme will help inject more vitality and delight into our precincts, turning vacant spaces into places that encourage people to venture, connect and interact," said Chou Mei, Group Director of Conservation & Urban Design, URA. "A city is more than a sum of its buildings and infrastructure, it is a place where people live, work and hang out with friends and family. We hope the programme will help to create endearing and loveable places that everyone will enjoy."
Concept (Price-Quality) Tender for 45 Sultan Gate
7.
The first State properties to be launched for tender are two conserved shophouses at 45 Sultan Gate, which were recently restored by SLA. The Sultan Gate area is envisaged to be a focal point of activity and community node in the heart of the Kampong Glam Historic District – a vibrant melting pot of heritage and culture. The establishment of a new point of interest that complements the varied mix of uses and programming, both at the existing Malay Heritage Centre and the larger Kampong Glam precinct, will encourage more people to visit the area and activate the key junction at Baghdad Street and Kandahar Street (See
Annex B
).
8.
Tenderers will be assessed on how best their proposals can reinforce and complement the unique charm and character of the area, and enhance visitor experience through suitable and innovative programming and place-making efforts. The concept tender will allow for a more holistic assessment of bids with 50 per cent of the overall score for the bid price and 50 per cent for the quality of the concept.
Annex B
45 SULTAN GATE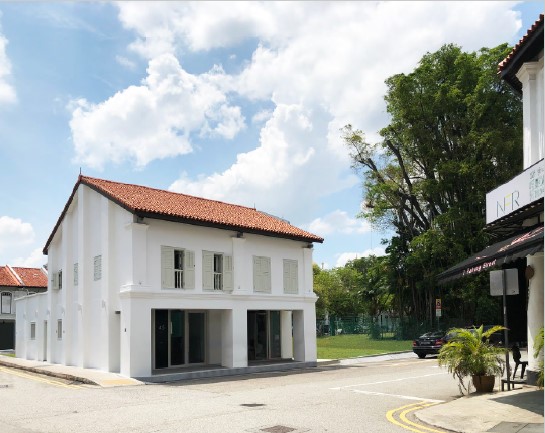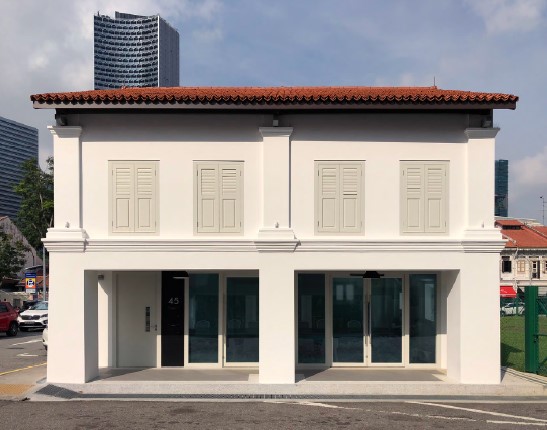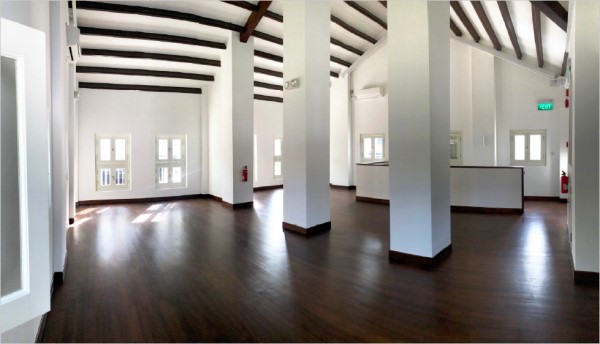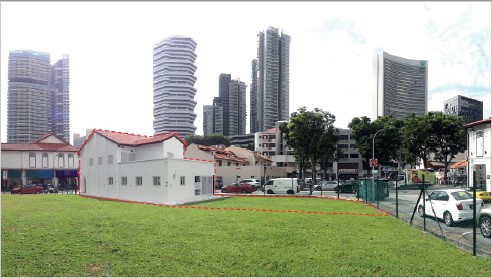 Location Map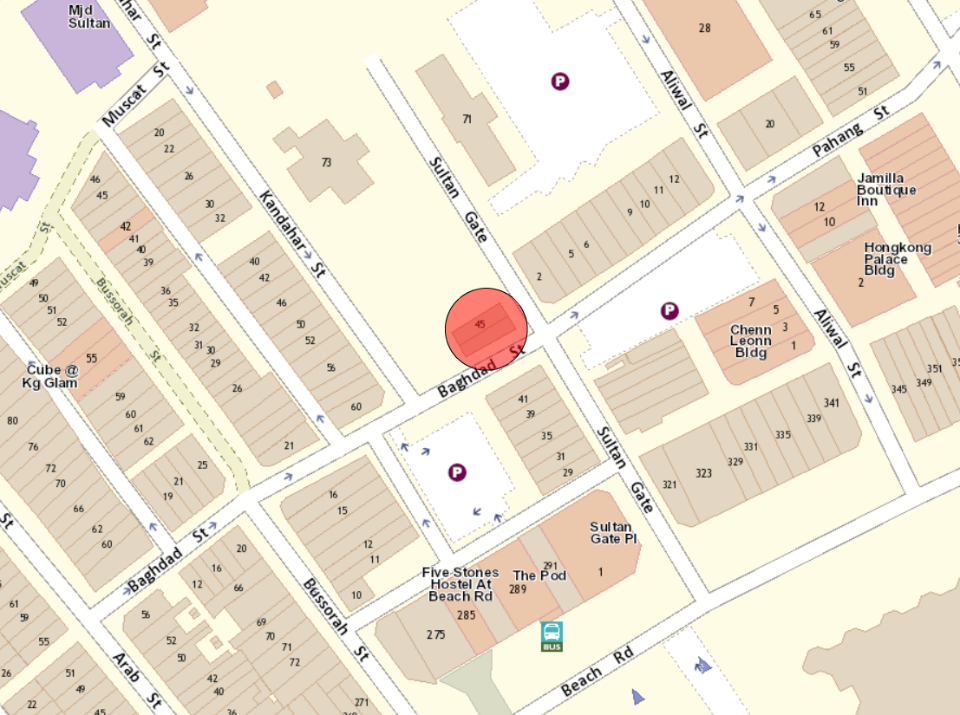 Site area: 312.8 sq m
GFA: 318.6 sq m
Tenure: 3+3+3 years
Restoration by SLA

Background
The Kampong Glam Historic District, bounded by Beach Road, Jalan Sultan, Victoria Street, and Ophir Road, comprises more than 600 two to three-storey conserved shophouses and a handful of prominent landmarks of historical and architectural significance such as Sultan Mosque and Malay Heritage Centre (former Istana Kampong Glam). The area was designated a conservation area on 7 July 1989.
Kampong Glam has its roots as the seat of Malay royalty, and this is symbolised by the stately looking Istana Kampong Glam. Surrounded by open grounds, and sited at the heart of the district, the Istana used to face the sea before land was reclaimed off Beach Road. Sultan Gate historically linked the former Istana to the original coastline, and continues to provide the key vista to the Istana today.
Kampong Glam has traditionally been an area for residential use and commercial and cultural activities. In the past, there were highly specialised trades such as textile shops and metal craftswork. Cultural performances such as Wayang Kulit and Wayang Bangsawan formed the entertainment for the immigrants. Over the years, new retail shops, cafes and art uses have sprung up in the area. Coupled with the weekend road closures and regular programming by stakeholders, new life and vibrancy has been injected into the precinct. Today, it is a unique destination offering a mix of traditional and new trades, anchored by key institutions such as Sultan Mosque, Alsagoff Arab School and Aliwal Arts Centre.
The open grounds around Sultan Gate include two other State-owned buildings (71 and 73 Sultan Gate). 71 Sultan Gate is currently used as an artist village and exhibition centre while 73 Sultan Gate is a restaurant. The green open space (Sultan Gate Park) between the site and 73 Sultan Gate has been enhanced with benches and swings for the community as an informal gathering space. There is also active interest from various stakeholders to use it as a key event space and community node of Kampong Glam.