Home
> Articles > Press Releases > 2019 > Building Geospatial Competencies for Singapore's Future
Building Geospatial Competencies for Singapore's Future
Singapore Land Authority Partners Foursquare to Enhance OneMap;
OneMap Set to Upgrade from Open-Source 2D Platform to 3D
Minister in the Prime Minister's Office and Second Minister for Finance and Education Ms Indranee Rajah today launched Singapore Geospatial Week, a five-day series of events that celebrate and promote the importance and growth of geospatial technology, applications and data in Singapore.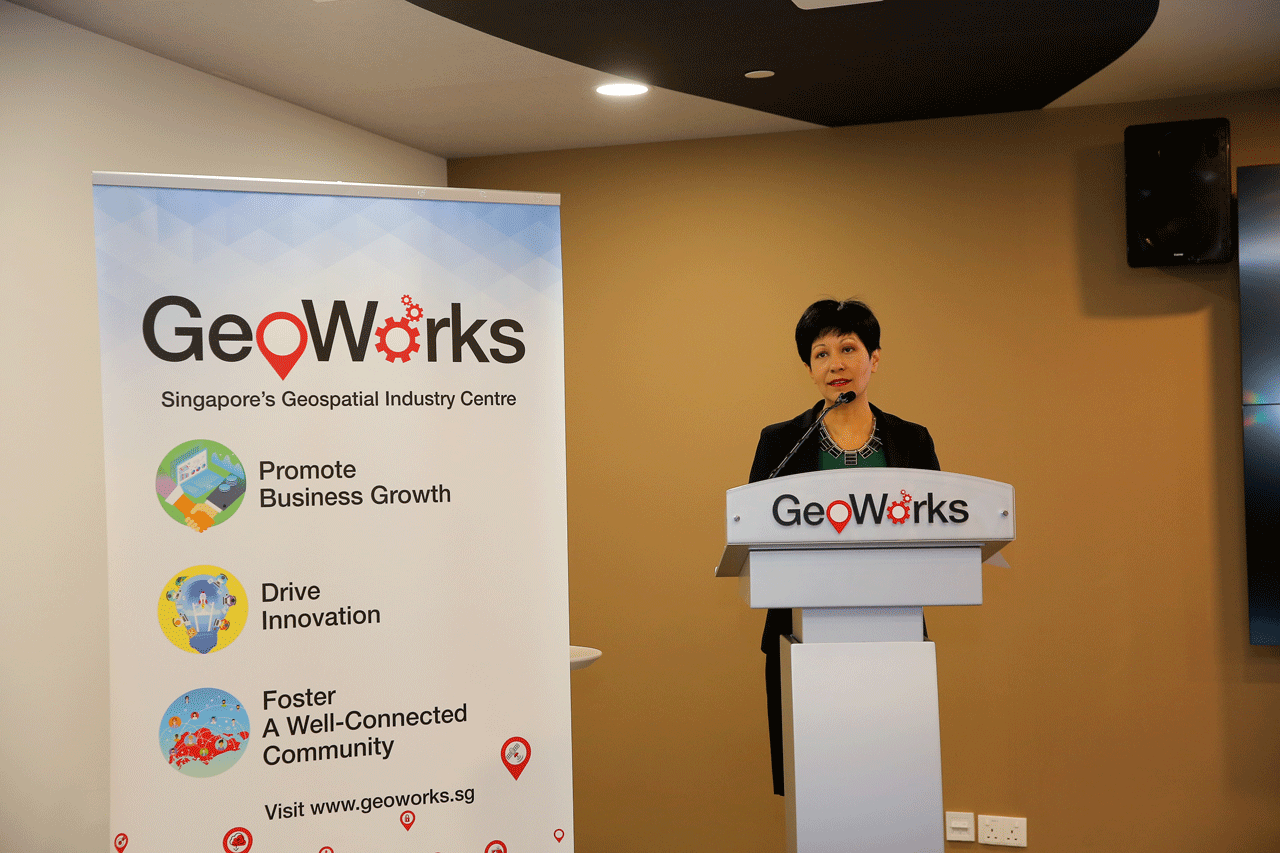 Minister Indranee delivering the opening address at the launch of Singapore Geospatial Week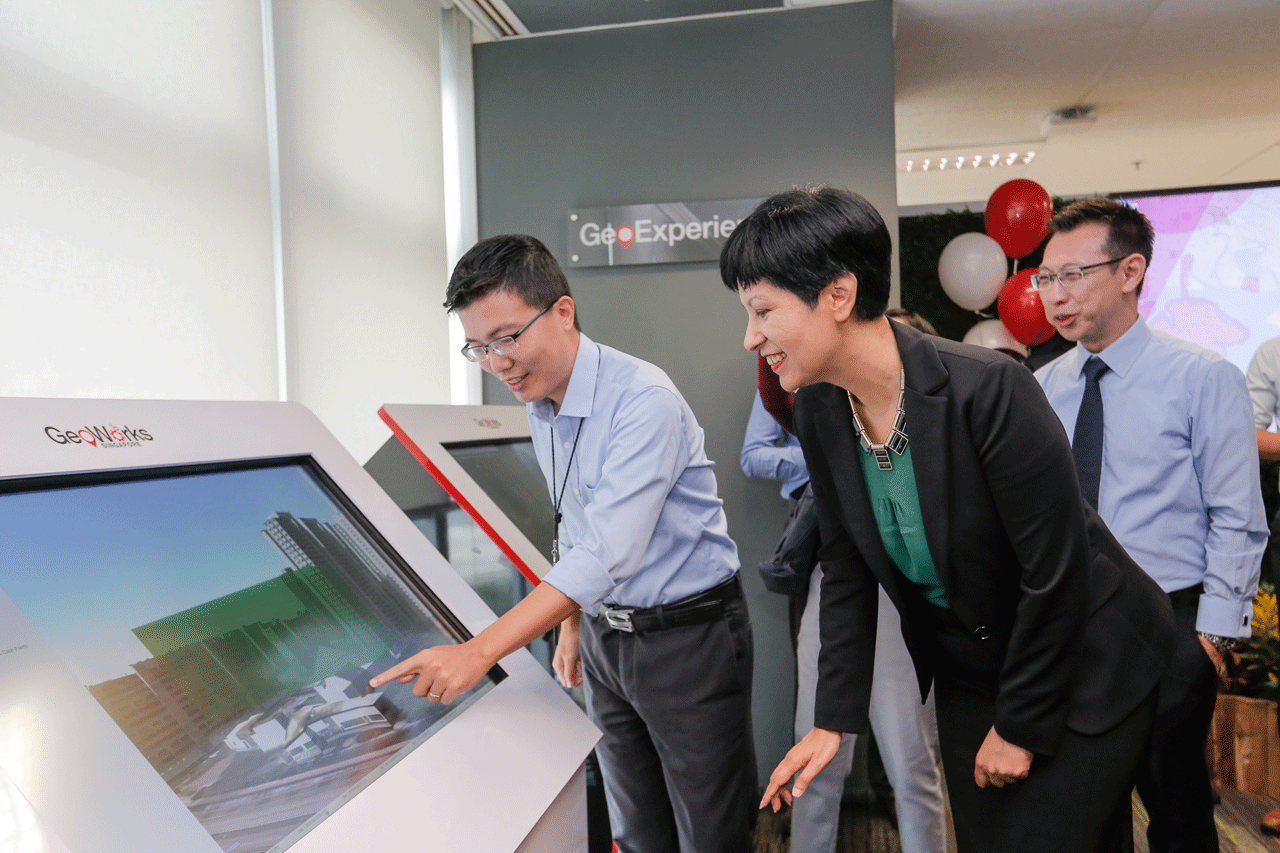 Minister Indranee previewing OneMap 3D
2. Singapore Geospatial Week is presented by GeoWorks, Singapore's sole geospatial industry centre managed and operated by the Singapore Land Authority (SLA), on its
first anniversary. During the week, 10 leading companies will be organising geospatial-centric events, reaching out to over 1,000 geospatial professionals and enthusiasts from Singapore and the region. This is the first time in Asia that geospatial technology and information will be the main focus for an entire week. The series of events aim to enhance the adoption of geospatial technology, to open up opportunities for business to grow and citizens to benefit in a Smart Nation. (See Annex A for Event Highlights)

3. SLA Chief Executive Mr Tan Boon Khai, said "Driven by the pace of technological advancements, connectivity and the demand for instantaneous information, geospatial data is rapidly gaining recognition as a key enabler for smart cities' development in ASEAN and around the world. There is a need for us to stay ahead and be future-ready by accelerating awareness and development of geospatial technologies. Singapore Geospatial Week aims to broaden that reach, with GeoWorks becoming the nexus of activity that can help grow the geospatial industry and build a more vibrant community in Singapore."
4. Since its launch in July 2018, GeoWorks has hosted over 280 events. In addition, GeoWorks currently hosts 27 geospatial scale-ups (GeoTechs), with the additional support of 21 geospatial organisations (GeoPartners) that provide expertise, network access and business opportunities to the geospatial industry.
5. "Being part of the GeoWorks geospatial community has opened up opportunities for the team at MOGUL.sg. GeoWorks and SLA have allowed us to accelerate the product development of our MOGUL.sg service and given us many opportunities to generate leads and grow our business," said Gerald Sim, co-founder of GeoTech MOGUL.sg, a geospatial-centric PropTech company.
6. GeoTech food safety start-up WhatsHalal's co-founder Azman Ivan Tan added, "We are pleased to be part of the GeoWorks community. It has allowed us to focus on our service development and rollout, and given us opportunities to grow our business. Since joining GeoWorks, our operations have since expanded from Singapore into Indonesia and Australia."
7. Moving forward, GeoWorks will continue to act as a conduit for geospatial companies looking to expand their reach across private and public sectors. It will also work closely with other agencies to provide geospatial technical expertise to support their own local and regional projects.
SLA Partners Foursquare for OneMap Integration
8. During the GeoWorks anniversary celebration, SLA announced its partnership with Foursquare, a technology company that uses location intelligence to drive informed business decisions. Through this partnership, OneMap users will now be able to find food & beverage stores, supermarkets, cafes and other lifestyle locations in addition to OneMap's existing information of key locations such as government buildings, properties, schools, childcare centres and services including ATMs. This partnership will bring about a richer set of location information to better service Singapore businesses and citizens. (See Annex B for OneMap and Foursquare Integration Reference)
9. "We're thrilled that SLA has chosen our leading global Points of Interest (POI) dataset to augment its OneMap product in Singapore. We pride ourselves on being the leading partner for innovative companies around the world that want to do more with location, particularly those looking for an independent and trusted partner. By adding our POI data and search features to the OneMap product, we're bringing a new and exciting way for users to explore Singapore and creating awareness around the growth and importance of location services in Singapore and across the region. We are proud to be a part of the GeoWorks programme and look forward to expanding location awareness and partnerships through their network," said Mr Tyler Simmons, Managing Director for Foursquare Asia-Pacific.
Upgrading OneMap from 2D to 3D
10. SLA is upgrading OneMap from the current open-source platform to 3D, to develop what may soon be Asia's first, open-source 3D nationwide map. OneMap 3D will enable users to orientate themselves in a 3D representation of the real world, empowering them to navigate around identifiable landmarks, walkways and even void deck spaces. (See Annex C for OneMap 3D Reference)
12. OneMap 3D will first be launched to developers by the end of 2020. This first phase will be centered around selected town centres and key city sectors, with future expansion set to be rolled out in phases. OneMap 3D will subsequently be accessible to the public on PC browsers and mobile devices.
13. OneMap 3D will be continuously enhanced to reflect future technological needs and developer requirements. SLA will also be engaging the OneMap community and GeoWorks GeoTech developers on the tools and features required to support their solutions and case uses.
14. The real estate sector is identified as the first potential user of the 3D platform and SLA is working with GeoWorks GeoTech MOGUL.Sg on the implementation of OneMap 3D into their real-estate portal. Developers can visit www.geoworks.sg to register their interest in OneMap 3D.
Annex A – Singapore Geospatial Week Event Highlights
The Singapore Geospatial Week is presented by GeoWorks, a geospatial industry centre operated and managed by SLA. During the week, there will be a series of co-located geospatial and mapping workshops, sharing sessions and activities for industry specialists, developers, enthusiasts or anyone seeking to learn about the possibilities of location-based information and technology.
Below are the event highlights. Please check the GeoWorks website (www.geoworks.sg) for the latest programme line-up.
#GeoWeek events
3-6 September 2019




ESRI Singapore User Conference

Date: 3 September 2019

Time: 10:00 AM – 5:00 PM

Venue: MAX Atria @Singapore EXPO, 1 Expo Drive, #02-01, Singapore 486150

The ESRI Singapore User Conference is Singapore's largest geospatial event highlighting how GIS technology drives achievements across a wide range of industries - locally and regionally. With the theme Inspiring Outcomes, ESUC 2019 explores how GIS technology is changing the way organisations operate and serve their communities today and for generations to come.


This one-day event features forward-thinking GIS users sharing their innovative solutions to real-world problems and gives you a front-row seat to the future of Smart with sessions on Living City Concept, Big Data and Analytics and Artificial Intelligence.




Teh-Tarik and English Tea Talk

Date: 3 September 2019

Time: 5:00 PM – 7:30 PM

Venue: GeoWorks, PSA Building, Level 7

In partnership with UK-based Ordnance Survey and its incubation facility Geovation, GeoWorks will be hosting a Singapore-UK forum for geospatial companies looking to explore entering the Singapore market. Likewise, the forum is also geared towards helping Singapore geospatial companies expand into UK and Europe. The event is supported by the UK Department for International Trade.


Grab Mapathon



Date: 4 September 2019

Time: 2:00 PM – 5:00 PM

Venue: 9 Straits View, Marina One West Tower, #23-07/12, Singapore 018937

Presented by Grab as a CSR initiative, Grab Mapathon participants will map ramps and sidewalks infrastructure in Singapore for improving accessibility for physically-challenged persons.


The Mapathon will provide an introduction to Grab, the basics of mapping with OpenStreetMap and a hands-on mapping session to map accessible routes for wheelchair-friendly ramps, steps and inclines on OpenStreetMap. The contributions will be considered for improvements to the existing data on OpenStreetMap.

Location World 2019

Date: 5-6 September 2019

Time: 9:00 AM – 6:00 PM

Venue: Amara Singapore, 165 Tanjong Pagar Road, Singapore 088539

Location World is a platform to promote and share best practices of location technology. It brings together different industry genres under one roof to channel knowledge, showcase the latest technologies and promote dialogue on the challenges, opportunities and the future of location industry.

With the theme

'The Future of Digital: Automated| Seamless| Real-Time'

, Location World 2019 will focus on the value of location technology in digital economy and its integration with emerging technologies such as AI, IoT, 5G, cloud, etc. The conference will focus on two major segments: Smart Cities and Business Enterprises (BFSI, advertising, logistics & supply chain, retail, and others).

Mok Ly Yng: Curious Tales from Singapore Maps

(Geospatial Talk)

Date: 5 September 2019

Time: TBC

Venue: TBC

Well-known speaker Mok Ly Yng will be giving a talk on Curious Tales from Singapore Maps based on his findings about Singapore historical maps over the last 20 years.


Create your own maps by MaptimeSG (Workshop)

Date: 6 September 2019

Time: 2:00 PM - 3.30 PM

Venue: GeoWorks, PSA Building, Level 7

Nowadays, everyone has access to geospatial information and participate in creating a map. This process helps us interact with our surrounding environment more in-depth, and understand the space we live in. For example, you can learn about the trees you see at a park; their name and characteristics through GPS and interactive map; you can also report problems you see on roads (e.g. a cracked road, faded lane markings) and share with the public. With many available digital tools and applications, more and more people have become familiar with geospatial interactions and enjoy the usefulness of it. How can we further extend this concept?


In this workshop, the community-led MaptimeSG is conducting a two-hour session to teach participants some of the basic skills to work with geospatial data as well as ongoing examples of how this concept can be applied to a real project in order to solve issues. Participants will also get the chance to gain hands-on exercises to make their own map, tell the stories in the neighbourhood to inform and inspire others.


About Maptime:

Maptime is an open learning environment for all levels and degrees of knowledge, offering educational support for the beginner. Maptime is simultaneously flexible and structured, creating space for mapping tutorials, workshops, ongoing projects with a shared goal, and independent/collaborative work time.
Annex B – OneMap + Foursquare Integration Screenshots

Annex C – OneMap 3D
OneMap 2D Image of the area around Ang Mo Kio Hub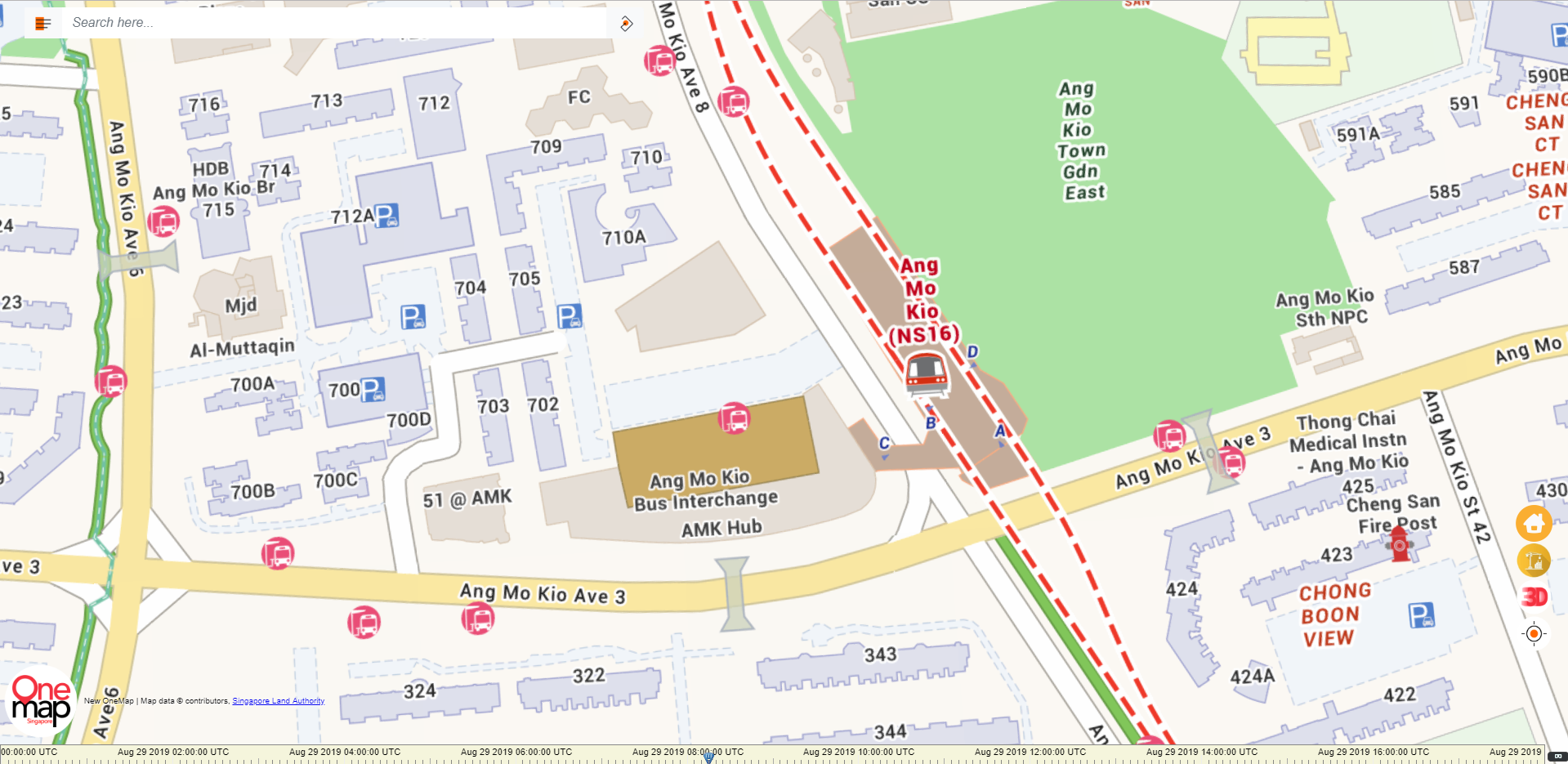 OneMap 3D Transition of the same area (Preview)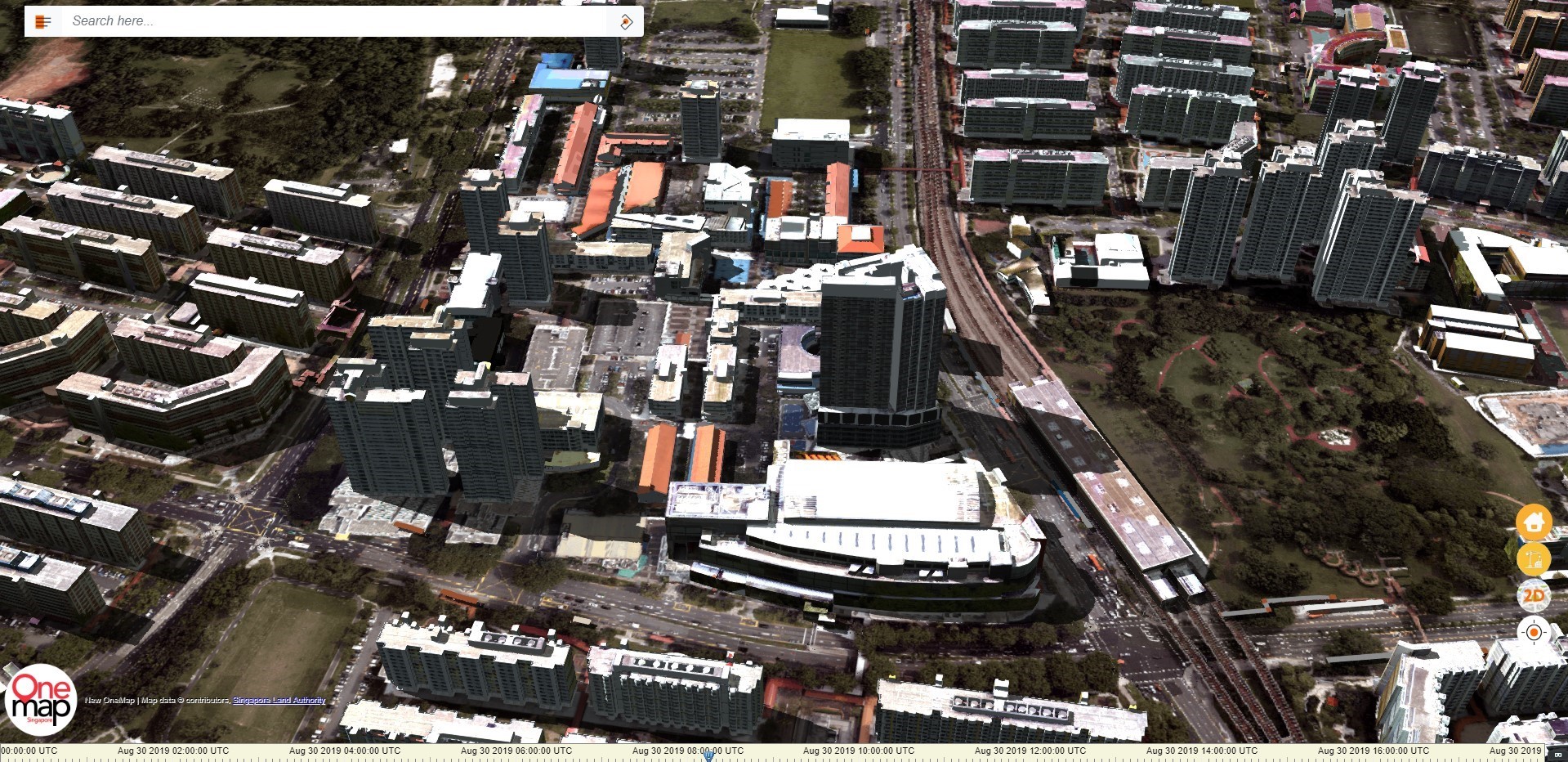 OneMap 3D First-Person View of Area, Including Walkways at Same Location (Preview)