Home
> Settings > Archives >
June 2022
> Geo Connect Asia Highlights: Opening Ceremony, MOU Signing, Opening Panel Discussion
Geo Connect Asia Highlights: Opening Ceremony, MOU Signing, Opening Panel Discussion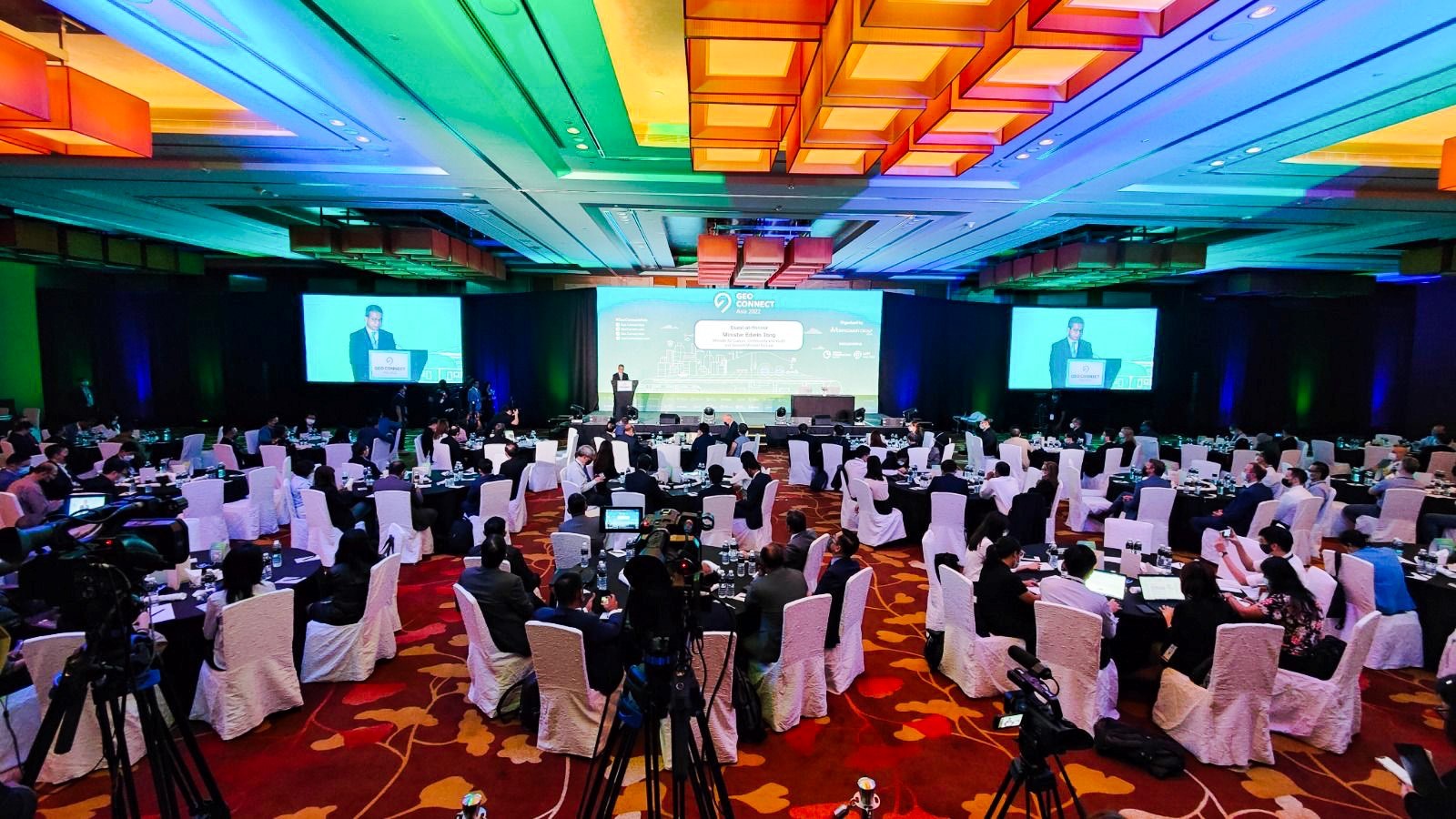 Geo Connect Asia 2022 was a major geospatial event; it spanned over two days (1-2 June 2022) and consisted of a series of conferences, tech talks, expert stages, exhibition booths and more. GCA22 was organised by Montgomery Asia, with Singapore Land Authority and GeoWorks as strategic partners. This year's theme was 'Imagination meets reality: placing geospatial solutions at the heart of decision-making', exemplifying how the geospatial, digital construction and drone industries are intertwined, with an added twist on how the metaverse could accelerate innovation. The event featured some of the world's biggest players in geospatial technology and location intelligence solutions, drawing in almost 2000 attendees from the ASEAN region and beyond.
Industry Address by SLA's Chief Executive Colin Low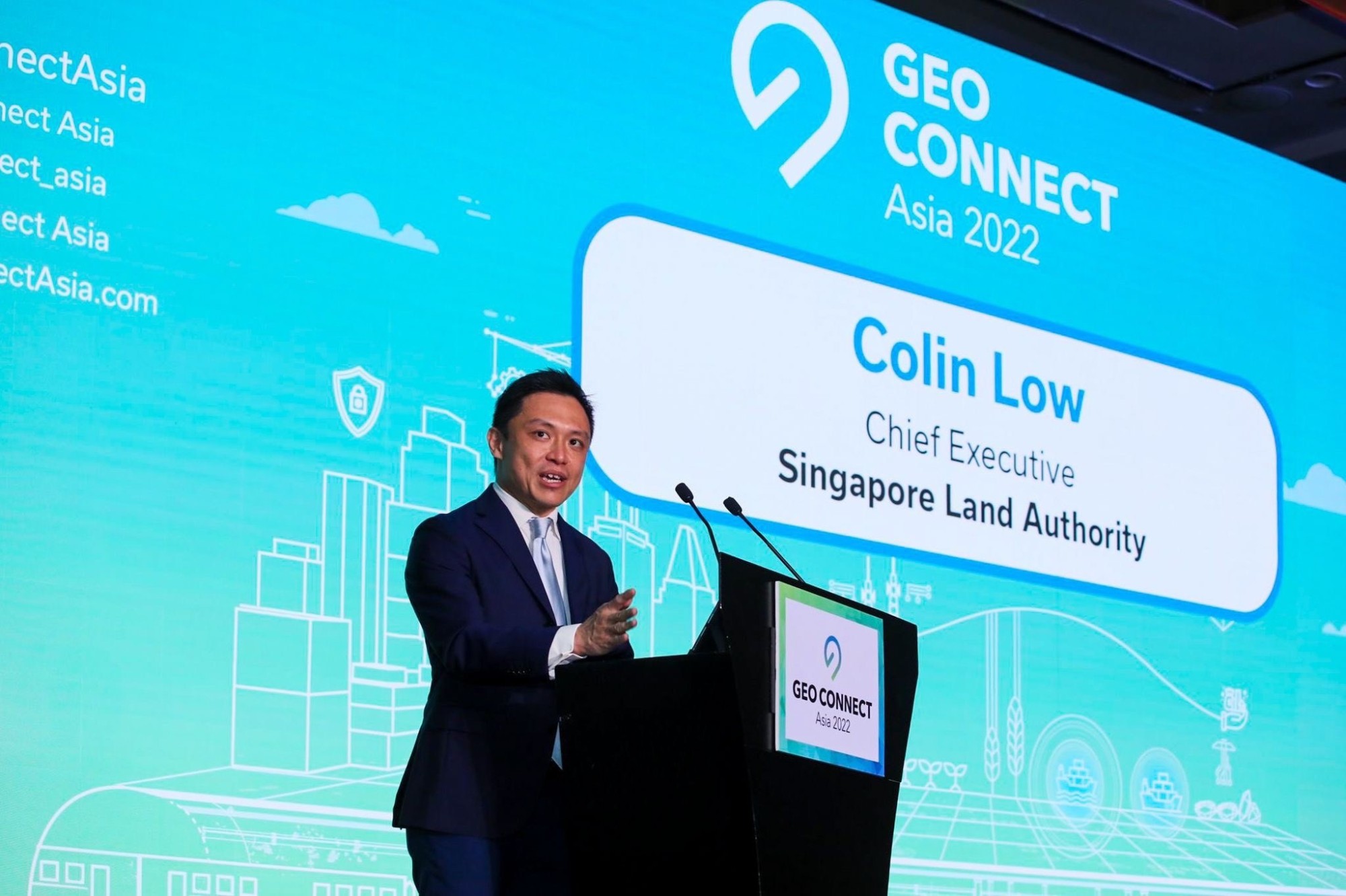 Making Geospatial Mainstream
"Geospatial will underpin Singapore's ambition to be a Smart Nation. Being both an island city state and a country, Singapore could serve as a "Living Lab" where ideas can be test-bedded and solutions adapted for other countries. SLA's GeoWorks is the go-to sandbox for such experimentations and collaborations, serving as an industry centre and as a launchpad to the region," said Chief Executive of SLA, Colin Low.
Expanding the Benefits of Geospatial into Real Estate
"As the geospatial agency of Singapore, SLA remains committed in expanding the use of geospatial through collaborations with the industry. In the past few months, SLA has signed MOUs with the top 5 real estate agencies in Singapore that represent more than 80% of market share. SLA is working with these real estate agencies to collect hyperlocal data through a geospatial application that harnesses GeoAI."
"Today, we are signing an MOU with the Real Estate Developers' Association of Singapore (REDAS) to explore and collaborate on geospatial solutions in the real estate and related industries. Looking ahead, we can potentially work with developers to place 3D models of their newly launched projects on OneMap to showcase a more dynamic representation of properties, with window-views and shadow casting."
Metaverse is the Next Big Opportunity in Geospatial
"For me, the metaverse is a series of connected virtual environments, created by the convergence of virtually enhanced physical and digital worlds. Many businesses and enterprises are now exploring metaverse-based fundamentals such as digital twins to synchronize these realities. The metaverse may transform the way we socialize, work and play, and I am confident that the geospatial industry is ready to seize new opportunities in the metaverse ecosystem."
Opening Address by Guest of Honour Minister Edwin Tong SC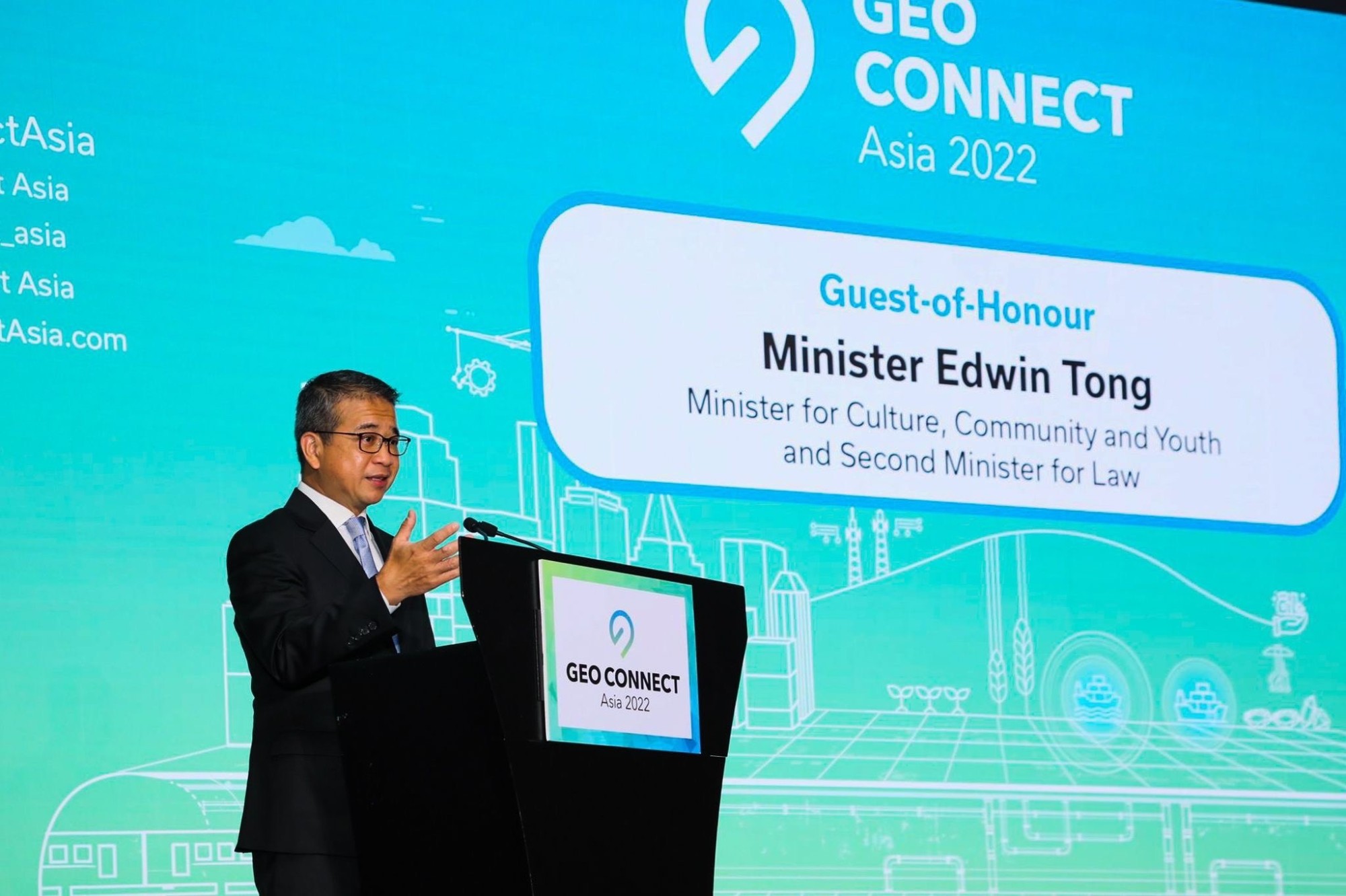 Geospatial Development is a Key Driver of Singapore's Smart Nation Initiative
"Geospatial development is an important dimension of our Smart Nation initiative. We have developed a Geospatial Masterplan to guide the development and adoption of geospatial solutions," said Minister for Culture, Community and Youth and Second Minister for Law, Minister Edwin Tong SC.
"We have also developed the OneMap and OneMap3D platforms, which is the authoritative national map of Singapore. Many agencies have tapped on the OneMap and OneMap3D platforms to develop useful services which allow the public to make more informed decisions. Public agencies have developed more than 110 services for the public through OneMap, including for education, healthcare, transport and real estate purposes."
"Beyond public sector projects, we can explore close collaboration between the public sector, industry and academia, to develop geospatial solutions. To foster such collaborations, we have created GeoWorks, the Singapore Geospatial Industry Centre. GeoWorks brings together more than 40 multinational corporations (MNCs), start-ups and scale-ups, many of which are present at Geo Connect today in the fields of big data, artificial intelligence, robotics, autonomous vehicles, and satellite imagery."
Opportunities for Regional & Global Collaboration
"We can unlock even greater value of geospatial technology and solutions if we collaborate with partners beyond our shores. Regionally, we can work closely with our ASEAN partners to drive adoption of geospatial technologies and build up the talent pool to support the needs of tomorrow."
Minister Edwin Tong mentioned that regional collaboration can be carried out in two ways—using Singapore as a GeoHub for the region and building the strong core of geospatial professionals in the region through the Regional Geospatial Youth Forum and ASEAN Geospatial Challenge.
"At the global level, we are also playing an active role to promote the use of geospatial information and technology. Singapore has hosted several international conferences, which are important to ensure that experts and administrators around the world stay connected and learn from one another."
Memorandum of Understanding (MOU) Signing Ceremony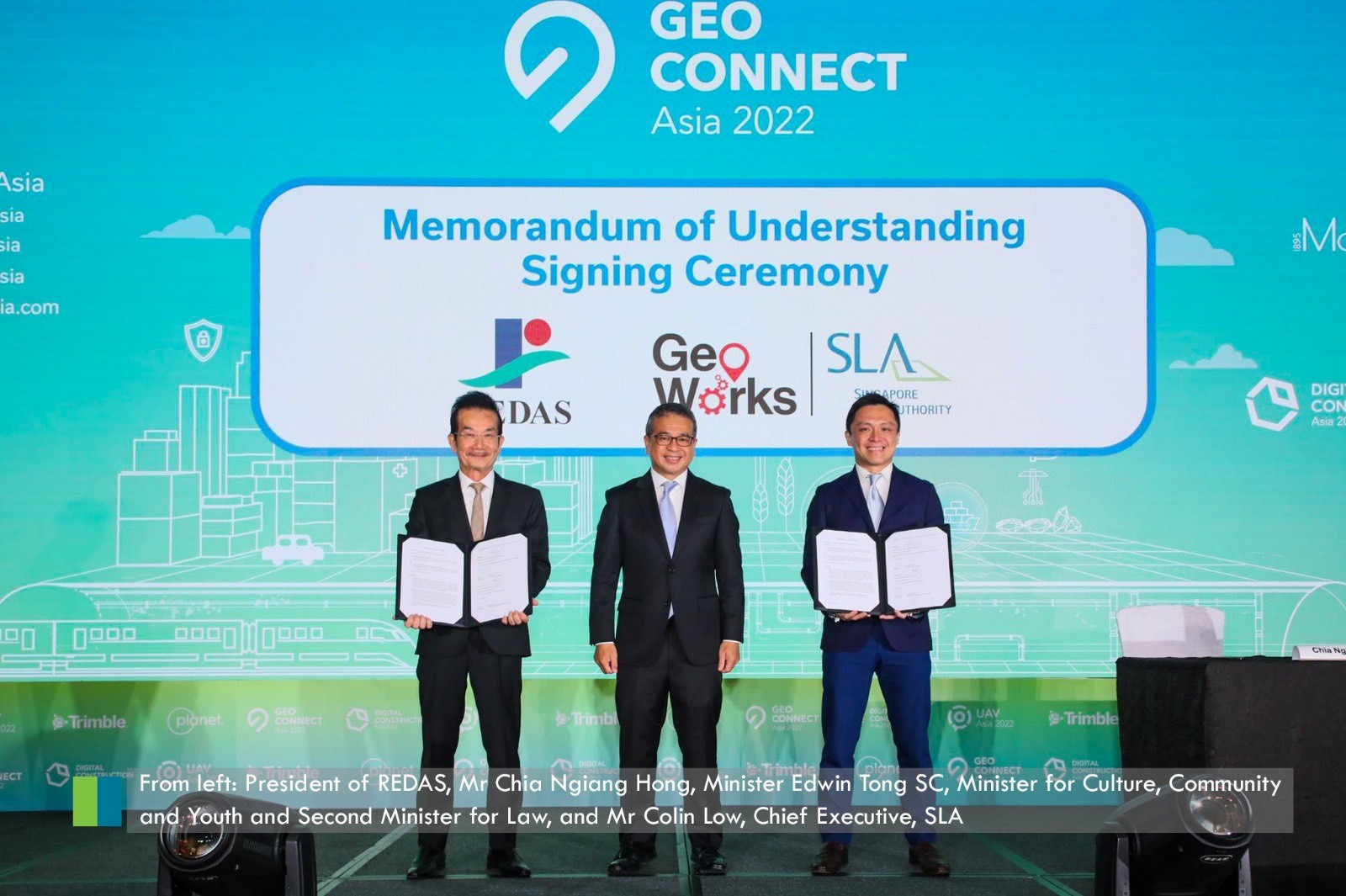 SLA signed a Memorandum of Understanding (MOU) with the Real Estate Developers' Association of Singapore (REDAS) to drive adoption of geospatial technology and spur geospatial innovation in Singapore. The MOU signing ceremony was witnessed by Minister Edwin Tong SC, Minister for Culture, Community and Youth and Second Minister for Law.
Deepening Industry Collaborations to Drive Geospatial Innovation
As the national geospatial agency, SLA has been collaborating with companies and organisations from across the public and private sectors to create awareness, facilitate the integration of geospatial technologies into their existing operations and support the development of solutions for businesses and communities. The MOU with REDAS follows a series of other MOUs concluded within the past year. These collaborations are part of SLA's larger plan to deepen industry collaborations, and continuously improve SLA's geospatial products including the national map of Singapore, OneMap and its 3D version to benefit more users.
Incorporating Geospatial Technology in Real Estate Development
Under the MOU, SLA and REDAS will jointly promote awareness of geospatial technologies and organise joint events as well as capability development programs that can address the challenges faced by the real estate and related industries.
"We are truly excited to collaborate with SLA. Having SLA share its expertise on geospatial data, services and technology will certainly help advance our members' and the industry's current push towards the digitalisation of real estate development. We also look forward to working with SLA to tap on its extensive networks to upskill our members' and the industry's geospatial knowledge and competencies to help improve productivity, resilience and sustainability for real estate and related businesses," said President of REDAS, Mr Chia Ngiang Hong.
"Geospatial technology supports many cutting-edge technologies across a wide spectrum of industries. We've seen it applied as a catalyst to spark improvement to business operations and their service delivery in many sectors, from optimising routes for delivery of food and parcels, to enhancing the provision of emergency services and even addressing global issues such as climate change. Similarly, through this MOU, we look forward to working with REDAS to pool together our collective expertise and unlock the potential of geospatial technology in the real estate sector," commented Chief Executive of SLA, Colin Low.
Read more about the MOU
here
.
Minister Edwin Tong SC's Exhibition Booth Tour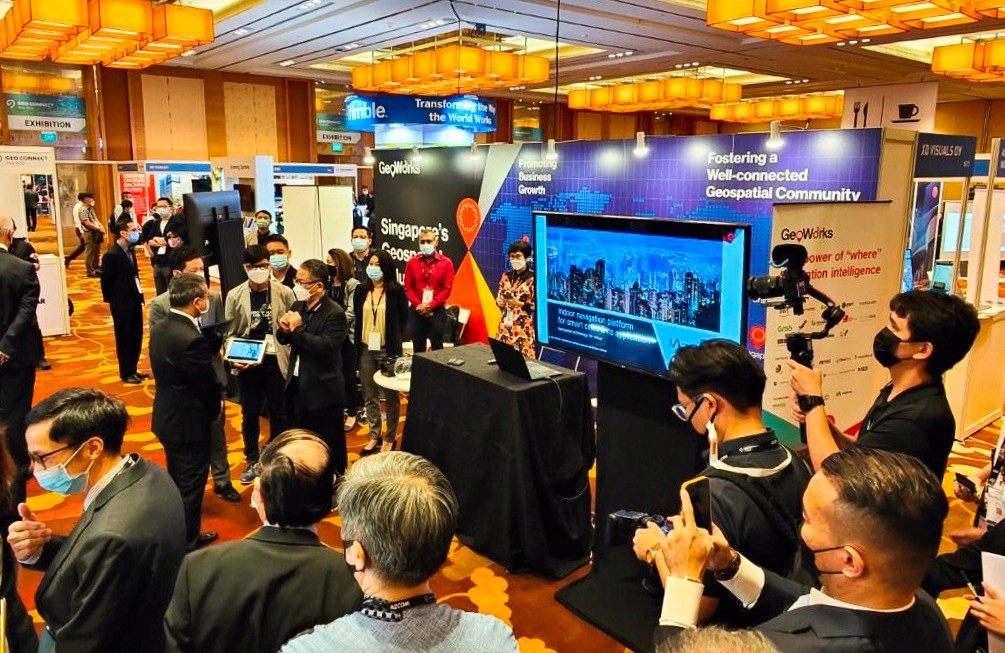 Following the MOU signing, Minister Edwin Tong SC toured the exhibition booths at Geo Connect Asia 2022, starting with a visit to the GeoWorks exhibition booth. Minister Tong learnt more about GeoWorks, a geospatial industry centre operated by SLA, focused on growing the geospatial community in Singapore, as well as its initiatives such as OneMap and the GeoInnovation Programme.
Minister Tong was also introduced to the geospatial solutions by GeoWorks GeoTech Operva.ai and GeoMember Mapxus. GeoTechs are startups and scale-ups enrolled in the GeoInnovation Programme facilitated by GeoWorks.
After visiting the GeoWorks booth, Minister Tong continued his tour by visiting the booths of GeoTech Vizzio and GeoPartners Hexagon and Trimble.
Opening Panel Discussion: Stepping into the metaverse - meanings, myths & opportunities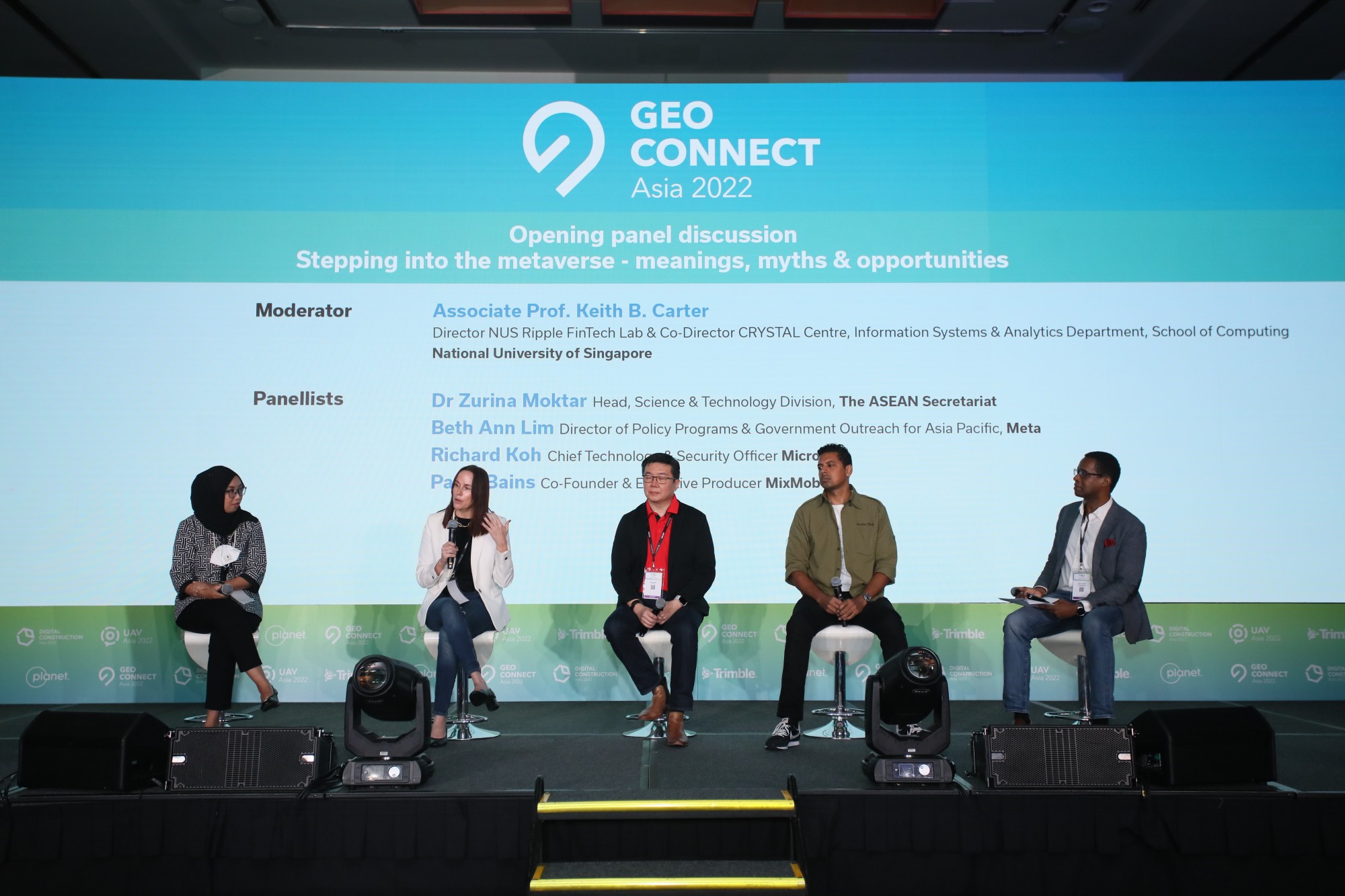 The age of the metaverse is soon arriving, but there is still much uncertainty about its trajectory and its impact on users. As it is highly likely for each individual to embody a parallel digital identity in the years to come, the panellists converged to ponder about what the metaverse means for us as a society, and considerations for harnessing the metaverse to bridge the gap between individuals.
The opening panel discussion featured the following speakers:
Moderator:
Associate Prof. Keith B. Carter, Director NUS Ripple FinTech Lab & Co-Director CRYSTAL Centre, Information Systems & Analytics Department, School of Computing from National University of Singapore
Panellists:
Mr Richard Koh, Chief Technology & Security Officer from Microsoft
Dr Zurina Moktar, Head, Science & Technology Division from The ASEAN Secretariat, Indonesia
Mr Pavel Bains, Co-Founder & Executive Producer of MixMob
Ms Beth Ann Lim, Senior Director & Head APAC Policy Programs from Meta
How real is the metaverse?
Associate Prof. Keith B. Carter opened with the question, "How real is the metaverse?" The panel concurred that although we are currently moving towards the metaverse as the next generation of the internet, there is still a struggle to define it and embrace it.
Ms Beth Ann Lim shared that the metaverse vision contributed by Mark Zuckerberg is still eight to ten years away, but that having this discussion was already a good starting point to gauge "how the metaverse can be built across protocols, the government and various ecosystems coming together".
On the flip side, Mr Richard Koh cautioned that "security in the metaverse is absolutely pertinent", and that certain norms have to be kept as we transition between the physical and virtual world in order to move between the two worlds seamlessly.
Inclusivity in the metaverse
The panel moved on to discuss the importance of ensuring inclusivity in the metaverse. Continuing on from Mr Pavel Bains' point about youths being the ones most in touch with the metaverse through gaming, Ms Lim brought up that although youths are embracing it, the gaming industry is still 'built without women'. She noted the importance of giving women a chance to build the metaverse too.
Mr Richard Koh concurred, citing the need for the metaverse to include people with physical or mental disabilities as well, naming the Xbox adaptive controller as a good example of how the disparity between those with and without disabilities can be bridged.
Dr Zurina Moktar opined that in building the metaverse, the gap between countries in various stages of economic development should not be ignored. She cited Cambodia and Myanmar as examples of countries where access to the internet is severely lacking, with half the population being unable to access it. Policies must first be in place to bridge this gap, and policy makers in developed countries should take advantage of their access to technology and the internet.
The metaverse as an educational tool
Ms Lim brought up the increasing relevance of the metaverse in educating the youths of today, particularly in fields which require hands on work. Some institutes of higher learning like the NUS School of Medicine have already incorporated elements of the metaverse in the students' learning, by using AR headsets to train medical personnel in dealing with patients.
Mr Koh added on that this was a "reimagining of education with doctors and nurses", simulating a "digital twin of the human body" much like the ones used for buildings and landscapes.
Prospects for the ASEAN region
The speakers rounded off the session by touching on the opportunities for collaboration in the ASEAN region to bring the metaverse to life.
Ms Lim posited that COVID-19 has changed the way we work, create and collaborate, and that virtual has become the new normal, which renders important the need to bring the cost of hardware down in order to make courses accessible to those in developing countries. The APAC region is actually leading, and should continue innovating and collaborating beyond borders. She advised that the region should tap into the youth through hackathon challenges.
Dr Moktar concurred, emphasising the need to work together as a region, by focusing on challenges such as data security and privacy, and adopting new technology. Mr Koh added on that scaling of the workforce and leaders will enhance adaptability to changes in this new geospatial world.
Mr Bains ended off by affirming a new reality where physical and virtual will inevitably coexist, and the metaverse is an alternative experience in a world where everything is "polarised and extreme".