Singapore Geospatial Festival 2023

Post-Event Highlights
Organised by GeoWorks, Singapore Land Authority's geospatial industry centre, the theme for Singapore Geospatial Festival (SG GeoFest) this year was "Geospatial: Enriching Minds, Empowering Lives". The event brought the international geospatial community (public and private sectors as well as the community-at-large) together for talks, panel discussions, workshops and co-located activities promoting the innovative use of geospatial information and technology. Graced by Dr Mohamad Maliki Bin Osman, Minister, Prime Minister's Office, Second Minister for Education and Second Minister for Foreign Affairs for its opening session, the week-long festival from 26 – 29 September was attended by more than 700 local and overseas participants.

OGC Member Meeting 2023
In tandem with SG GeoFest 2023, we are pleased to have hosted the 127th Open Geospatial Consortium (OGC) Member Meeting here in Singapore once again.
OGC is dedicated to advancing the future of geospatial through open standards and technologies. It is always an honour to host such an experienced and accomplished community of experts with us in Singapore.
Watch the joint opening video:

Enriching Minds, Empowering Lives
This year, the theme of SG GeoFest is "Enriching Minds, Empowering Lives". There are two parts to this theme.
In SLA's Chief Executive, Mr Colin Low's Opening Address, he said: First, 'Enriching Minds'. Over the past ten years, I am sure that all of us have observed a clear surge in the usage of geospatial data, information, and technology. To meet this growing demand, it is therefore crucial to build a talent pipeline to nurture national geospatial capabilities. There is a saying that 'learning never ends', which I fully agree with. Geospatial-related content must be included across the full spectrum of the education journey, from our youth to working professionals. Here at SLA, we have been actively working towards this goal.
The second part of our theme is 'Empowering Lives'. Apart from building up our national geospatial capabilities, geospatial is an integral tool that can be used to improve and enhance our daily lives." Rather than just reading sterile textbooks, students can now see and experience points of historical, social, or cultural value for themselves through immersive learning. Other than education, geospatial has also demonstrated its immense value in our everyday lives, whether it may be routing paths to the nearest neighbourhood amenities or locating nearby ART kits during the pandemic.
SLA's goal, as the national geospatial agency, is to empower the next generation with the geospatial skills and competencies they need to thrive in an increasingly inter-connected and complex world. This year's Festival stands as a testament to the power of geospatial in enlivening education and sparking curiosity in learning.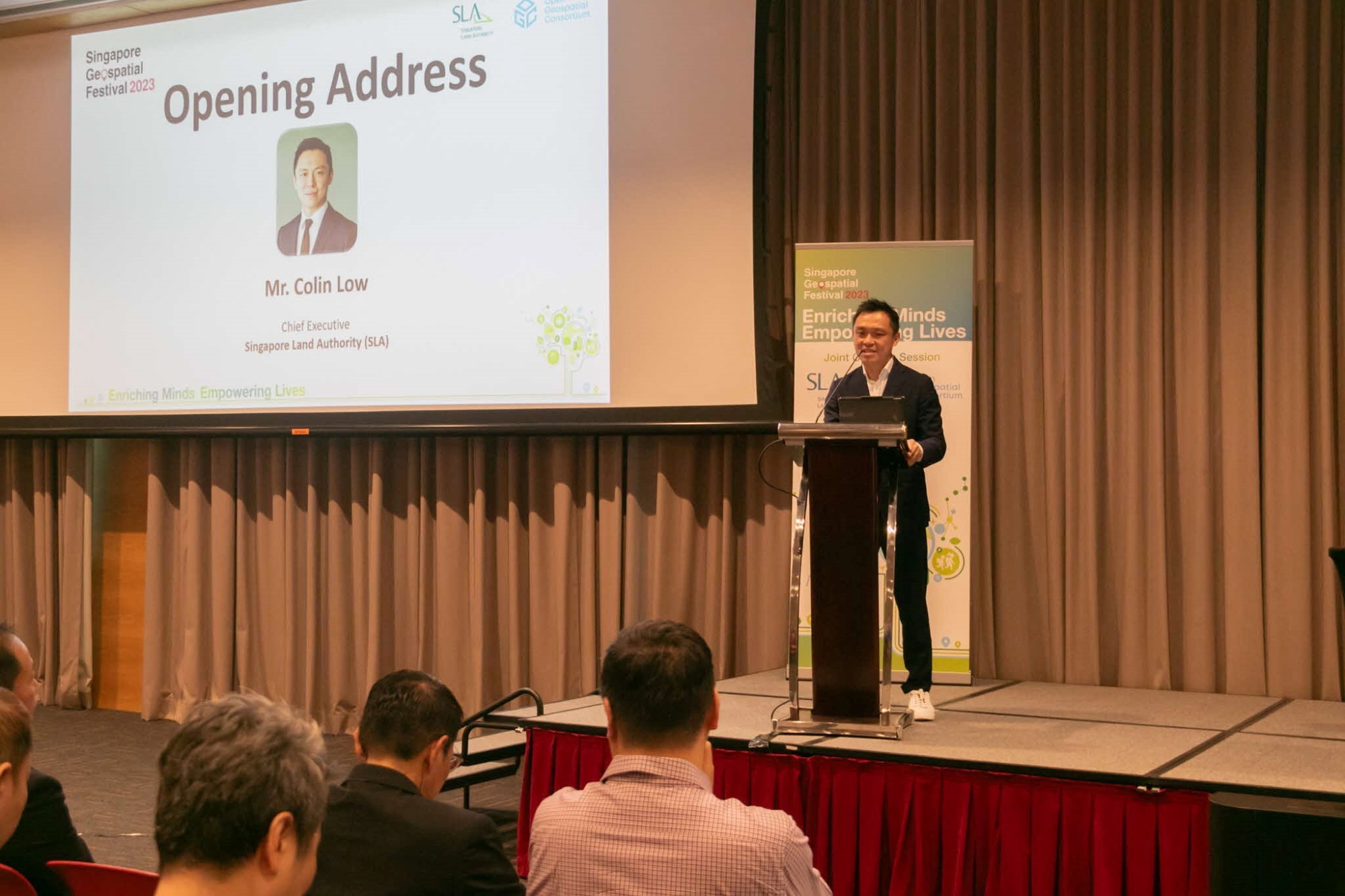 SLA's Chief Executive, Mr Colin Low delivering the Opening Address
Launch of OneMap GPT Challenge
In Mr Colin Low's Opening Address, he has also announced that SLA will be launching the OneMap GPT Challenge in October 2023. This challenge will combine the latest trending topic, AI, with geospatial technology. Find out more about the challenge
here
.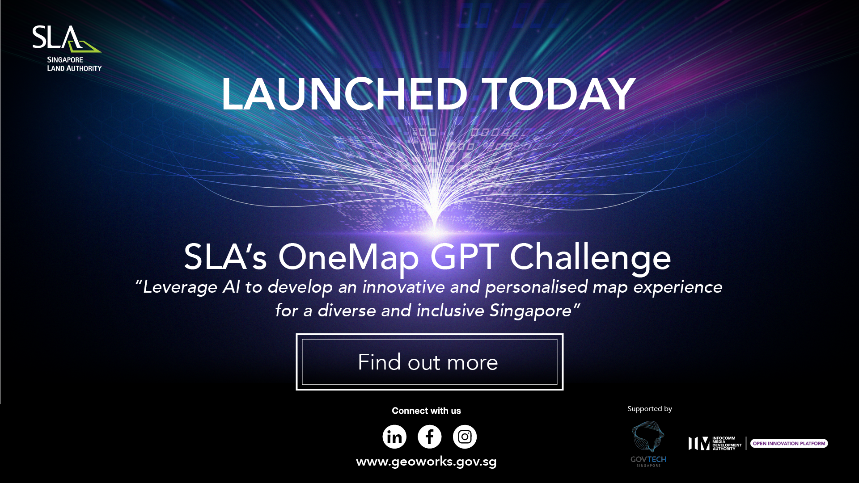 Memorandum of Understanding (MOU) Signing between Singapore Land Authority (SLA) and National University of Singapore (NUS)
SLA has been working with NUS SCALE and the Department of Geography in developing geospatial courses and certifications for working professionals. The MOU signed on 26 September serves as a milestone to further strengthen mutual collaborations in advancing geospatial capacity and education. The MOU covers the development and implementation of geospatial education courses, to upskill working adults for the geospatial industry, as well as collaborations in capacity building and promotion of geospatial education.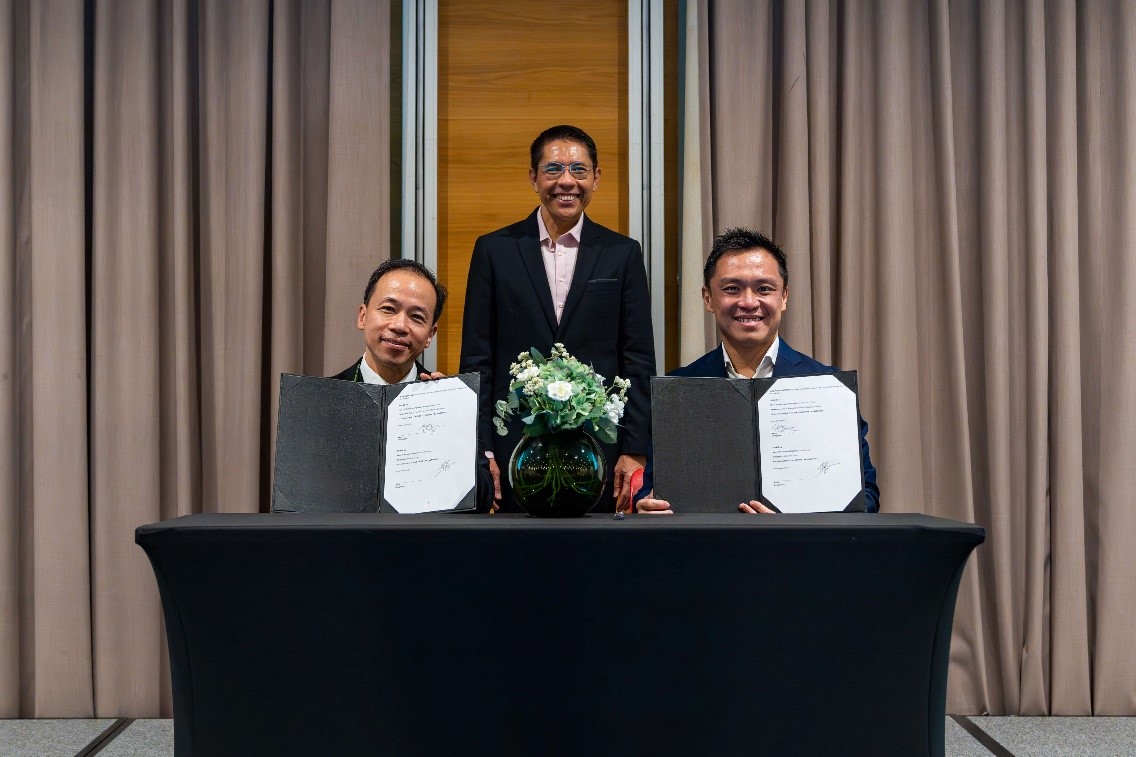 From left:
Deputy President (Academic Affairs) and Provost of NUS, Prof Aaron Thean |
GOH, Dr Mohamad Maliki Bin Osman |
Chief Executive of SLA, Mr Colin Low
Presentation by Ahmad Ibrahim Secondary School (AISS)
During the joint opening, a team of students and a teacher from Ahmad Ibrahim Secondary School have demonstrated on how they had leveraged MOE's EduGIS platform for a geographical investigative assignment. EduGIS is a geospatial platform with analytical tools and datasets from various sources, such as OneMap, to enhance the development of students' spatial thinking skills.
In this project, the team analysed the demographic profile of a Yishun neighbourhood vis-à-vis the connectivity of the cycling path network in the area. This helped identify where new cycling infrastructures could be built to encourage more dwellers to cycle and towards a more sustainable town.
From left: GOH, Dr Mohamad Maliki Bin Osman | Vice Principal of AISS, Ms Lea Shu Hui | Student, Sakinah Binte Sheikh Idris |

Student, Emma Louise Nolloth | Senior Teacher of AISS, Ms Doris Lee | Geography Teacher of AISS, Ms Lui Ying Jie
Pre-GeoFest Activities
My OneMap Workshop
"My OneMap Workshop" was a half-day session conducted together in August, with the Bendemeer Secondary School to equip their students with basic geospatial knowledge, develop useful digital skills and foster creativity using OneMap.
Students took part in a learning workshop and subsequently formed teams to create their very first map itineraries and presented their work (e.g. interesting activities for tourists on a map) to a panel of judges. We are pleased to have the event GOH, Dr Mohamad Maliki Bin Osman presenting the certificate to the winning team during the opening on 26 September.



Front Row (from left): Vice Principal of Bendemeer Sec Sch, Mr Chrys Ho | GOH, Dr Mohamad Maliki Bin Osman |

Winning Team | Geography Teacher of Bendemeer Sec Sch, Mr Lawrence Ng

Back Row: My OneMap Workshop Participating Teams
Young Geospatial Scientist Badge Activity
The Young Geospatial Scientist Badge Scheme by the Science Centre Board (SCB) and the Singapore Land Authority (SLA) aims to stimulate interest among young minds and enable them to carry out self-directed activities in geospatial information and technology.
As part of SG GeoFest and in collaboration with SCB, the half-day Young Geospatial Scientist Badge activity was conducted at Blangah Rise Primary School and Zhenghua Primary School in August respectively. Through tasks such as learning to read maps or locating nearby Points of Interest, the primary school students were exposed to the topic of geospatial.
Blangah Rise Primary School

Zhenghua Primary School



Other Highlights
Exhibition Showcase on 26 September 2023
The exhibition showcases the dual role of geospatial technology in "Enriching Minds and Empowering Lives". The "Enriching Minds" concept focuses on embedding geospatial into education to spark further interest in learning, from geography, to history and social studies. On the other hand, "Empowering Lives" features how geospatial technology can be applied today in various sectors to improve everyday life.
Through 7 exhibition booths, SLA's partners and collaborators seek to illustrate the transformative potential of geospatial information and technology. These booths include:
Ministry of Education (MOE)'s EduGIS platform;
Science Centre Board (SCB)'s Young Geospatial Scientist Badge scheme;
Various student geospatial projects and geospatial-related curriculum from universities and polytechnics;
Singapore Civil Defence Force (SCDF)'s myResponder app;
SLA's specially customised Minecraft station;
National Heritage Board (NHB)'s Night Fest app;
Showcase of how different historic and monument sites can be linked together to present heritage trails using ESRI's storymap for Toa Payoh and Civic District by SLA & NHB and;
Demonstration of how PwDs on wheelchair can navigate from point to point without any obstacles via the Barrier-Free-Access (BFA) routing initiative by SLA.
Activities from 27 – 29 September 2023
Amazon Web Services (AWS) Ideathon (27 September)
*Student-Activity
Day 2 of SG GeoFest 2023 kicked off with an ideathon co-organised with Amazon Web Services (AWS) and well-attended by students from Nanyang Polytechnic, Singapore Polytechnic and Temasek Polytechnic.
Read more…
ESRI Interactive Spatial Analytics with ARCGIS Insights Workshop (27 September)
This hands-on session was well-attended by some industry professionals, where they gained insights into performing powerful data analysis.
Read more…
GeoAdventure: Navigating the World of Geospatial Intelligence & Technology (28 September)
The GeoAdventure session, led by Singapore Land Authority (SLA) Geospatial Planning & Services experts, aimed to introduce participants to the world of geospatial data collection.
Read more…
ScratchBac TeleBot OneMap API Workshop (28 September)
*Student-Activity
This technical workshop, designed for IHL students, demonstrated the fundamentals of how programming algorithms work in applications, and its uses when extended to Telegram bots.
Read more…
RIDEnjoy Cycling Activity (29 September)
In collaboration with RIDEnjoy and supported by Anywheel and HelloRide, our cycling activity took off successfully on the morning of 29 September! The main feature is for cyclists to navigate their way via islandwide cycling networking (PCN, CPN) using RIDEnjoy app powered by OneMap.
Read more…
Leica Geosystems Innovate to Elevate Masterclass (29 September)
Leica Geosystems facilitator spent the afternoon showcasing the evolution of traditional survey equipment into all-in-one total stations with 3D scanning and imaging capabilities and conducted a live technical demonstration.
Read more…
Hexagon Creating Your Own Analytics Dashboard with M.App Enterprise (29 September)
Hexagon initiated the session by showcasing the capabilities of the M.App Enterprise platform, followed by an engaging hands-on workshop.
Read more…
Thank Geo It's Friday! (29 September)
SG GeoFest 2023 ended on a high note with a networking event on the evening of 29 September. As we wrap up this eventful festival under the theme 'Geospatial: Enriching Minds, Empowering Lives', we would like to thank all our participants, speakers and supporting partners for contributing to the resounding success of this event! Watch the networking video
here
.