ASEAN Geospatial Challenge 2023 Winners
The annual ASEAN Geospatial Challenge (AGC) brings youth in the ASEAN region together to use geospatial technology and information to support nations in achieving their Sustainable Development Goals (SDGs). Targeted at students from Institute of Higher Learning (IHLs) in the ASEAN region, the challenge aims to cultivate good relationships and collaborations among the youth in ASEAN, elevate geospatial competencies and facilitate knowledge sharing as well as raise interest in the geospatial field.
AGC 2023 is supported by Geospatial Agencies from Indonesia (Badan Informasi Geospatial), Philippines (National Mapping and Resource Information Authority) and Singapore (Singapore Land Authority).
This year, we received a total of 33 entries across the region, of which, 6 teams have been presented with the Distinction, Excellence and Merit awards.

The winners were announced at GeoConnect Asia 2023. Watch the video here.
The Distinction Awards went to the following teams. The teams are not listed in any order
of preference: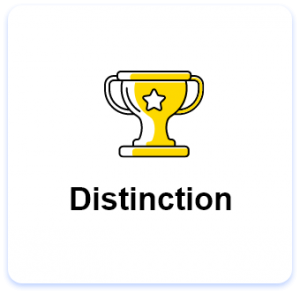 Team JIO-Spatial from Singapore Management University (Singapore)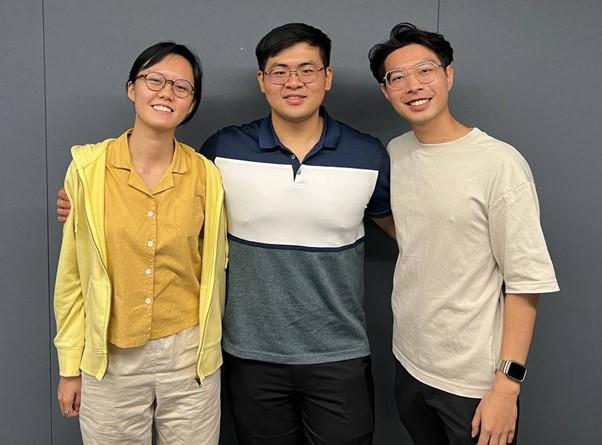 Project:

In Singapore, there are a lot of volunteers and donors who want to share and provide help in various ways, along with many in different categories who require support and assistance in multiple ways.
However, the team realised that there are challenges connecting people who need help or resources with people who can provide them. There needs to be a way to connect these stakeholders based on location, availability and nature of assistance easily and safely.
Hence, JIO-Spatial came up with JIOHelp, with the aim of bridging the gap between different stakeholders in their pursuit of help, so that every one can work towards a sustainable community.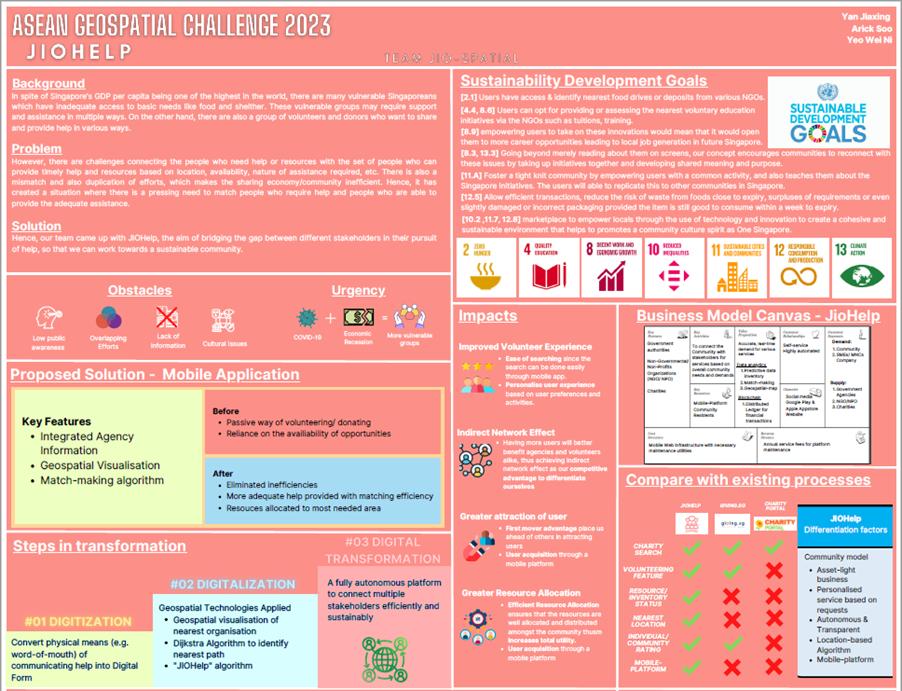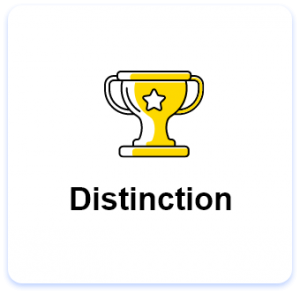 Team Ganesha Jogja from Bandung Institute of Technology (Indonesia)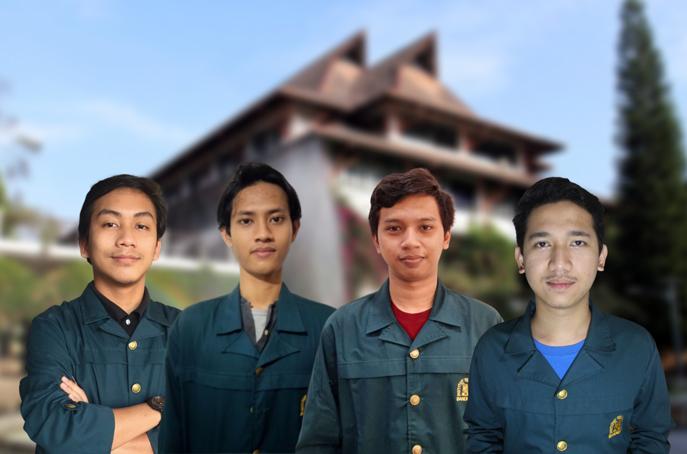 Project:


Using remote sensing datasets as parameters, the team then used machine learning to generate land suitability models. Thus, the findings are well captured in a mobile GIS application to improve the performance of food and water security actions. The results will show land suitability from least suitable to most suitable and the percentage level of priority areas for irrigation network development.
This performance provides a benchmark for prioritizing integrated irrigation network development. This novelty research will organize the GIS mobile application based on provincial administrative sector aggregation. Therefore, the availability of data processing and analysis results can encourage more accurate, effective, and efficient agricultural policies, and increase long-term investment opportunities.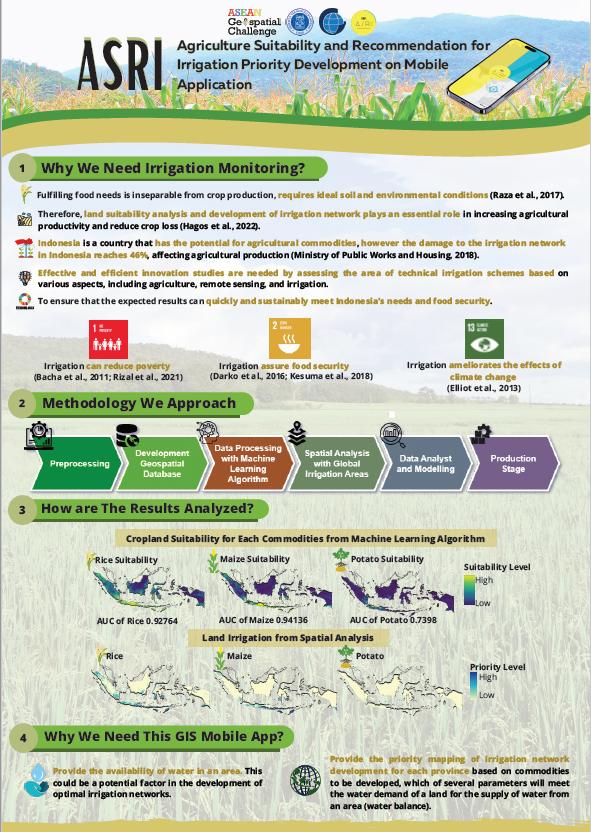 The Excellence Awards went to the following teams. The teams are not listed in any order of preference: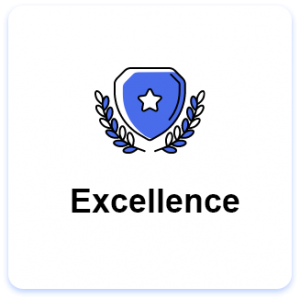 Team ArtemiS from University of Indonesia (Indonesia)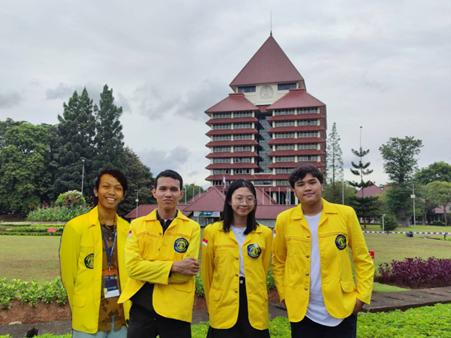 Project:
This project converts DEM SRTM data from standard Indonesian maps and combines it with land cover maps from geospatial information agencies that are processed into the Minecraft game.
It utilises MicroDem and WorldPainter applications to recreate the map of Indonesia in the Minecraft game. This project has a very significant feasibility of implementation and development potential, which can be proven through several tests that have been and will be carried out by the team as the initiator of this project.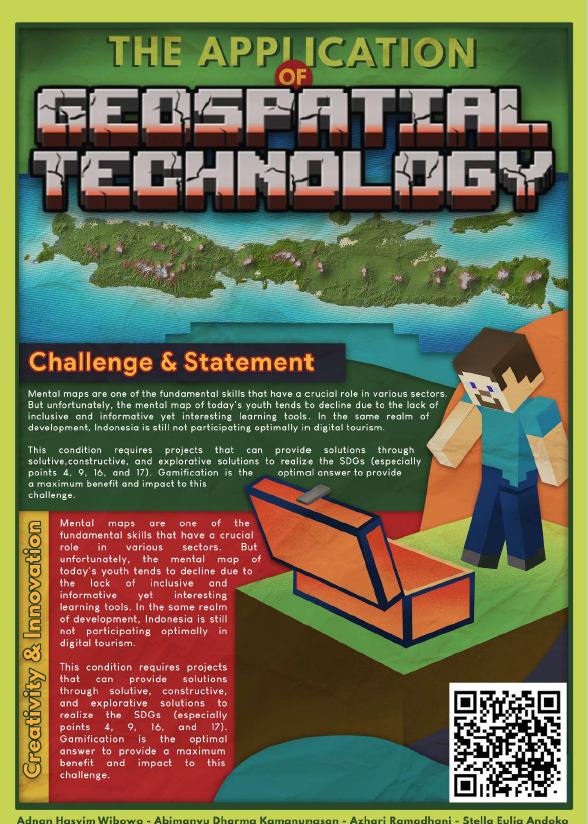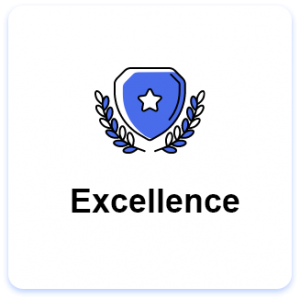 Team HYPEBOIZ from University of the Philippines Diliman (Philippines)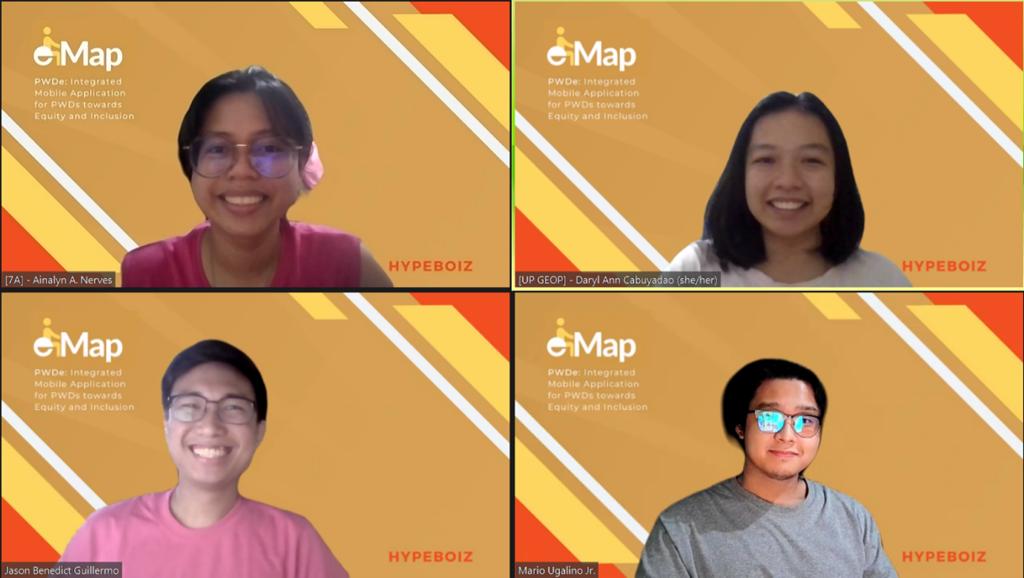 Project:
PWDe Map shall function as a catalyst to aiding the daily living of the prospective target beneficiaries from assisting their navigation needs to giving necessary information on locations of services, schools, and job opportunities among others.
Through the utilisation of Geographic Information Systems and the integration of Global Navigation Satellite System along with open-source data in the form of social media data in Facebook and collaborative mapping tools such as OpenStreetMap, the PWDe Map is developed in the form of a mobile application with the goal of providing easy access for people with disabilities as well as a platform to promote good health and well-being, quality education, work and economic growth, and reduce inequalities primarily through volunteered contributions.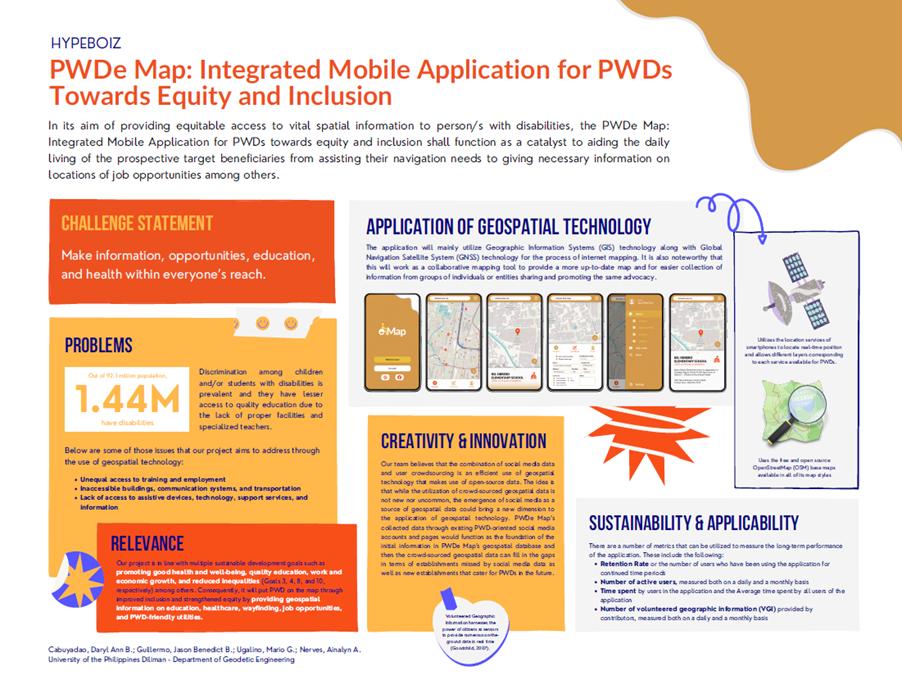 The Merit Awards went to the following teams. The teams are not listed in any order of preference: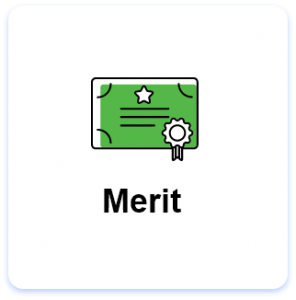 Team foUr from National University of Singapore (Singapore)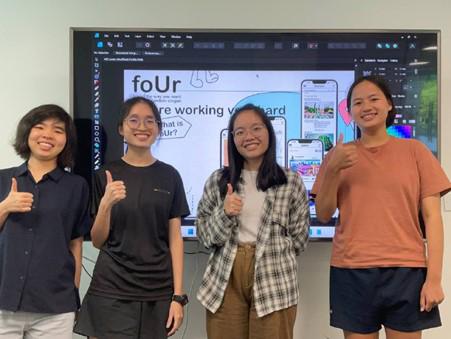 Project:
Developing a mobile application concept called "ForU", the app aims to recommend personalised travel itineraries that tailors to the needs of tourists while maximising travel routes to promote sustainable tourism practices. Additionally, there would be multiple features that would further enhance the users experience when using forU as their travel guide.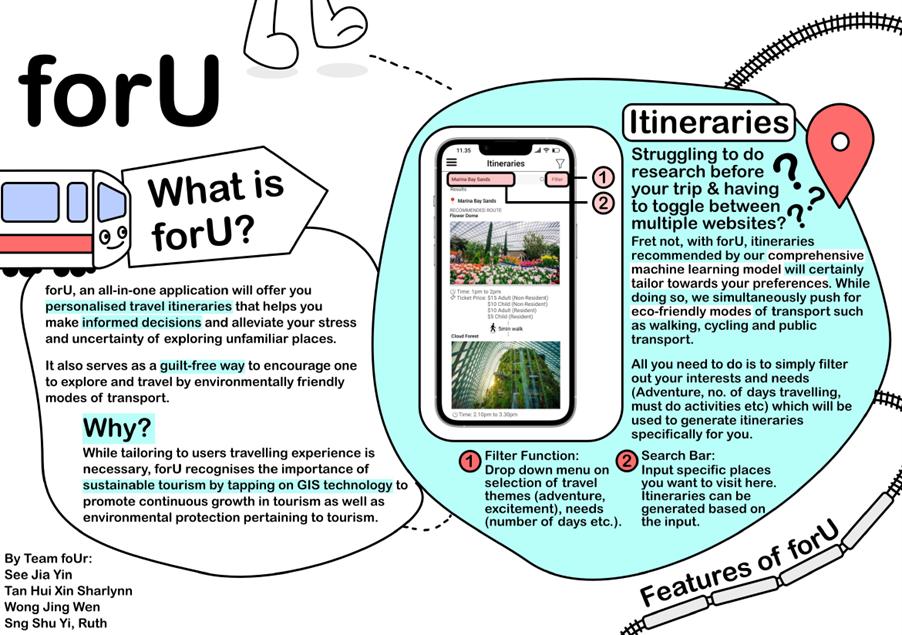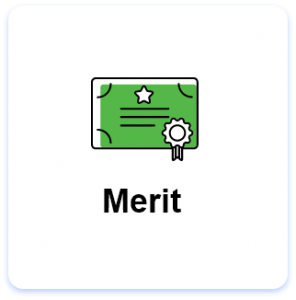 Team Lakapati from Bicol University (Philippines)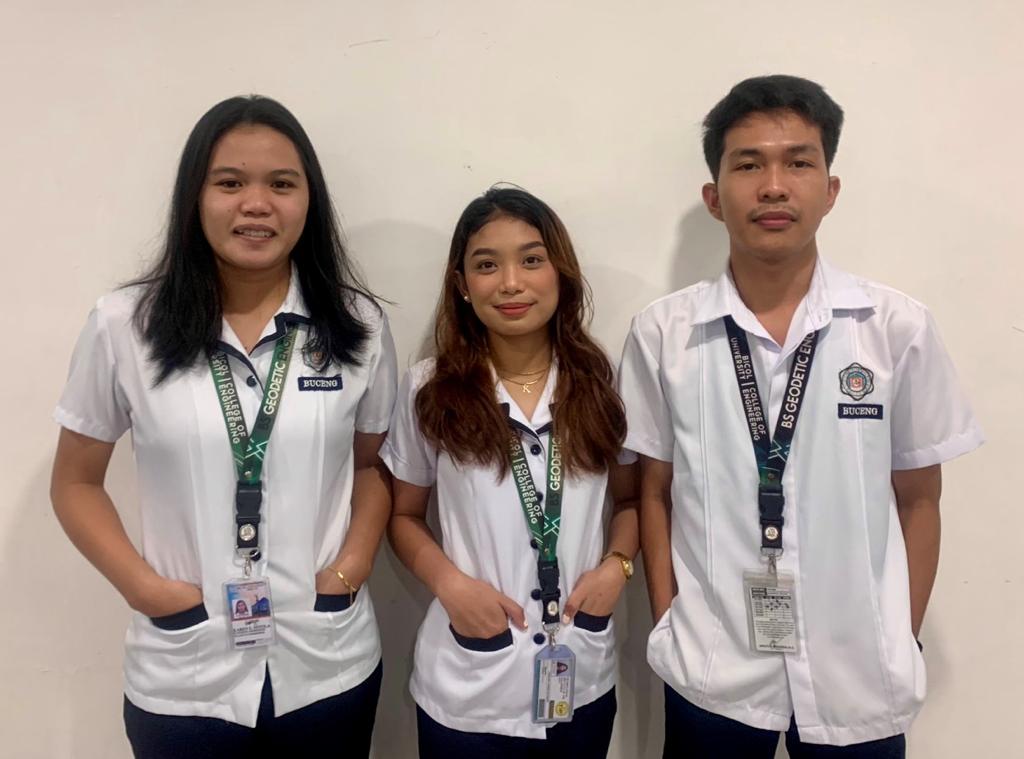 Project:
This study aims to visualize the spatial extent of premature conversion in irrigated rice lands along AH26 in the barangay (villages) of Manjumlad and Sulangan in the Municipality of Matnog, Sorsogon.
It is estimated that in 2027, the generated transition probability using Markov's Cellular Automata Model was applied to determine the rate of land cover changes visualized in Landsat 8-9 OLI/TIRS images. The result disclosed the scenario of a significant 23.96 ha or 8.49% decrease in rice lands. In contrast, there is an increase of 57.63 ha or 20.42% in non-agricultural use adjacent to the built-up areas from 2018 to 2022.
The researchers concluded that any premature conversion of rice lands conflicts with attaining rice self-sufficiency, afterward adding to the moderate hunger level of the Philippines.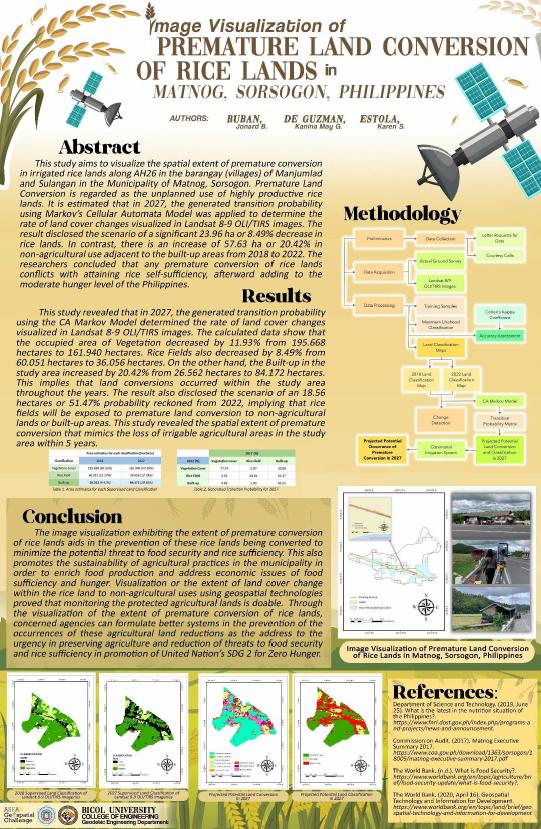 We would like to thank all of our judges for their time and effort in assessing the projects.
National Level (Singapore) Judges
Dr John Chan
CEO and Founder, Mapxus
Mr Philip Park
Managing Director, KILSA Global
Mr Abhishek Tandon
Deputy Director (Geospatial Development/IT), National Parks Board, Singapore
ASEAN Level Judges
Dr Cao Kai
Professor, School of Geographic Sciences, East China Normal University
Mr M Rajathurai
Technical Business Development Director, Bentley Systems
Mr Jeremy Morley
Chief Geospatial Scientist, Ordnance Survey
We would also like to thank all of our partners for their support in making the ASEAN Geospatial Challenge 2023 a success!