UN-GGIM International Seminar continues at GeoWorks

Hosted by the Singapore Land Authority (SLA), the International Seminar on United Nations Global Geospatial Information Management (UN-GGIM), focused on 'Effective Land Management', was held at Suntec Convention and Exhibition Centre on 17 and 19 May 2022. The international delegates from the UN-GGIM seminar visited GeoWorks on 18 May 2022 to gain more insights into GeoWorks, an industry centre set up by SLA in 2018 to drive business growth and innovation, and foster connections among the geospatial community in Singapore. The delegates also attended presentations by GeoTechs, which are part of GeoWorks' GeoInnovation Programme that supports startups or scale-ups that use location-based tech or mapping tools in their products or services.
The first in-person event at GeoWorks since the COVID-19 pandemic was a success, drawing a total of 28 delegates and 5 GeoTechs, and garnering positive feedback from the attendees.
Introduction to GeoWorks, its initiatives and collaborations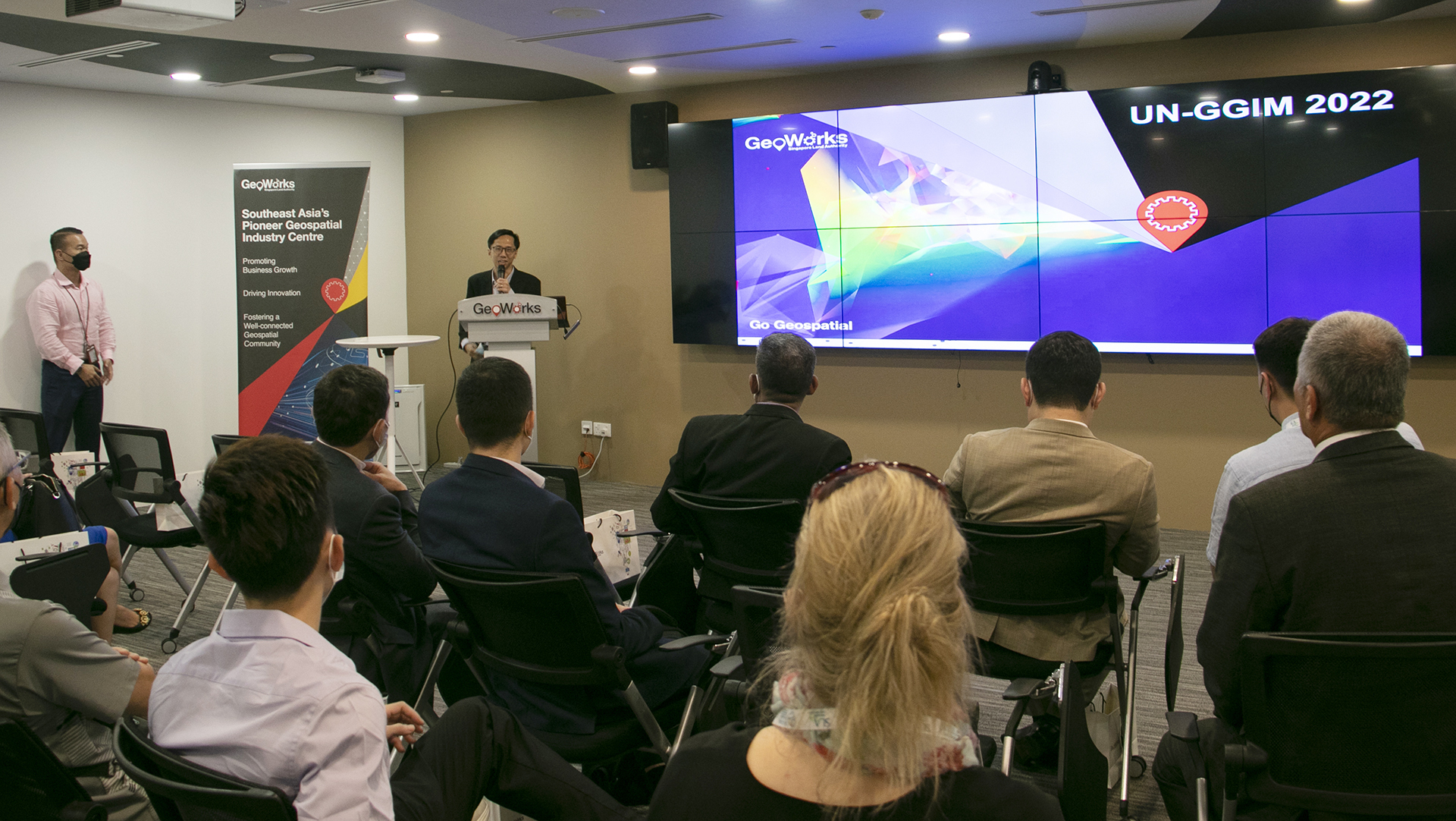 GeoWorks is Southeast Asia's first geospatial industry centre, set up by the Singapore Land Authority in 2018. It aims to bring together geospatial businesses to promote business growth, drive innovation and build a well-connected geospatial community. The GeoWorks' GeoInnovation Programme currently comprises of over 25 local and international geospatial startups and scale-ups. GeoWorks also runs regular training sessions and community events.
GeoWorks' key initiatives include GeoChallenges that match solution providers with sector users looking to solve their geospatial issues through joint innovation projects and OneMap and data licensing.
Initiatives by the Survey and Geomatics Division of SLA
Next, the Survey and Geomatics Division (SGD) under SLA shared some of its initiatives, including the National 3D Mapping Programme and the Digital Underground Initiative.
The National 3D Mapping Programme began in 2014 and consists of extensive data collection and imaging. In order to take 3D data underground, reliable 3D data is essential. Currently, much of the data is still 2D, which is insufficient and not well-defined, which gave rise to the initiative to collect 3D data. Reliable data on underground utilities will lead to better decision making, save resources, and increase public safety.
SGD also shared about the Digital Underground Initiative, focused on developing a reliable map of subsurface utilities in Singapore for planning and land administration. This initiative will be divided into 3 phases and a final operational phase.
Presentations by GeoTechs
EOfactory
"[EOfactory is] a cloud platform that unleashes the power of analytics in Earth Observation by infusing Remote Sensing, GIS, Artificial Intelligence (AI) and Business Intelligence (BI) dashboards. We connect to multiple data sources and download them to shared workspaces where everyone can collaborate on to derive insights. The platform runs on a time-series management framework with an integrated open data cube storage. Time-series analytics together with Machine Learning capabilities allows us to support multiple workflows in sectors like agriculture, forestry, telecommunications, defense, etc. Solutions such as feature extraction, object detection, change detection, large-scale classifications are some of the trending solutions that we provide," said Abhay Mittal, CEO and Founder of EOfactory.
Regarding the event, Abhay added, "Event was extremely smooth and enjoyable. During the 5-minute pitch, I was able to gain the attention of a few delegates. They approached me during the networking session to find out more about our company. It was great having a chat with some of these people from different countries, explaining to them some of the customised solutions that we can provide as well as identifying and trying to come up with solutions for some of the current challenges that they are facing. All in all, the event was very useful for start-ups like us to gain some visibility in the global market."
Operva.ai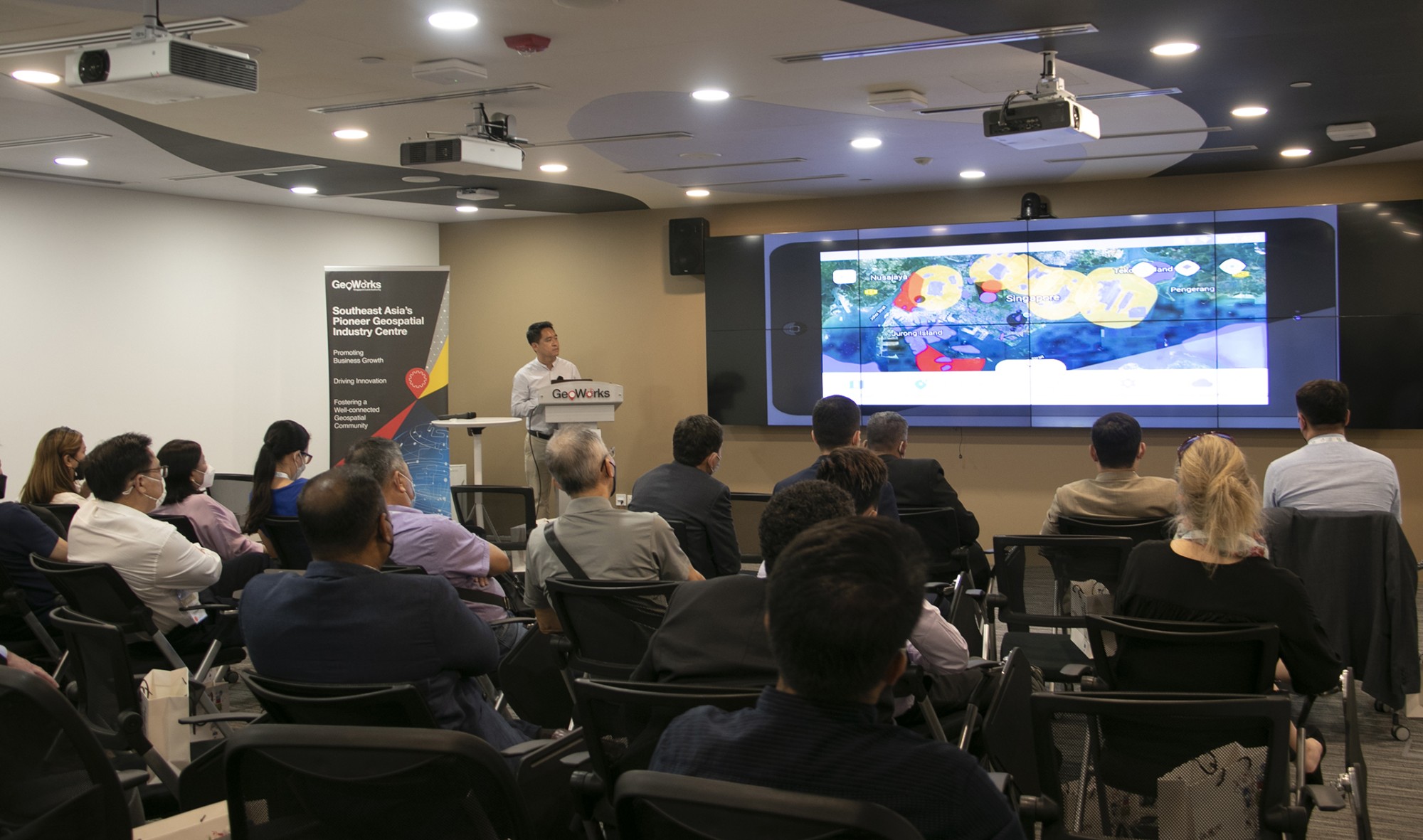 "Our drone photogrammetry app creates a simple and seamless experience for drone operators with minimal human intervention, by intelligent flight planning and data management. The app reduces flight planning and execution time by 30% and improves the data quality drastically. The operator simply marks the area of operation, uploads the approved permit. The app automatically plans out the rest for you – from checking the weather, plotting out the flight path, and calculating the speed and camera shots to carrying out the complete photogrammetry process. The operator executes the flight with this same app from the recommended flight path with the flexibility to take over control and fly the drone manually. After flight completion, the images are automatically uploaded to the cloud for processing. Once the 3D model is generated, the operator will receive a notification and will be able to view the model remotely," said Chris Chua, the Co-Founder of Operva.ai and CTO of Heron Technology.
"We have also integrated our solution to AirBridge, an airspace and fleet management solution, developed by our partner, Heron Technology. With this integration, drone operators are able to coordinate and manage multiple Airpland missions safely at the same time by ensuring their flight paths are deconflicted, and are compliant to all airspace restrictions imposed, thereby achieving a huge reduction in time and effort in their operations," Chris added.
Chris also shared, "The event was very well planned. Kudos to the organisers in ensuring the event is smooth within the time period given. We had very good interactions with the participants and discussed about some of the challenges faced in drone operations in Singapore as well as conducting of drone mapping."
Mapxus
"Mapxus is an all-rounded indoor GIS platform, providing indoor mapping, indoor positioning, and indoor street view services for global applications. We put people first, and we are dedicated to empowering people, businesses, and cities by creating a barrier-free and inclusive experience for everyone. We help to fulfill smart mobility by closing the gap between digital maps and indoor environments, to revolutionise our interactions with the physical space, as well as to deliver a comfortable, intuitive, and seamless indoor-outdoor experience for everyone. At Mapxus, we have set out to empower growth by keeping indoor mapping smart and simple. We help businesses realise and maximise their full potential with what they already have — indoor location data. While digitising indoor venues has traditionally been considered too complex and costly for commercial use, our all-in-one indoor mapping solution is software-based, sustainable, and adaptable for a variety of applications," said Dr. Thomas Ying, Co-founder and Director of Location Ai, the sister company of Mapxus.
About the event, Dr. Ying added, "The event provides a close and warm atmosphere to communicate with potential clients and networking."
VIZZIO.AI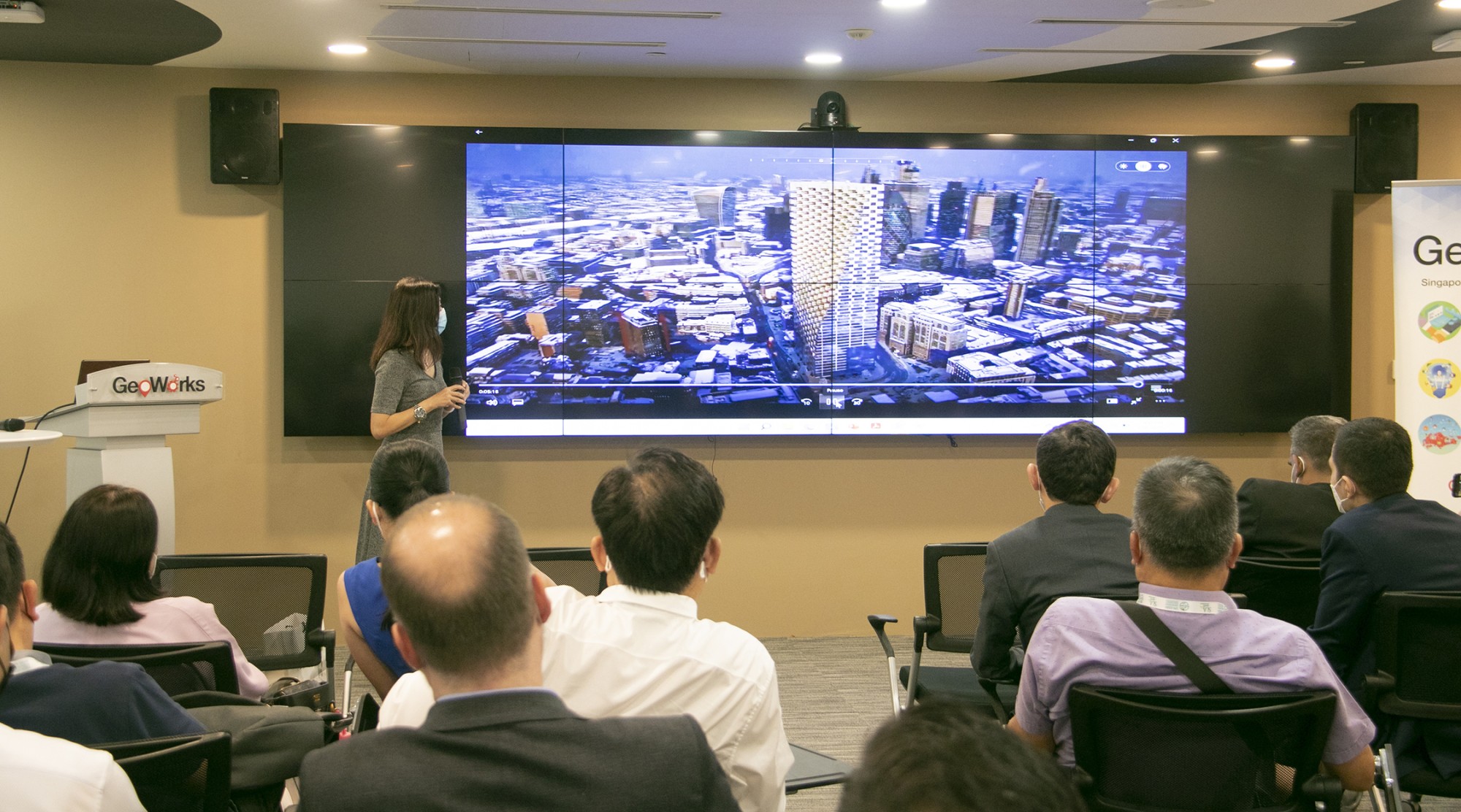 "VIZZIO.AI is a geospatial data company. Through Deep Learning Neural Networks, VIZZIO captures and publishes dimensionally accurate 3D digital models about real-world interiors and exteriors on a global scale," said Janice Cheng of VIZZIO.AI.
"We would like to thank SLA for the opportunity to share our solutions to this group of international guests from UN. We are also delighted to meet like-minded start-ups in the Geospatial scene during the event," Janice added.
NextBillion.ai
"NextBillion.ai is a spatial data platform that helps enterprises manage location data and adopt an AI-first approach at scale for every use case and geography. The company enables enterprises to tackle highly complex location problems with the help of tailored location and navigation technology solutions. NextBillion.ai offers location tools and APIs to enterprises such as last-mile delivery, telematics, logistics, transport, food delivery, automotive, and ride-hailing or ride-sharing," said Ajay Bulusu, Co-Founder of NextBillion.ai.
"I enjoyed presenting our tech and also seeing so many GeoTechs doing such interesting work. I'd love to follow through some of my conversations," Ajay added.
Showcases by GeoTechs
Following the presentations by the GeoTechs, there was a breakout tour to the GeoWorks space, where the delegates interacted with the GeoTechs and their showcases.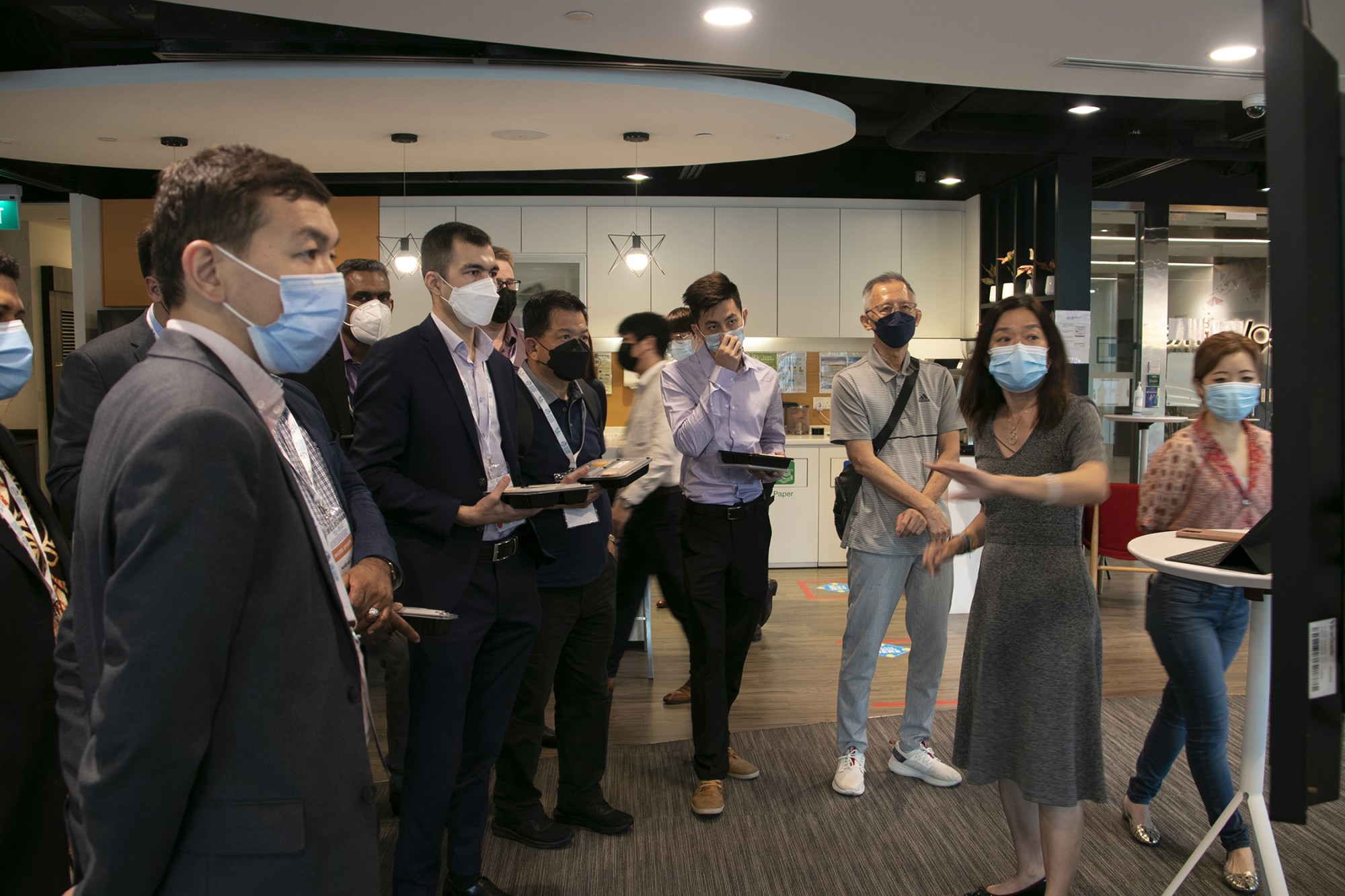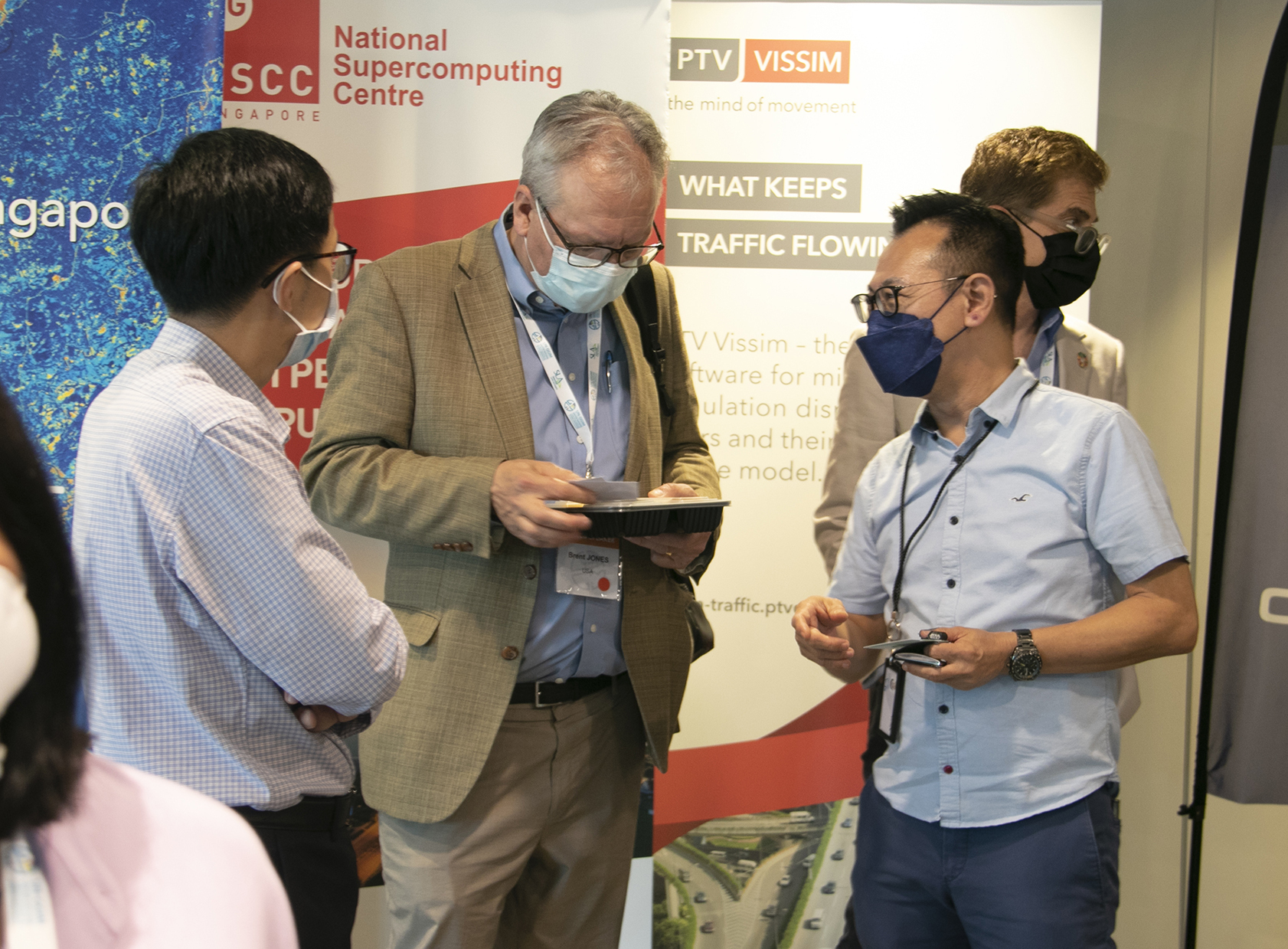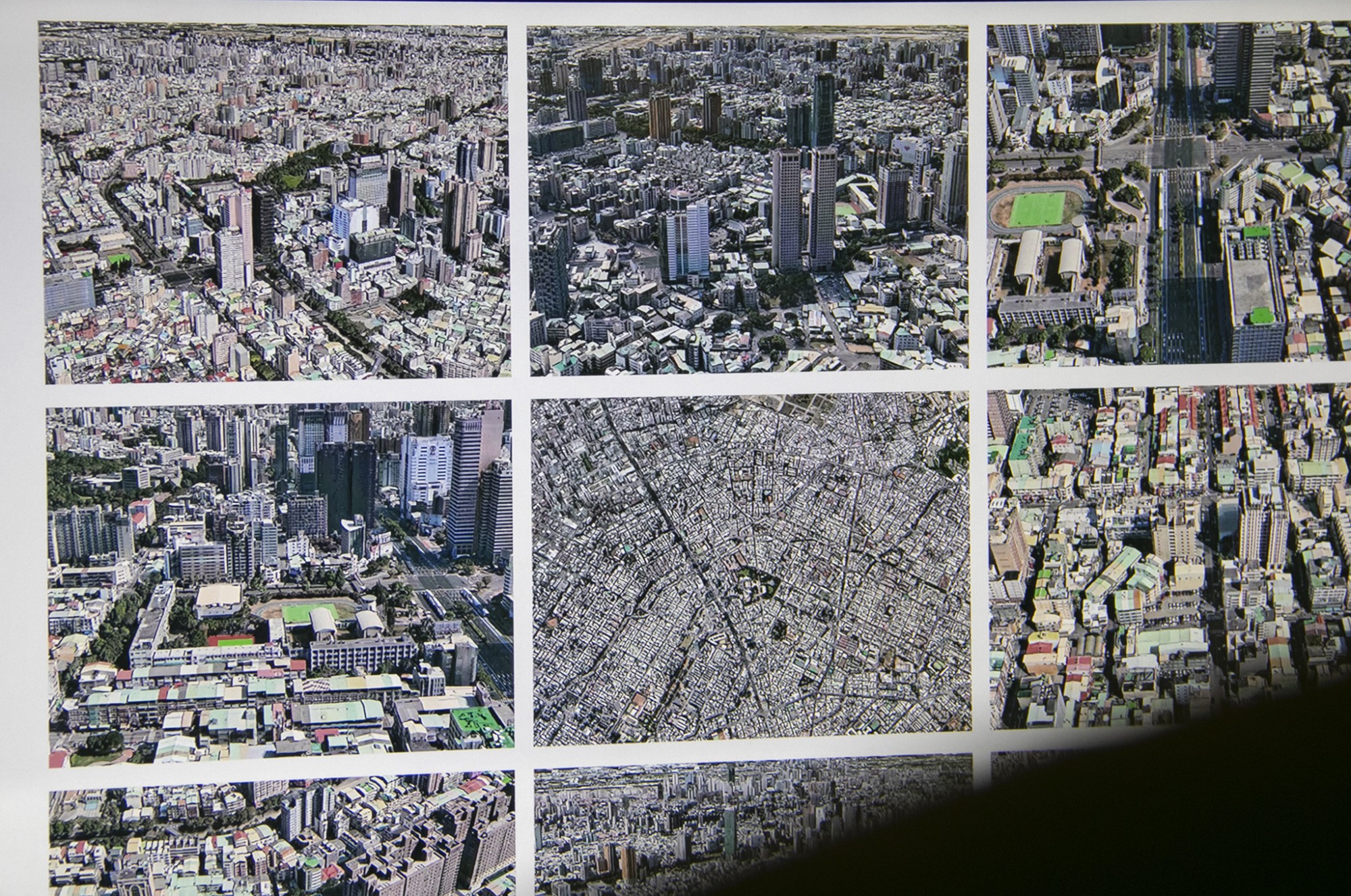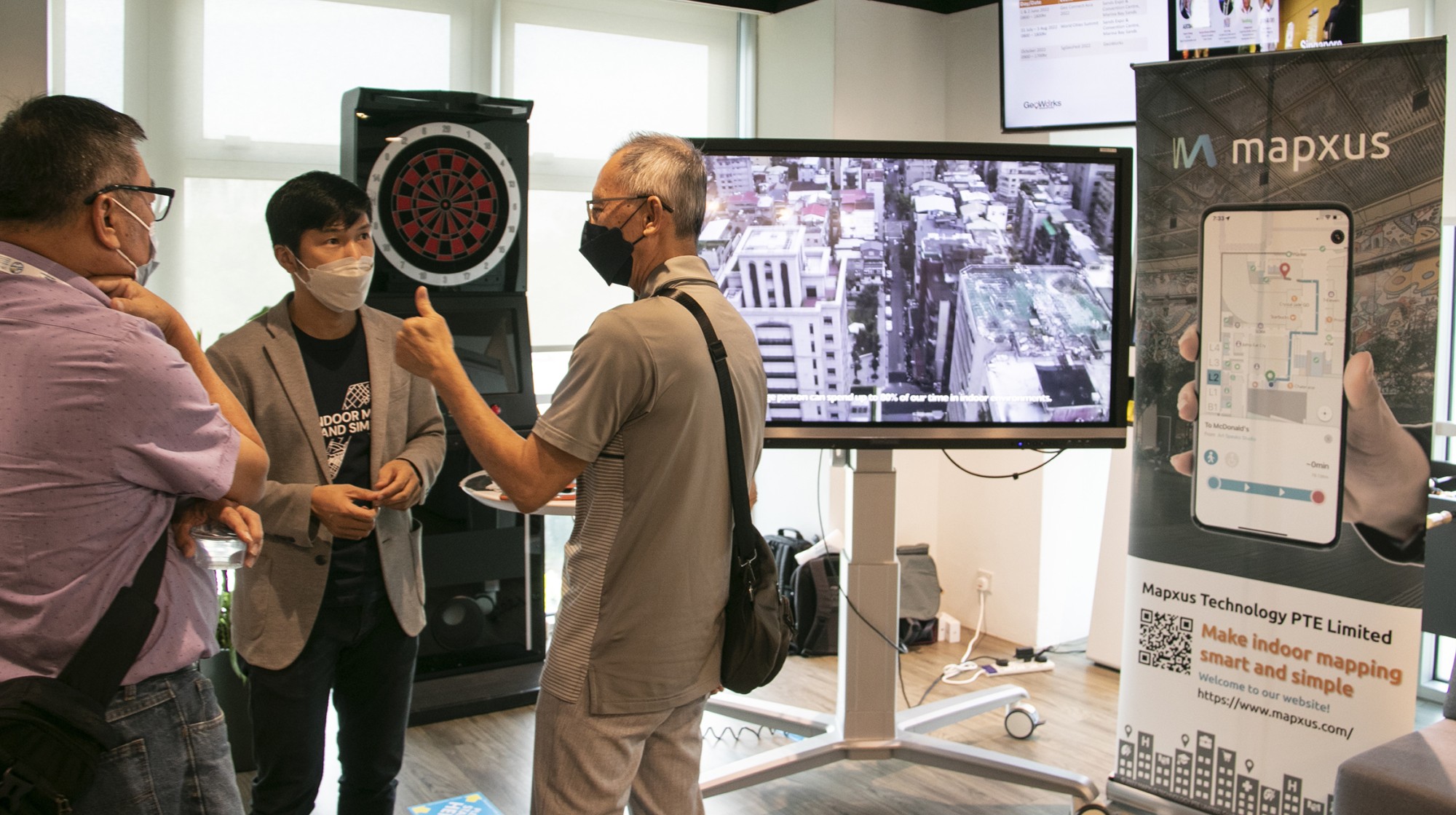 Thank you once again to all the delegates and GeoTechs for attending the event at GeoWorks!