Annex B: Information Sheet on the Singapore Geospatial Challenge SGC 2015
Annex B: Information Sheet on the Singapore Geospatial Challenge SGC 2015
A. About SGC 2015

Since its inception in 2008, SLA has been organising the SGC annually to encourage the use of Geospatial Information Science and Technology (GIST) in schools. This year, SGC 2015 introduced sensor technology to the students. Students are given the opportunity to explore ways which sensors and GIST can be used innovatively, as part of the national effort to lead Singapore towards a Smart Nation.
SGC 2015 is open to students from secondary schools, junior colleges, ITEs, polytechnics and universities. Over 270 participants from 28 schools participated in this year's challenge.
The participants were provided sensors to collect data in Bishan-Ang Mo Kio Park and Pasir Ris Park. Parks were divided into grids and students were allocated grids for carrying out their data collection fieldwork. The sensors are capable of collecting environmental attributes such as Noise, Light, Humidity, Temperature and Air Quality. Thereafter, all the data collected was pooled and made available to all participants for analysis. The participants were challenged to use the data to create map visualisations and analysis of their findings.
The maps below are the results of the crowdsourcing effort whereby each participating team (maximum 4 students) was asked to contribute a minimum of 12 hours of data collection. Each point marks the location where the environmental data was collected by the participants during their fieldwork in the parks:
Bishan-Ang Mo Kio Park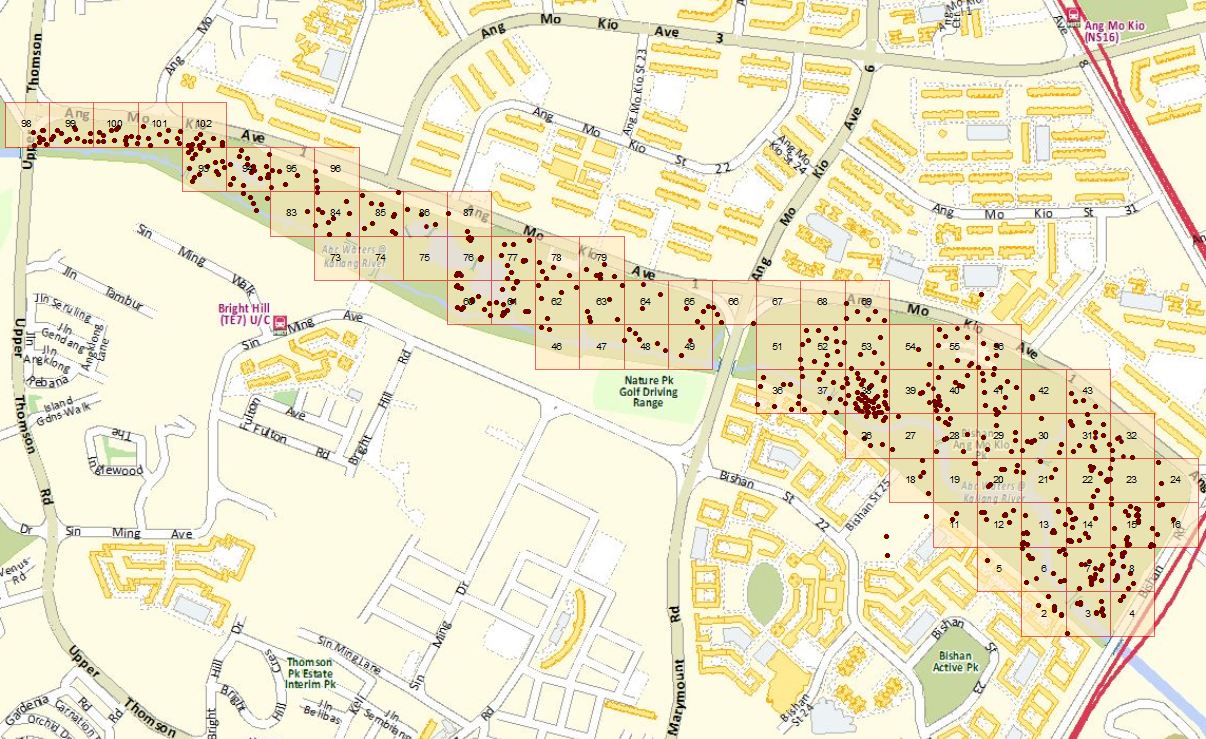 Pasir Ris Park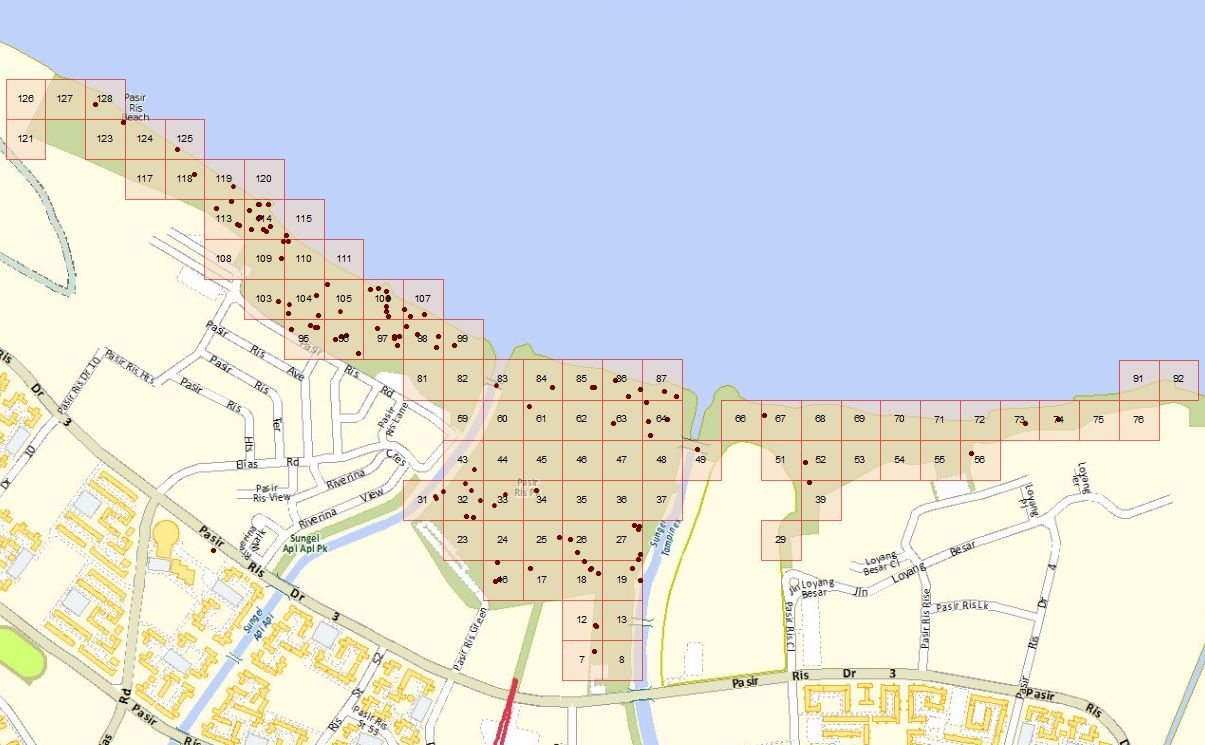 B. Our Partners

Our key industry and academic partners are as below:
Esri Singapore
Esri Singapore was founded in 1990 and for more than 20 years, Esri Singapore has established itself to be the Geographic Information Systems (GIS) leader in the region. Esri Singapore specializes not only in GIS, but also in the image processing technology and solutions, offering a total spatial solution offering.
To know more about Esri Singapore,
www.esrisingapore.com.sg
OneMaker Group
OneMaker Group is a consortium of 6 companies, coming together to spearhead and accelerate the innovation and entrepreneurship scene in Singapore – Sustainable Living Lab (SL2), Simplifi3D, Eian Williams Consulting, Home-Fix, Focustech Ventures and also SmartSpace.
To know more about One Maker Group, http://onemakergroup.sg
Singapore University of Technology and Design SUTD
Singapore University of Technology and Design (SUTD) is the fourth autonomous university to be established in Singapore. SUTD's mission is to advance knowledge and nurture technically grounded leaders and innovators to serve societal needs. At SUTD, design as a discipline cuts across the curriculum and provides a novel framework for the research and educational programmes.
To know more about SUTD, http://www.sutd.edu.sg
Our partners from the public sector are
National Parks Board
,
Ministry of Education
and
National Research Foundation
. Some other supporting partners are
Sustainable Living Lab SL2
,
BioMachines
,
data.gov.sg
and the
United Nations Initiative on Global Geospatial Information Management
.
C. Prizes

Award Type/ Name

Cash Prize

(for each winning team)

5 Distinction Awards

$1000

11 Excellence Awards

$500

4 Popular Showcase Awards

$400

4 Beautiful Map Awards

$300

3 Presentation Video Awards

$100

3 Team Photo Awards

$100

Sponsored Prizes

a) OneMaker Group sponsors up to 20 Prototyping Lab Memberships

(for 1 month) for all the student winners awarded with Distinction; and

b) Esri Singapore sponsors $1600 as cash prize for the winning teams of

Most Popular Showcase Awards as shown above
D. Schools Participating in SGC 2015

S/N

School Name

Category

1.

Anglo-Chinese Junior College

Junior College, Polytechnic & Institute of Technical Education (ITE)

2.

Dunman High School

3.

Hwa Chong Junior College

4.

ITE College East

5.

ITE College West

6.

Nanyang Polytechnic

7.

Ngee Ann Polytechnic

8.

NUS High School of Math and Science

9.

Pioneer Junior College

10.

Raffles Institution (Junior College)

11.

Republic Polytechnic

12.

Singapore Polytechnic

13.

Temasek Polytechnic

14.

Beatty Secondary School

Secondary School and Integrated Programme IP(Yr 1-4)

15.

Bowen Secondary School

16.

Canadian International School

17.

CHIJ St Nicholas Girls' School

18.

Juying Secondary School

19.

North Vista Secondary School

20.

NUS High School of Math and Science

21.

Orchid Park Secondary School

22.

Pasir Ris Secondary School

23.

Paya Lebar Methodist Girls' School

24.

River Valley High School

25.

Serangoon Garden Secondary School

26.

National University of Singapore NUS

University

27.

Singapore Management University SMU

28.

Singapore Institute of Technology SIT