Home
> Articles > Press Releases >
2022
> Singapore Land Authority hosts the first International Seminar on United Nations Global Geospatial Information Management in Southeast Asia
Singapore Land Authority hosts the first International Seminar on United Nations Global Geospatial Information Management in Southeast Asia
1. Held in Southeast Asia for the first time, the Singapore Land Authority (SLA) is hosting the International Seminar on United Nations Global Geospatial Information Management (UN-GGIM) from 16 to 20 May 2022. Themed "Effective Land Management", the international seminar aims to set the agenda for the development of global geospatial information and is an important forum for experts to address key global challenges such as climate change and sustainable development using geospatial information.
2. The International Seminar is officially opened by Mr. Calvin Phua, Deputy Secretary, Ministry of Law, Singapore today at Suntec Singapore Convention & Exhibition Centre. Mr. Hugh Lim, Executive Director, Centre for Liveable Cities delivered a keynote speech on Land Administration and Management. Mr. Colin Low, Chief Executive, Singapore Land Authority, Mr. Teo Chee Hai, Senior Advisor, United Nations Secretariat – Global Geospatial Information Management, and Ms. Quah Ley Hoon, Chief Executive, Maritime and Port Authority of Singapore gave opening addresses at the event.
3. More than 120 leading international experts from 22 countries across industry, academia and governmental agencies in the field of global geospatial information management are gathered at the seminar to share and exchange their expertise on strategies to address key global issues such as climate change, efficient urban planning and effective land administration for the wellbeing of society, economy and environment. The plenary sessions will cover topics including the integration of data and information from the terrestrial, maritime and cadastral domains, the availability and accessibility of reliable, timely and quality land information and the rights, restrictions and responsibilities for secure land and property rights. Please refer to the Annex for the full programme of the International Seminar.
4. The International Seminar is also held alongside the Fourth Expert Meeting of the United Nations Working Group on Land Administration and Management. These meetings provide a forum for dialogue and coordination among members of the Expert Group together with invited experts to translate concepts into practical guidance for the implementation of the Framework for Effective Land Administration (FELA) at the country level.
SLA's 3D National Mapping efforts
5. In Singapore, SLA leads the National 3D Mapping Programme that produces fundamental geospatial datasets that form the bedrock of all digital twins. Location data and geospatial expertise undergird the research and adaptation to tackle climate change-related endeavours. The integration of different types of geospatial and non-geospatial data is the key enabler for addressing climate challenges amidst urban development. With geospatial expertise, SLA's location data underpins several sustainability efforts, such as supporting the national agenda in coastal protection and flood management due to extreme weather.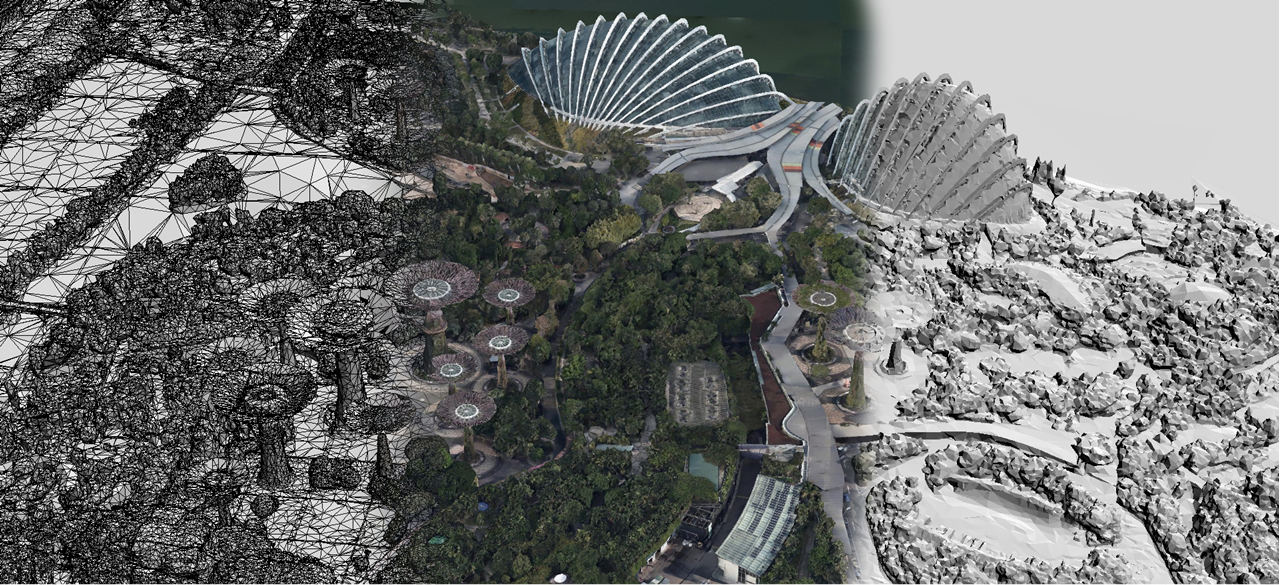 Different types of 3D data for the development of digital twin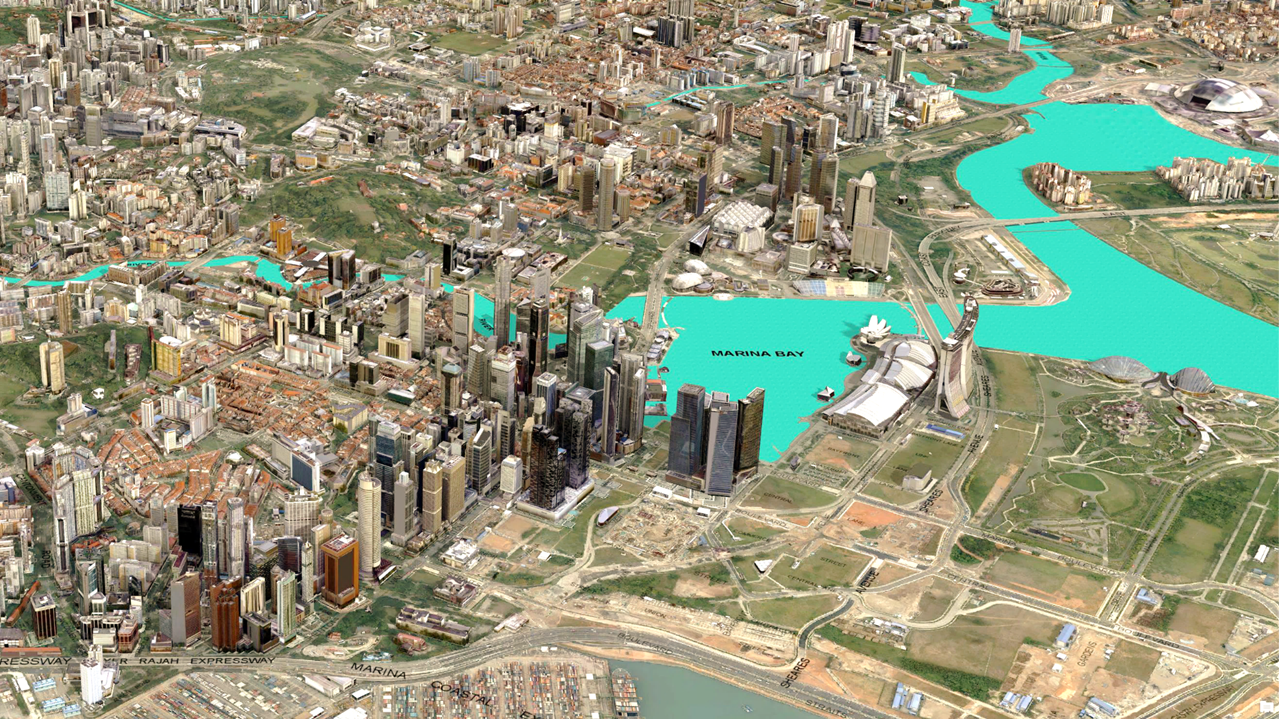 Digital twin of Singapore
6. Chief Executive of SLA, Mr Colin Low, said: "SLA is honoured to host the UN-GGIM event whose global experts developed frameworks such as the Integrated Geospatial Information Framework (IGIF) and Framework for Effective Land Administration (FELA), that embody their wisdom for effective land administration. Location or geospatial knowledge plays an integral role towards the socio-economic development of cities and countries today. To manage land effectively and address increasing climate change challenges, the Singapore Digital Twin (SG Digital Twin), encompassing 3D City models, terrain models, cadastral information, underground assets, coastline, and more, provides the foundation of data that allows us to accurately and efficiently plan and prepare for complex land environmental issues. We are delighted to share SLA's experience in this area as a showcase of how geospatial data can be used to improve the lives of our citizens."
7. Director of SLA's Survey and Geomatics Division, Dr Victor Khoo, adds: "In SLA, we are piloting Building Information Model (BIM) technology for 3D Strata cadastral administration, in high-rise communal living to take a 3D inventory of volumetric spaces at the unit level, for each residential or commercial occupant. The SG Digital Twin enables more effective asset design, project execution and asset operation. By leveraging on 3D datasets, spatial planning can take into account land ownership, transport accessibility, service connectivity, safety concerns, environmental considerations, and skyline aesthetics all at the same time. The expansion of these data sets contribute towards the digital transformation of the AEC industry and the built environment as public agencies can also review the proposed digital designs simultaneously with a single coordinated approval from regulatory agencies."
8. SLA will also be participating in the World Cities Summit in July this year to present the importance and benefits of geospatial solutioning. SLA will showcase SG Digital Twin to raise awareness of location data's role in managing the city among city leaders.
--- END ---
Issued by

Singapore Land Authority
17 May 2022
Annex – Full Programme
Monday

16 May 2022

Closed Door meeting

Tuesday

17 May 2022

International Seminar on UN-GGIM: Day 1 (Room: Hall 406)

8:15 a.m. – 9:00 a.m.

Arrival and registration of participants

(Registration Desk in front of Hall 406)

9:00 a.m. –

10:30 a.m.

Official Opening Ceremony

Joint official opening ceremony for the International Seminar on United Nations Global Geospatial Information Management with the theme "effective land administration", the meeting of the Executive Board of the Regional Committee of United Nations Global Geospatial Information Management for Asia and the Pacific, and the fourth meeting of the United Nations Expert Group on Land Administration and Management. The session includes an official opening address by an invited Guest of Honor followed by a number of welcome remarks, a keynote speech and an introduction on UN-GGIM.

Facilitator:

Mr. Evert MULDER

Singapore Land Authority

Welcome Address

Chief Executive, Singapore Land Authority

Singapore

Opening Address

Guest of Honor: Mr. Calvin PHUA

Deputy Secretary, Ministry of Law

Singapore

Welcome Remarks

Chief Executive, Maritime and Port Authority

Singapore

Co-Chair, United Nations Expert Group on Land Administration and Management

The Netherlands

Keynote Speech

Executive Director, Centre for Liveable Cities

Singapore

Introduction on UN-GGIM

Senior Advisor,

United Nations Secretariat – Global Geospatial Information Management

10:30 a.m. –

11:15 a.m.

Break

11:15 a.m. –

1:00 p.m.

Plenary Session #1

Effective land administration for the wellbeing of society, economy and environment

Effective land administration provides humanity with better access to and security of land and property rights, essential to achieve national development priorities and leaving no one behind - the commitment of the 2030 Agenda for Sustainable Development. This session discusses the significance and relevance of effective land administration leveraging the United Nations Framework for Effective Land Administration (FELA) for the wellbeing of people, planet, peace, partnership and prosperity of countries. (Each presentation will be of 15 - 18 minutes duration allowing time for moderated discussion)

Facilitator:

Mr. Kees de ZEEUW

United Nations Expert Group on Land Administration and Management

Presentations:

Land Administration and Management in Singapore

Mr. CHEOH Wee Keat

Singapore Land Authority, Singapore

Framework for Effective Land Administration (FELA)

Mr. Kees de ZEEUW

Kadaster International, The Netherlands

Effective Land Administration – Digitally-Enabled Urban Planning in Singapore

Mr. CHING Tuan Yee

Urban Redevelopment Authority, Singapore

Enhancing

Land Administration in Fiji through the IGIF and It's Country Action Plan

Ms. Meizyanne HICKS

Ministry of Lands and Mineral Resources, Fiji

Land Administration and Urban Climate Change Adaptation and Mitigation

Mr. Winston CHOW

Singapore Management University, Singapore

Moderated open discussion

1:00 p.m. –

2:30 p.m.

Lunch (Room: Hall 406)

2:30 p.m. –

4:00 p.m.

Plenary Session #2

Integration of terrestrial, cadastral and maritime domain

Evidence-based policy development and decision making leading to effective governance of a country's 'total' space, inclusive of the natural and built environment, require the integration of data and information from the terrestrial, maritime and cadastral domains. This session considers the importance of integrating data and information from these domains with any other meaningful data for the needed evidence-based policy development and decision making. The presentations not only discuss the value and benefits from the integration but also the issues and challenges of the integration for effective administration and governance of the country's total 'space'. (Each presentation will be of 15 minutes duration allowing some time for moderated discussion)

Facilitator:

Ms. Pearlyn PANG

Maritime and Port Authority of Singapore

Presentations:

Mr. Eric Foo

Maritime and Port Authority of Singapore, Singapore

Mr. Ramon HANSSEN

Technical University of Delft, The Netherlands

The Complexity of Gathering High Resolution, Accurate Geo-spatial Datasets in the Inter-tidal Zones of a Tropical Urban Coastal City-state.

Mr. OOI Seng Keat

Tropical Marine Science Institute, Singapore

Progress

Report on the revision of the Land Administration Domain Model (LADM) Standard & Parts being developed by ISO/TC 211 Geographic Information/Geomatics Committee

Mr. Chris BODY

International Organization for Standardization Technical Committee 211

One Map, One Data Policy: A Challenge for Integration

Mr. Antonius WIJANARTO

Geospatial Information Agency, Indonesia

Moderated open discussion

4:00 p.m. –

4:30 p.m.

Break

4:30 p.m. –

6:00 p.m.

Plenary Session #3

Integration of building information modelling and the cadastre

This session considers the importance of integrating the built environment into the cadastre. Geocoding building information modelling unlocks its value and allows the integration of natural and built environment data and information towards resilient and sustainable urban environment. This session also discusses the institutional and technical consideration when integrating BIM and the cadastre for a multiplicity of purposes. (Each presentation will be of 15 minutes duration allowing time for moderated discussion)

Facilitator:

Mr. Gerry ONG

ASEAN Federation of Land Surveying and Geomatics

Presentations:

Transforming

Regulatory Approvals through CORENET X

Mr. Clement TSENG

Building and Construction Authority, Singapore

Integration of B

uilding Information Models into Virtual City Models

Mr. Rudi STOUFFS

National University of Singapore, Singapore

Geodata in Sweden Cooperation and Development

Ms. Magdalena ANDERSSON

Lantmateriet, Sweden

Connecting

Perceptions with Reality in the World of BIM, and Cadastre

Mr. Faheem KHAN

Leica Geosystem, Singapore

Moderated open discussion

Wednesday

18 May 2022

EG-LAM Meeting and Technical Visits

9:00 a.m. –

1:00 p.m.

EG – LAM Meeting (Room: Nicoll 3)

1:00 p.m. –

2:00 p.m.

Lunch (Room: Nicoll 2)

2:00 p.m. –

6:00 p.m.

Technical Visits to Earth Observatory of Singapore and GeoWorks

Thursday

19 May 2022

International Seminar on UN-GGIM: Day 2 (Room: Hall 406)

8:30am –

9:00am

Arrival of participants

9:00 a.m. –

10:45 a.m.

Session #4

Rights, restrictions and responsibilities for secure land and property rights

Rights, restrictions and responsibilities for secure land and property rights, including marine spaces, are inter-related and have to be administered responsibly and effectively. This session considers the organization and integration of attributes related to rights, restrictions and responsibilities, including the spatial extent, duration, people involved and purpose in a uniform fashion and stored in authentic registers. (Each presentation will be of 15 – 18 minutes duration allowing time for moderated discussion)

Facilitator:

Mr. Rohan BENNETT

International Federation of Surveyors

Presentations:

RRRs and FELA: What | Why | Where

Mr. Rohan BENNETT

Commission 7, International Federation of Surveyors

Mr. Neil COHN

Chia Network

Mr. Mika-Petteri TORHONEN

World Bank

Effective Land administration: a Suriname Experience

Ms. Glenda HEIKERK

Management Institute for Land registration and Information System, Suriname

Moderated open discussion

10:45 a.m. –

11:15 a.m.

Break

11:15 a.m. –

1:00 p.m.

Session #5

Availability and accessibility of reliable, timely and quality land information

This segment considers the importance of up-to-date information that is consistently available and accessible over space and time for good land administration and management, leading to good land governance and sustainable development. In this session we will hear from industry, academia and governmental agencies how they ensure the availability and accessibility of reliable, timely and quality land information for effective land administration benefitting society, environment and economy. (Each presentation will be of 15 - 18 minutes duration allowing some time for moderated discussion)

Facilitator:

Mr. Victor KHOO

Singapore Land Authority

Presentations:

Navigating Towards an Accessible, Accurate and Quality Land Information

Ms. Emelyne V TALABIS

Land Management Bureau, Philippines

Availability

and Accessibility of Official Geospatial Reference Data in Germany

Mr. Peter CREUZER

Landesamt für Geoinformation und Landesvermessung Niedersachsen, Germany

Land Information and the Geodetic Datum

Mr. Andrick LAL

Pacific Forum

Critical Infrastructure for Geospatial Data

Mr. Brent JONES
ESRI, United States

Rethinking Land Administration with New Age Space Technologies

Ms. LOH Sook Yee

Maxar Technologies, Singapore

Moderated open discussion

1:00 p.m. –

2:30 p.m.

Lunch (Room: Hall 406)

2:30 p.m. –

4:00 p.m.

Session #6

Key elements for implementing the Framework for Effective Land Administration

This session considers the translation of high-level concepts to practical guidance for use by Member States leveraging the Framework for Effective Land Administration and its nine pathways. The pathways are intended to guide the implementation of FELA, support the operationalization of IGIF at the country-level and ultimately achieve national development priorities, secure land and property rights for all, and sustainable development. (Each presentation will be of 15 minutes duration allowing some time for moderated discussion)

Facilitator:

Mr. Brent JONES

ESRI

Presentations:

Mr. TEO Chee Hai

UN-GGIM

Road Map to Implement the Framework for Effective Land Administration System in Sri Lanka

Mr. Mohamed RAFEEK

Survey Department, Sri Lanka

Leveraging FELA, Sharing Experiences from the Netherlands and Abroad

Ms. Paula DIJKSTRA

Kadaster International, The Netherlands

Ms. Eva-Maria UNGER

Kadaster International, The Netherlands

Moderated open discussion

4:00 p.m. –

4:30 p.m.

Break

4:30 p.m. –

5:15 p.m.

Closing session

This session is a panel that gathers all the facilitators to provide a succinct summary of the sessions they have moderated before the presentation of an outcome statement of the International Seminar.

Facilitator:

Mr. Kees de ZEEUW

Co-Chair, United Nations Expert Group on Land Administration and Management

Closing summaries

A moderated panel discussion involving all session facilitators to summarize and present recommendations from their sessions, way forward including key considerations for the implementation of the Framework for Effective Land Administration towards effective land administration for the benefit of all.

Panelists:

Moderated discussion with session facilitators

Moderated open discussion

5:15 p.m. –

6:00 p.m.

Closing ceremony

The outcome statement of the International Seminar will be presented before the international seminar brought to a close with an official closing statement.

Facilitator:

Outcome statement

Closing remarks

Official closing statement

Friday

20 May 2022

Closed door meeting

END OF THE EVENT