Home
> Articles > Press Releases >
2022
> Gillman Barracks to be Rejuvenated into a Vibrant Creative Lifestyle Enclave with Enhanced Infrastructure, Innovative F&B & Lifestyle Offerings
Gillman Barracks to be Rejuvenated into a Vibrant Creative Lifestyle Enclave with Enhanced Infrastructure, Innovative F&B & Lifestyle Offerings
The Singapore Land Authority (SLA) today announced rejuvenation plans for Gillman Barracks, which will transform the area into a vibrant creative lifestyle enclave with a complementary mix of dining, leisure, and arts offerings for all visitors. SLA intends to bring in more tenants with novel F&B and lifestyle concepts to provide a wide range of programmes and offerings, such as unique dining experiences, farmers' markets, and creative learning opportunities to allow communities to gather, connect, and engage throughout the day. As part of the rejuvenation plans, which will be carried out across two phases, SLA will also be upgrading the enclave's infrastructure to enhance the overall visitor experience to Gillman Barracks.
2 Minister for Culture, Community and Youth and Second Minister for Law, Mr Edwin Tong, said: "Optimising land resources is integral to sustaining Singapore's economic and social development. As the custodian of State land and properties, SLA will ensure they are put to the best possible use, taking into consideration not just the financial benefits, but also the social benefits. The rejuvenation of Gillman Barracks by SLA is part of its continuous efforts to unlock greater value from State properties through new and innovative ideas, to benefit the wider community. By creating more exciting and varied lifestyle, arts and creative spaces, the rejuvenation effort will add to the vibrancy of the precinct for all to enjoy."
3 Set in a former military barracks dating back to 1936, Gillman Barracks is known for its rustic charm and ample outdoor space amidst lush greenery. It has an estimated site area of 6.6ha and comprises 17 iconic colonial State properties. Popular with cyclists and hiking enthusiasts, Gillman Barracks is strategically surrounded by the Southern Ridges loop (Alexandra Garden Trail and Henderson Park Connectors) and is close to the upcoming Alexandra Nature Park in the Labrador area. See Annex A for more information on Gillman Barracks.
Rejuvenation Plans for Gillman Barracks
Launch of tenders for innovative F&B and lifestyle uses
4 An important component of the rejuvenation plans is the curation and launching of tenders to introduce varied and exciting programmes to Gillman Barracks. SLA today launched five tenders for F&B and lifestyle uses, such as farmers' markets, bistros with potential live music, farm-to-table dining options, and lifestyle workshops for varying ages. This is to meet the increasing demand for unique offerings and outdoor interactive spaces that befit new and evolving lifestyles that have emerged in recent years. SLA will subsequently offer similar tenders for other blocks in the second phase. See Annex B for artist impressions of community and lifestyle uses at the precinct and Annex C for details of the gross floor area (GFA) and allowable outdoor refreshment area (ORA) for the five blocks.
5 All the five tenders will be evaluated based on both Price (40%) and Quality (60%), with a higher weightage placed on the Quality component to allow for a holistic assessment of the proposals. The quality component includes the concept, creativity, and novelty of the business proposals, and how they can contribute to the rejuvenation and vibrancy of the precinct, including round-the-clock engagements that can attract communities from all walks of life.
6 The Quality component will also take into consideration whether the proposal actively incorporates green initiatives into the business operations. This is part of SLA's initiative to make Gillman Barracks an eco-friendly precinct consistent with Singapore's larger sustainability efforts. Green features may include infrastructural enhancements such as energy-efficient lighting and ventilation, water-efficient fittings in washrooms, and the use of sustainable supplies such as biodegradable packaging. Environmentally friendly operations and curated sustainability programmes are also encouraged.
7 Tenders for the five blocks will open for 8 weeks starting from 24 May 2022. Those interested to rent the premises at Gillman Barracks can access SLA's one-stop property portal, State Property Online Information (SPIO), at https://app.sla.gov.sg/spio for more information.
Curation of Arts Offerings
8 There are currently 10 local and international art galleries at Gillman Barracks. Gillman Barracks will continue to be a highlight precinct of Singapore Art Week (SAW) – the annual visual arts season that celebrated its 10th edition in 2022. The precinct will also host events organised by its tenant galleries.
9 "We are very much looking forward to SLA's rejuvenation plans for Gillman Barracks; the lifestyle offerings complement the 10 commercial art galleries and businesses. The National Arts Council (NAC) will continue to support the arts organisations through the various grants and partnership programmes, as well as with our advocacy efforts. Gillman Barracks remains a unique arts precinct and SLA's rejuvenation plans for it will add to the vibrancy of Singapore's visual arts ecosystem." said Mr Tay Tong, Director of Sector Development, Visual Arts, NAC.
Upgrading the Precinct's Infrastructure
10 An equally important component of the progressive rejuvenation is the upgrading of the enclave's infrastructure. This creates a more enjoyable and memorable visitor experience for various profiles of the communities, which in turn benefits our new and existing tenants. Gillman Barracks is situated next to a Park Connector Network (PCN) along 'Alexandra Garden Trail' linking up Hort Park, Labrador Park, and the Southern Ridges, making it an ideal pitstop for cyclists, nature enthusiasts, and casual hikers. In addition, visitors can look forward to free parking on weekends, public holidays, and weekdays from 5pm to 8.30am the following day.
11 Gillman Barracks is also a convenient 10-minute walk from Labrador Park MRT. There are plans to introduce additional covered linkways at selected walking paths, for improved connectivity amongst the 17 blocks. This will provide a more pleasant experience to those exploring the area on foot.
12 Following SLA's active engagement with tenants and members of the public, an overall 'facelift' will be carried out for Gillman Barracks through the upgrading of common washrooms with eco-friendly sanitary fittings. A new thematic playground will also be built to provide an additional recreation spot for families with children.
13 The upgrading works which began in February 2022 are targeted to be completed by early 2023. See Annex D for artist impressions of the precinct's various infrastructure upgrades.
Conclusion
14 Mr Colin Low, Chief Executive of SLA said, "SLA is constantly reviewing the timely introduction of innovative ways to unlock the potential of our State Properties and value-add to the economy and community. Since taking over the management of Gillman Barracks in 2020, we have leveraged our experience in adaptive reuse of heritage buildings to curate a unique space here at Gillman Barracks, drawing on its immense potential to be reinvented as a lifestyle destination of choice. We have engaged market players ranging from sectors such as F&B, retail, lifestyle and wellness, to arts industry and social industries, who underscore these sentiments and shared that they were most attracted to the accessibility of Gillman Barracks, its iconic blocks with high ceilings, lush greenery and heritage.
15 "Through the rejuvenation plans, Gillman Barracks will be transformed into a vibrant creative lifestyle enclave. Families, cyclists, hikers, arts enthusiasts, nature lovers, as well as the working community and residents in Alexandra and Telok Blangah, and future residents at the earlier announced Greater Southern Waterfront, can look forward to experience varied offerings throughout the day. There will be something for everyone."
=== End ===
Issued by

Singapore Land Authority
24 May 2022
ANNEX A
About Gillman Barracks
The Singapore Land Authority (SLA) took over the lease and estate management of Gillman Barracks from Jurong Town Corporation (JTC) in March 2020. Currently, there are 18 tenants at Gillman Barracks – 10 commercial arts galleries, 1 non-profit institution, 1 art institution and 6 F&B operators, and they have been at Gillman Barracks since SLA took over the management of the site.
Location Map of Gillman Barracks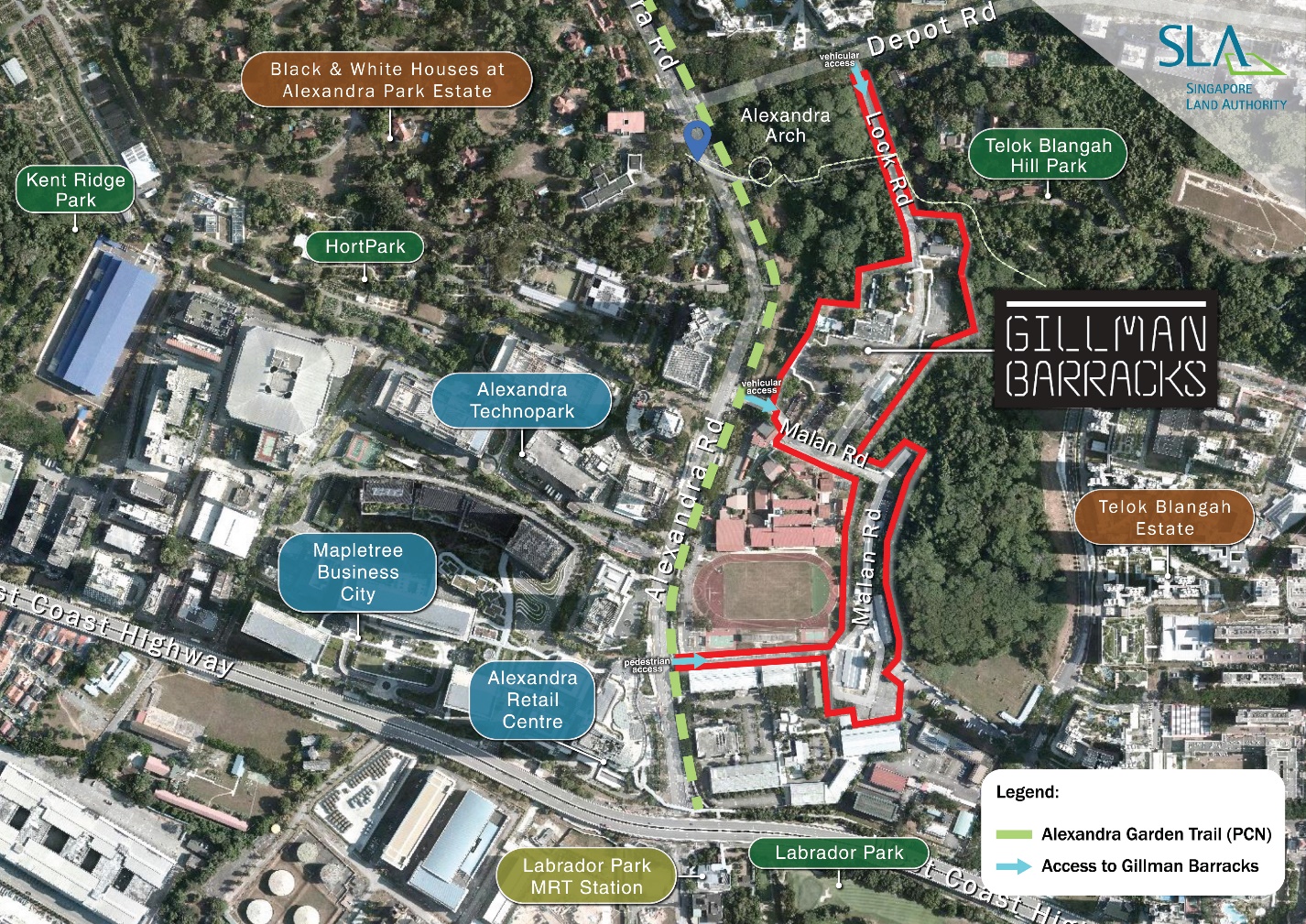 ANNEX B
Artists Impressions* of Community and Lifestyle Uses at Gillman Barracks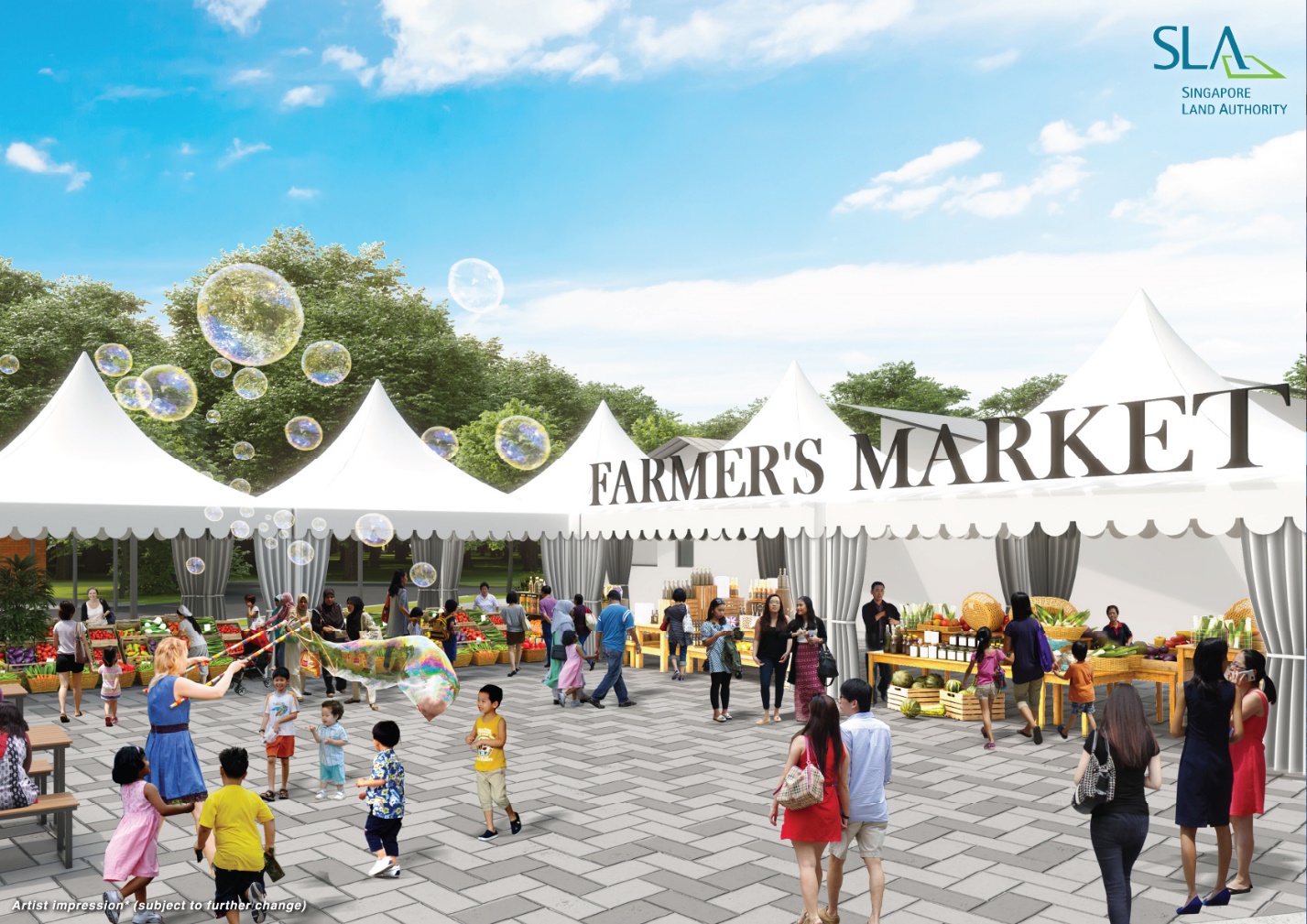 Artist impression of proposed farmer's market
[*Note: Subject to further change]
ANNEX C
Blocks at Gillman Barracks that will be launched for tender
9A Lock Road

Tendered use

F&B and/or retail use

Estimate GFA

343 sqm

Estimate ORA

307 sqm
Address

5A Lock Road

Tendered use

F&B only

Estimate GFA

64 sqm

Estimate ORA

40 sqm
[*Note: tenants' name has been digitally removed for tenanted properties]
Address

8 Lock Road

Tendered use

F&B only

Estimate GFA

340 sqm

Estimate ORA

80 sqm
Address

10 Lock Road

Tendered use

F&B only

Estimate GFA

228 sqm

Estimate ORA

350 sqm
[*Note: tenants' name has been digitally removed for tenanted properties]
Address

45 Malan Road

Tendered use

F&B only

Estimate GFA

76 sqm

Estimate ORA

213 sqm
Aerial View of Blocks to be launched for tender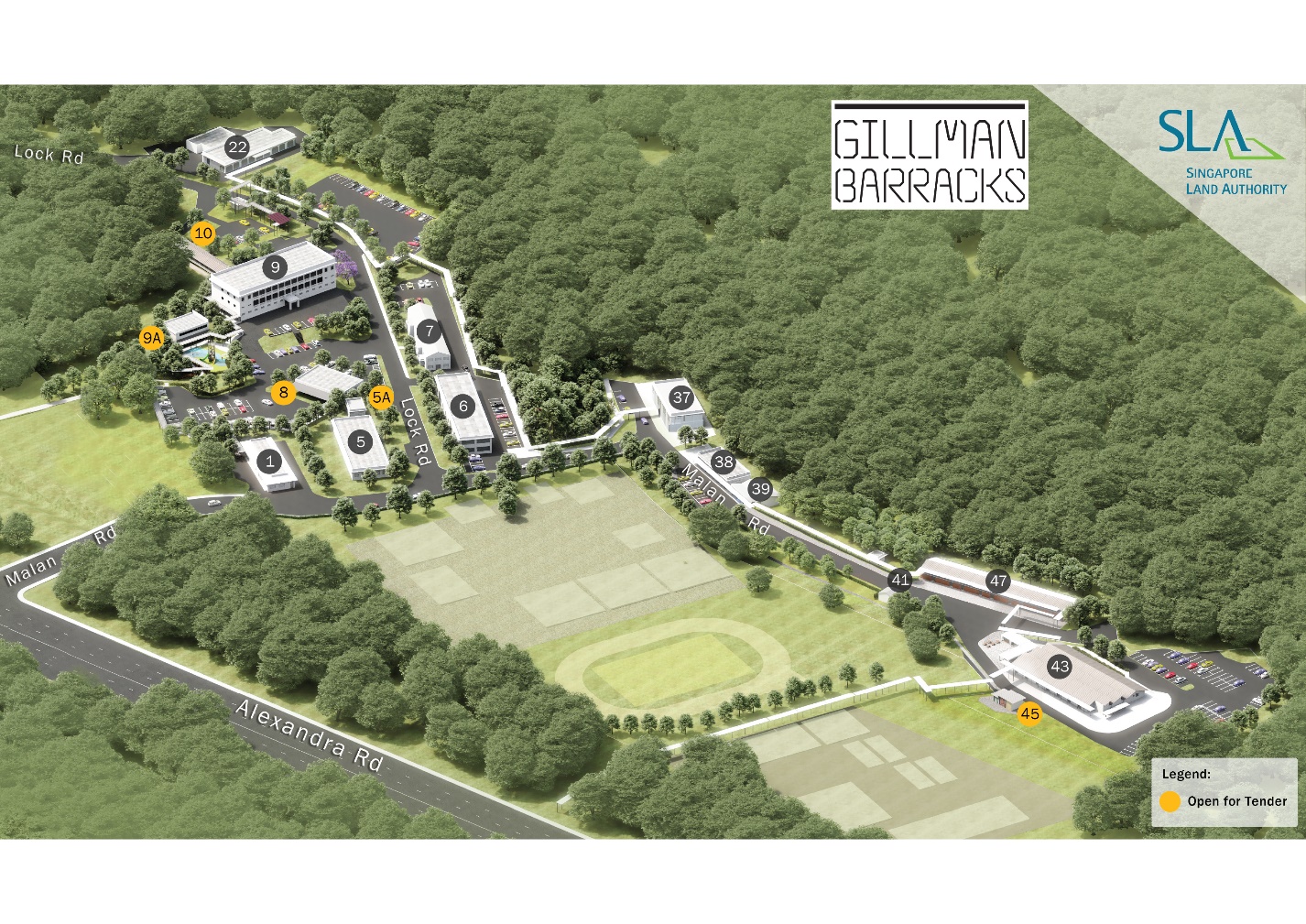 *Note: All tenders launched will offer a longer upfront tenure of five years, renewable for a second term of between two and three years.
ANNEX D
Artist Impressions* of the precinct's various infrastructure upgrades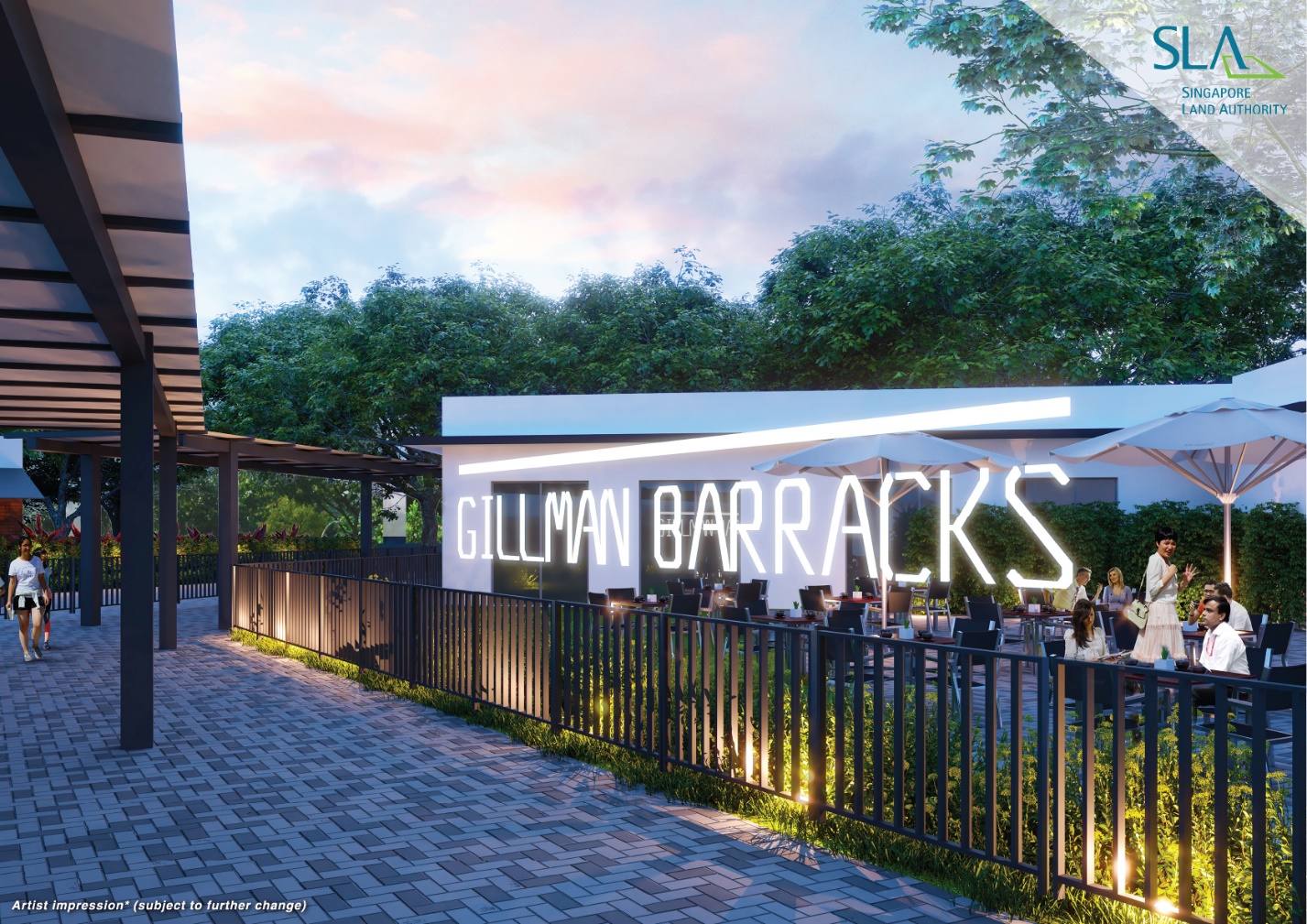 Artist impression of wayfinding
[*Note: Subject to further change]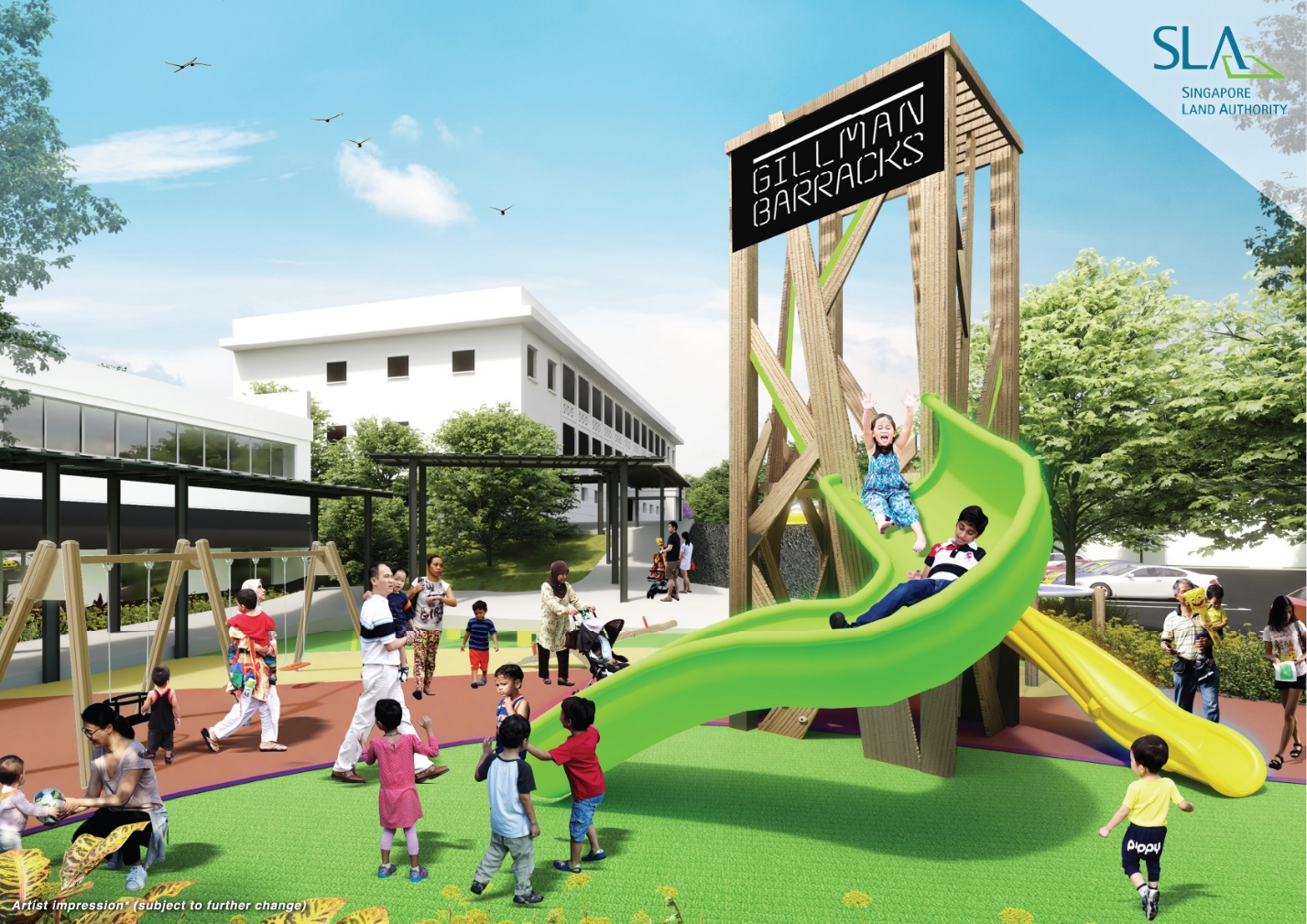 Artist impression of proposed playground
*Note: Media can download all the high-resolution images/perspectives from the following link: