Home
> Articles > Press Releases >
2022
> First Singaporean appointed Co-Chair to lead United Nations' geospatial expert community
First Singaporean appointed Co-Chair to lead United Nations' geospatial expert community
Singapore will share its experience in land registration and management, and geospatial technology to address climate change challenges, such as in coastal protection, solar panels deployment and other green initiatives.
Dr Victor Khoo, Director of Survey & Geomatics at the Singapore Land Authority (SLA), has been appointed to represent Singapore as the Co-Chair of the United Nations Expert Group on Land Administration and Management (EG-LAM) for three years from August 2022. The appointment marks the first time a Singaporean has assumed the Co-Chair appointment for the EG-LAM since its founding in 2015.
2. The EG-LAM is an expert group under the United Nations Committee of Experts on Global Geospatial Information Management (UN-GGIM). The group is represented by geospatial professionals from over 28 countries across Europe, South America, Southeast Asia and the Pacific islands. Singapore takes over founding Co-Chair The Netherlands, and will lead the group with Co-Chair from the SNIT-IDE (the National System of Territorial Information), Chile. More information on the EG-LAM and Dr Khoo's profile is detailed in the Annexes.
Recognition of Singapore's expertise in land registration and management, digitalisation and geospatial innovation
3. The appointment is a strong recognition of Singapore's achievements in maintaining a reliable and robust framework in land registration and management, and in using digitalisation to revolutionise its cadastre for land ownership, which has enabled cadastral inspection and approval to be completed using a digital format. Singapore will contribute to guiding the EG-LAM's transition from the planning to implementation of its land administration framework globally. The appointment also places Singapore at the centre of global geospatial policy making, and further positions Singapore as a global hub for geospatial innovation and economic activities.
Charting a new focus on global climate change opportunities
4. With many countries facing the impact of climate change, Singapore will value-add to the EG-LAM's plans to encourage the adoption of geospatial-based technology for climate change mitigation measures and sustainable development. According to a report on the State of Global Climate in 2021 by the World Meteorological Organization, greenhouse gas concentrations, sea-level rise, ocean heat and ocean acidification had all set new records in 2021[1]. The 58 Small Island Developing States (SIDS) across the Caribbean, the Pacific, and the Atlantic, Indian Ocean and South China Sea, with a combined population of about 65 million, are particularly vulnerable to these climate changes.[2] As countries work to stave off the impact of climate change, location data obtained through mapping has proven to be critical in solving climate change issues.
Areas in which Singapore will share its experiences
5. As the national geospatial agency, SLA has partnered various stakeholders from businesses to academia to harness the potential of geospatial data, to help achieve Singapore's sustainability goals. Dr Khoo and the Singapore team will share Singapore's experience in 3D mapping of the environment to produce high-resolution geospatial data and 3D city models with the EG-LAM on the following:
a. Coastal protection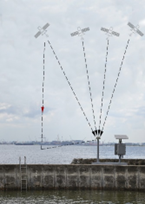 Photo Credit: SLA
Singapore's Global Navigation Satellite Systems (GNSS) infrastructure is used to monitor sea levels. We will share our experience using geospatial data and technologies in planning for coastal protection with other countries.
b. Solar panels deployment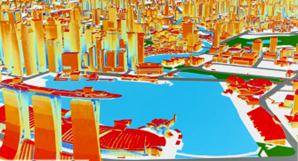 Photo Credit: Solar Energy Research Institute of Singapore (SERIS) and School of Design & Environment (SDE), National University of Singapore (NUS).
Singapore's 3D building models have been used to establish a country-wide solar potential map which allows us to determine suitable rooftops for solar panel installation. Singapore will share learning points that will benefit other countries as they embark on efforts to reduce their carbon footprint by tapping on solar power in urban areas.
a. Greening initiatives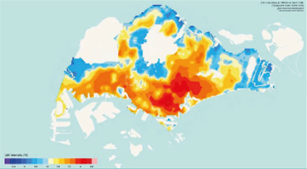 Photo credit: Borzino N, Chng S, Mughal MO, Schubert R. Willingness to Pay for Urban Heat Island Mitigation: A Case Study of Singapore. Climate. 2020; 8(7):82. Cooling Singapore, Singapore-ETH Centre.
Singapore has leveraged our detailed 3D building models to conduct studies and simulate the effect of urban heat, which aid in the planning for green buildings and district cooling infrastructure.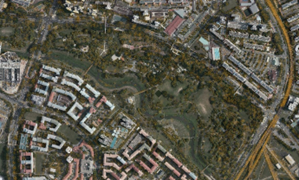 Photo Credit: SLA
Globally, there are also ongoing efforts to plant more trees to mitigate the effects of climate change. Singapore has tapped on geospatial technology for the accurate mapping of tree location to support the planning of green spaces, and will encourage EG-LAM group members to leverage geospatial technology to achieve their greening initiatives.
6. "Geospatial technology, particularly in 3D data acquisition, usage of space-based earth observation data and environmental monitoring can help address some of the most pressing climate change issues such as rising sea-levels and coastal damage. In Singapore, SLA has worked with various agencies and institutions on research and implementation of novel use cases to monitor and mitigate their effects. From our experience, such collaborative efforts are necessary to address complex climate related challenges. I look forward to working with the Co-Chair from Chile as well as global experts, companies, and researchers to unlock the potential of geospatial technology and expertise to prepare nations for future climate challenges." said Dr Victor Khoo, Director of Survey & Geomatics Division, SLA.
7. "SLA started investing in the development of geospatial capabilities decades ago. This investment continues to pay off today with innovations such as the Singapore Satellite Positioning Reference Network (SiReNT) that provides referencing for all geospatial data in Singapore, the digital cadastre that forms the solid foundation of Singapore's land administration, and the 3D national map that supports various applications that require reliable 3D geoinformation. All these have brought social and economic benefits to Singaporeans and our businesses. Dr Khoo has been instrumental to these developments and his appointment to the Co-Chair of the EG-LAM is an affirmation by the world community of Singapore's expertise and leading position in the field of geospatial information and technology. The appointment will also place Singapore and our businesses in related fields in good position to share this expertise beyond our shores, for mutual learning and creation of economic opportunities." said Mr Colin Low, Chief Executive, SLA.
8. SLA will continue to explore opportunities to collaborate with the international community in driving the adoption of geospatial technology to mitigate the impact of climate change. SLA will be organising the Singapore Geospatial Festival 2022 from 3 to 7 Oct 2022 with the theme "A Sustainable Future with Geospatial". The festival brings international and local geospatial communities together for co-located activities promoting the use of geospatial technologies such as GNSS and location-based mapping. More details on the festival will be announced separately.
===End===
ANNEX A
About UN-GGIM
The UN-GGIM (https://ggim.un.org) was established in 2011 by the UN Economic and Social Council (ECOSOC). It aims to address global challenges regarding the use of geospatial information; provides a platform for coordination and dialogue among Member States and between relevant international organisations to develop global frameworks, common principles, policies, guidelines and standards to support geospatial data and services. UN-GGIM is supported by five Regional Committees: Asia-Pacific, Americas, Arab States, Europe and Africa. It has also established two Expert Groups i.e. Expert Group on the Integration of Statistical and Geospatial Information and Expert Group on Land Administration and Management (EG-LAM).
The EG-LAM (https://ggim.un.org/UN-EG-LAM/) as one of the two Experts Groups under UN-GGIM, was founded in August 2015. It aims 1) to play a leading role at the policy level by raising political awareness and highlighting the importance to decision makers of the need for timely and fit-for-purpose land administration and management and; 2) to encourage the use of geospatial information tools and systems to improve the legal certainty of all citizens in the world with respect to the registration of the relation between people and land.
The EG-LAM is represented by geospatial professionals and experts from National Mapping, Cadastre and Geospatial Agencies from over 28 countries, across Europe, South America, Southeast Asia and the Pacific islands. It is currently co-chaired by the Singapore Land Authority (SLA) and the SNIT-IDE (the National System of Territorial Information) from Chile.
ANNEX B

Dr Victor Khoo's Curriculum Vitae

Victor Khoo Hock Soon
Director, Survey and Geomatics Division
Singapore Land Authority
Dr Victor Khoo is the Director for Survey and Geomatics Division at the Singapore Land Authority (SLA). He received his PhD and Master of Engineering degree from Nanyang Technological University (NTU), Singapore. He obtained his Bachelor degree in Land Surveying from the University Technology of Malaysia (UTM). Victor is a Professional Surveyor, registered under the purview of Land Surveyors Act, Singapore.
Prior to joining SLA in 2002, he was involved in research and collaboration work for 8 years, in the Centre for Remote Imaging, Sensing and Processing (CRISP), the National University of Singapore (NUS) and School of Civil and Environmental Engineering, NTU; focused in the areas of Satellite Remote Sensing and Global Navigation Satellite System (GNSS).
In SLA, Victor led diverse geospatial and mapping related initiatives and projects for agencies and industry. These included the setting up of Singapore's National Spatial Data Infrastructure (NSDI), the establishment of national positioning infrastructure (the SiReNT), the digital transformation in cadastral survey, and the 3D national mapping program. He also initiated the Digital Underground project in 2017, to develop a holistic ecosystem for the mapping of underground utility networks. Currently, he is driving the development of Singapore Digital Twin which involved a program to modernise 3D national mapping; development of new datasets, data models and standards; new 3D data management; and the collaboration for applied research in smart cities applications. His other areas of interest include Cadastral Survey and GNSS positioning.
Additional photos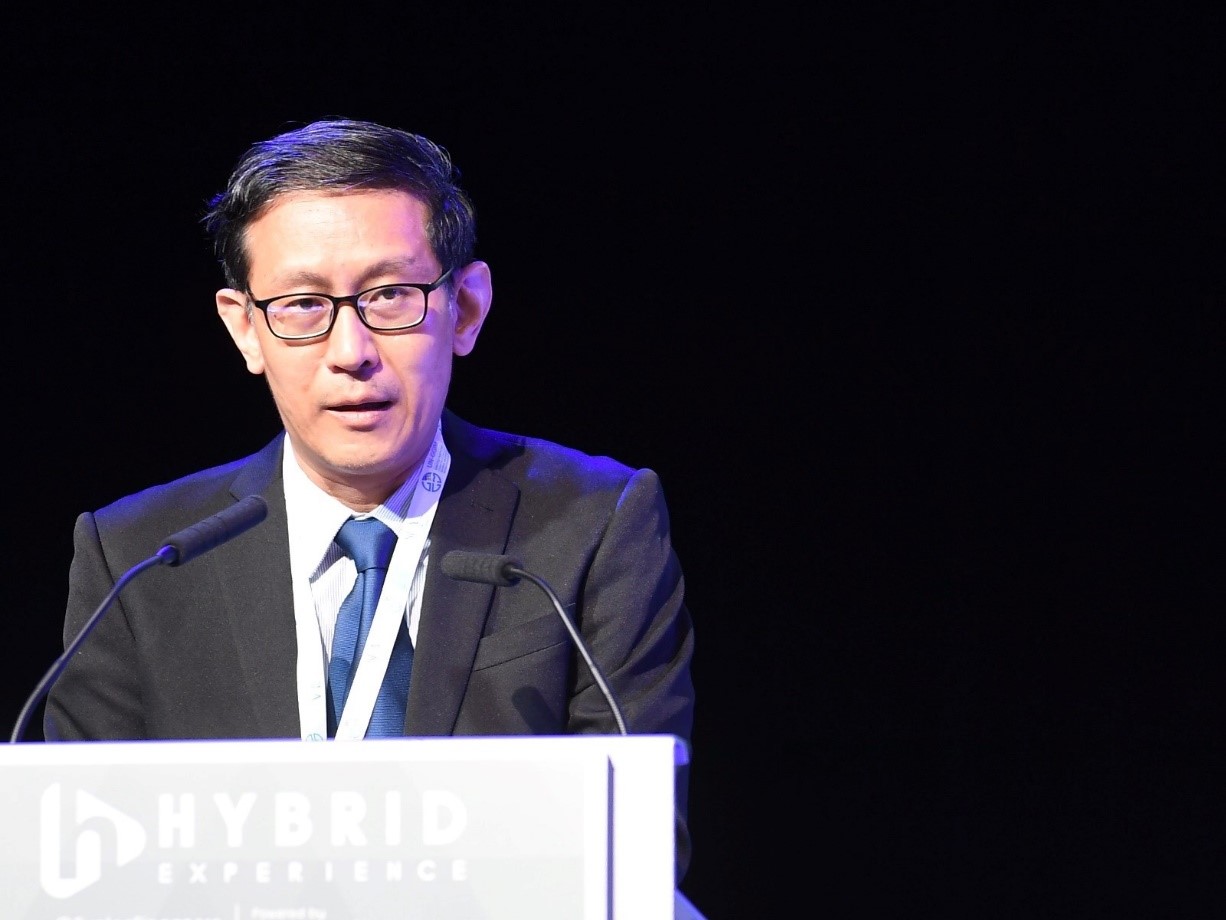 Dr Victor Khoo addressing the attendees at the UNGGIM meeting held in Singapore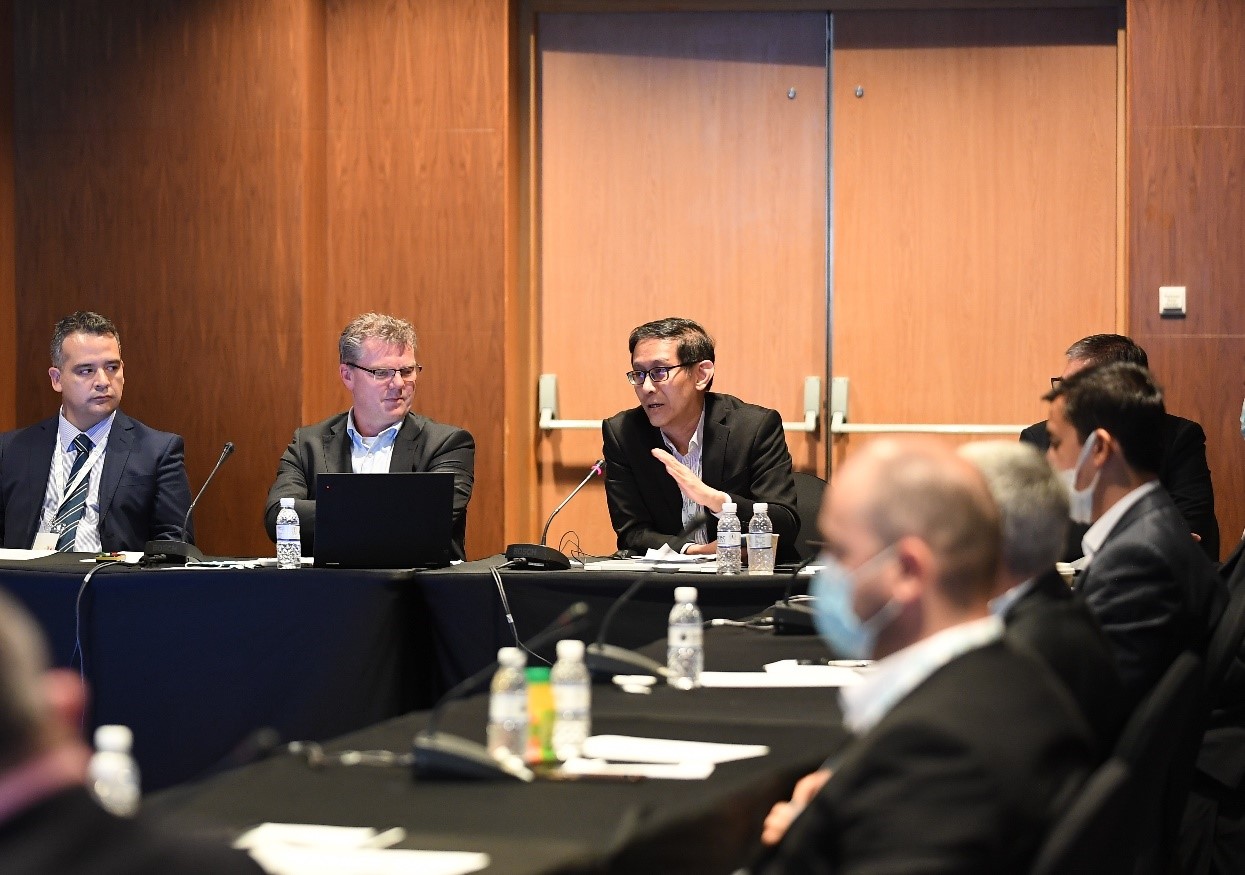 (3rd from left) Dr Victor Khoo in a discussion at a UNGGIM meeting hosted by SLA in Singapore in May 2022
---