Home
> Articles > Press Releases >
2021
> SLA launches OneMap3D, and signs MOUs with Ninja Van, Kabam and PropNex to further the use of OneMap
SLA launches OneMap3D, and signs MOUs with Ninja Van, Kabam and PropNex to further the use of OneMap

OneMap3D was officially launched today by Minister for Culture, Community and Youth and Second Minister for Law, Mr Edwin Tong SC. OneMap is the national map of Singapore with the most authoritative and detailed map information,
2. Developed by the Singapore Land Authority (SLA), the 2D format of OneMap was first launched in 2010. In 2017, an enhanced version was rolled out with an expansion of location-based information and navigational services including real time traffic data, as well as Application Programming Interface (API) for application developers. Building on this foundation, SLA's geospatial team began exploring new capabilities on using open-source 3D geospatial technology and 3D city modelling for the conversion of OneMap from 2D format to 3D. OneMap3D (www.OneMap3D.gov.sg) serves as a dynamic visualisation platform, presenting an immersive experience of a user's surroundings. (See Annex A for OneMap3D sample screen references)
3. Speaking at the launch of OneMap3D at the Singapore Geospatial Festival 2021 organised by SLA, Minister Edwin Tong said, "The development of OneMap3D marks an important milestone in Singapore's geospatial journey. It is built on our commitment to enhance our country's geospatial capabilities and to provide new geospatial solutions for businesses, government, and the wider public."
SLA's MOUs with Ninja Van, Kabam and PropNex
4. To further industry use and the development of geospatial technology through OneMap, SLA signed three separate Memorandums of Understanding (MOU) with Ninja Van, Kabam and PropNex. The MOUs will foster collaborative ties and knowledge sharing between SLA and the three key industry players to leverage on geospatial data to support smart services and solutions.
5. SLA's MOU with Ninja Van Singapore will pave the way for collaborative efforts on geospatial co-innovations to improve hyperlocal and granular data at street level for last mile delivery. "We are pleased to be SLA's first express logistics partner for GeoWorks," said Mr Lai Chang Wen, Chief Executive Officer of Ninja Van. "With our drivers contributing pictorial data to facilitate OneMap's accuracy and data volume, we can potentially set a new industry operational standard through improvements in the entire last-mile delivery," added Mr Lai.
6. To develop geospatial innovation in the area of robotics and automation solutions, the SLA and Kabam MOU will see the trial of automated data capture with robots, reducing the time and effort from manual data capture. This partnership will also allow SLA and Kabam to establish standards for robotics-ready maps and the interoperability of map information for compatibility across multiple platforms. General Manager of Kabam, Mr Michael Sayre, said "We look forward to working with SLA to unlock the potential of geospatial and robotics technologies."
7. In the real estate space, SLA's MOU with PropNex will bring about the development of new feature data collection and customised Application Programming Interface (API) to enhance PropNex's applications and OneMap geospatial information. PropNex's Chief Executive Officer, Mr Ismail Gafoor, said "OneMap allows us to serve our clients better as they can view listings with real-time location-based services and detailed location information like nearby schools and amenities. This collaboration with open data could become a game-changer for our real estate industry." (See Annex B for details on MOU partners.)
8. SLA Chief Executive Colin Low said, "The MOUs are part of SLA's efforts to collaborate with industry leaders to promote growth and opportunities through geospatial solutions. We seek to foster closer collaboration between government and industry to drive competency and create value-added services through geospatial innovation. SLA will continue to explore a range of options and methods to capture data effectively and efficiently, to provide a robust map base and mapping datasets as a driver for smart nation solutions."
9. To view the MOU signing between SLA and Ninja Van, Kabam and PropNex, visit https://bit.ly/3lo8mB7. The full line-up of the activities organised during Singapore Geospatial Festival 2021 is available at the event website at go.gov.sg/sggeofest.
=== End ===
Issued by:
The Singapore Land Authority
15 September 2021
Annex A
OneMap3D sample screen references
Property search query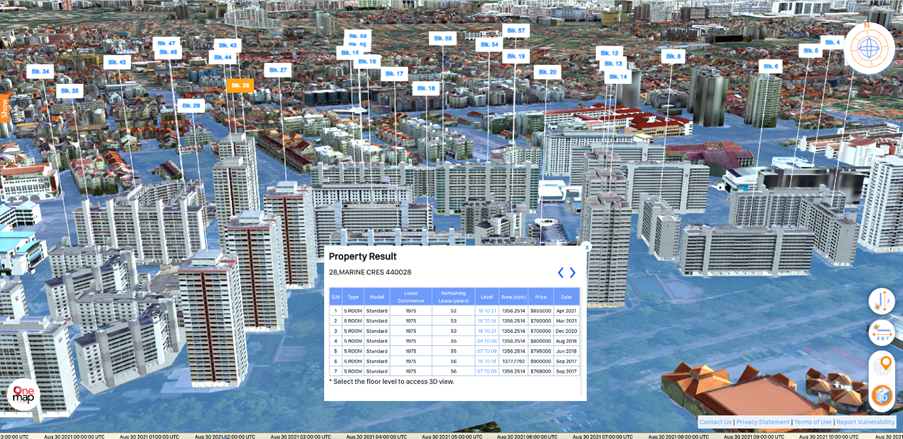 Visualisation of drone flight path planning and no-fly zone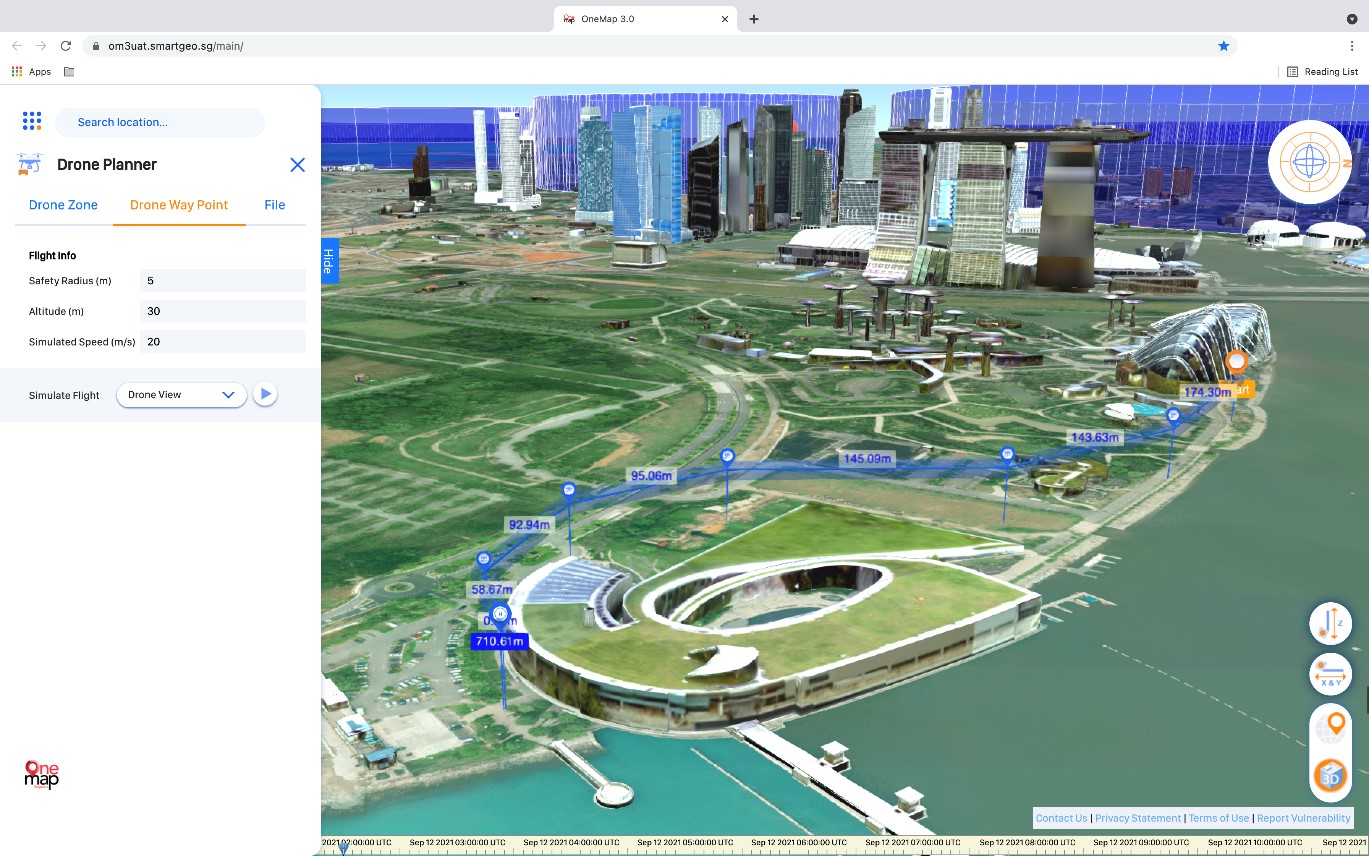 Elevated view of surroundings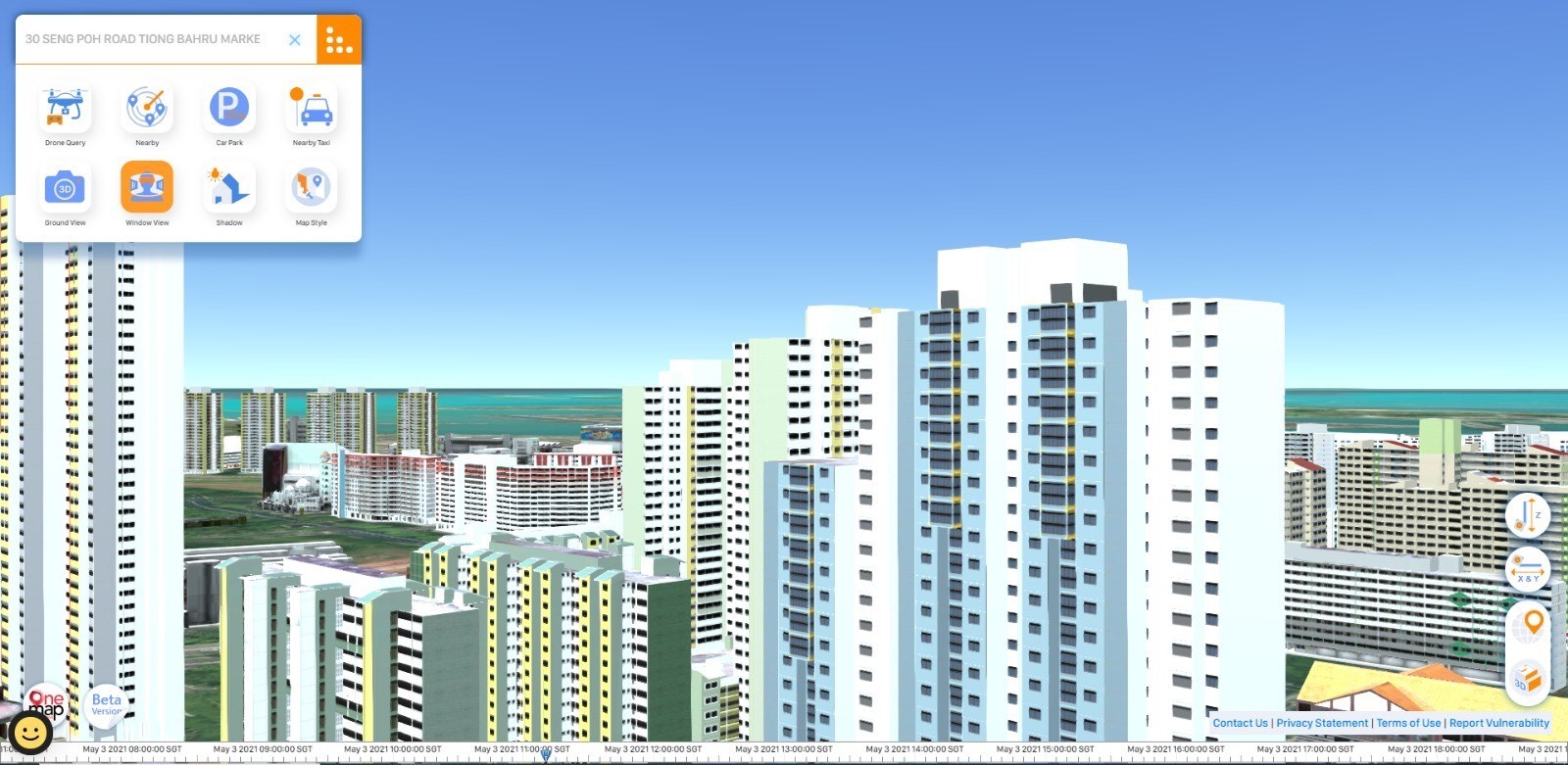 Visualisation of nearby amenities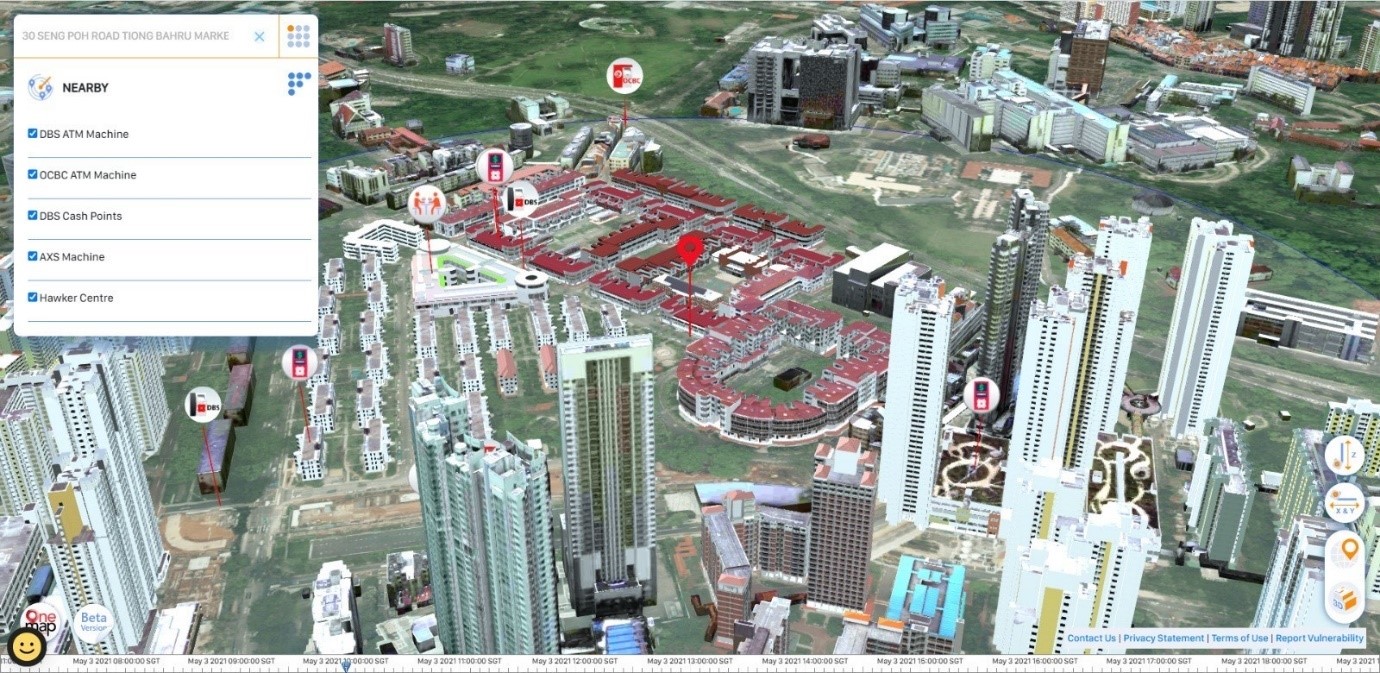 Annex B
SLA's MOUs with Ninja Van, Kabam and PropNex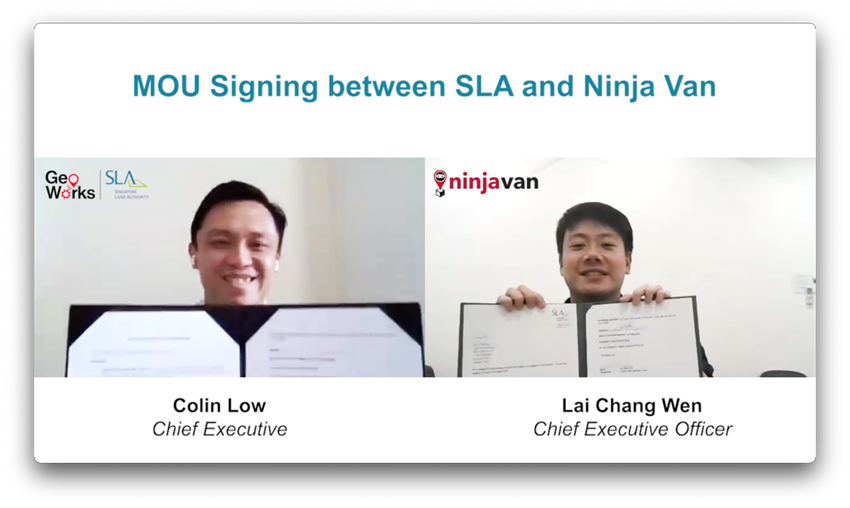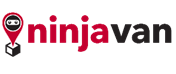 About Ninja Van
Ninja Van is a tech-enabled express logistics company providing supply chain solutions for businesses of all sizes across Southeast Asia. Launched in 2014, Ninja Van started operations in Singapore as a last-mile logistics company. Since then, it has become one of the region's fastest-growing tech logistics companies, powering businesses with innovative solutions that optimise e-commerce opportunities. Today, Ninja Van has grown its network to cover six countries: Singapore, Malaysia, Philippines, Indonesia, Thailand and Vietnam. For more information, visit www.ninjavan.co.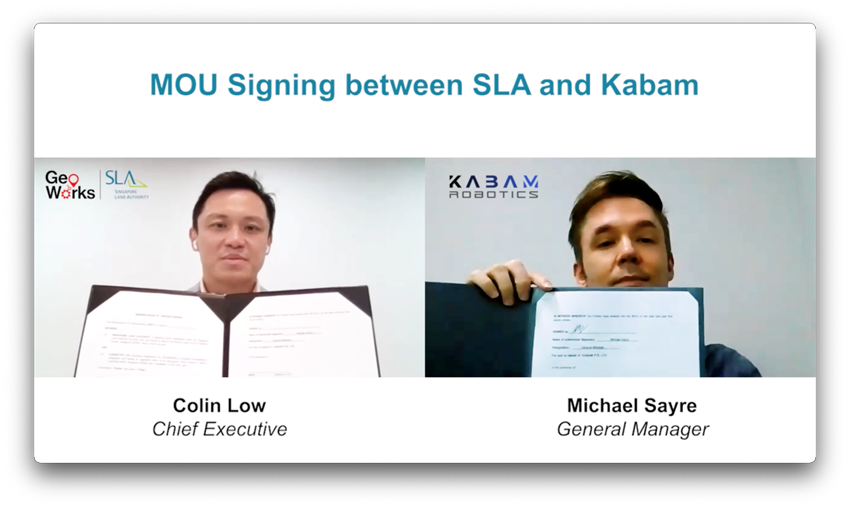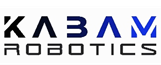 About Kabam Pte Ltd
Kabam, headquartered in Singapore, designs and builds service robots for the security, delivery and concierge sectors. Our modular architecture design allows us to configure our systems to match the needs of our customers. Our world-leading deployment approach employs cutting edge hybrid artificial intelligence to overcome the most challenging of applications, at a price tag that delivers fast return on investment.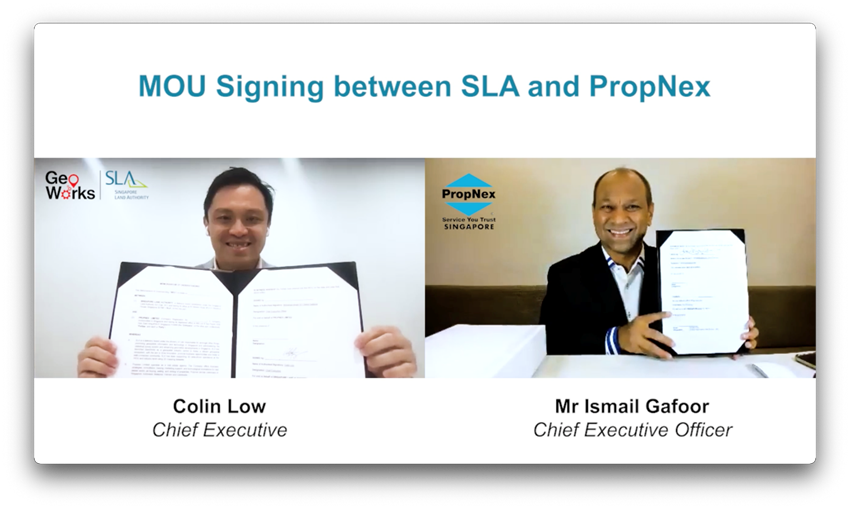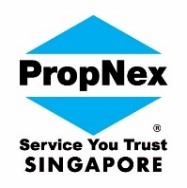 About PropNex Realty Singapore

PropNex Realty is the flagship subsidiary of PropNex Limited being Singapore's largest listed group with over 9,540 (as at 1 Aug 2021) sales professionals. As a real estate brokerage firm, we have a sizeable market share in the public, private residential markets and commercial/industrial segments.
PropNex is trusted for the breadth and depth of its knowledge of the property market. Apart from providing brokerage services, PropNex also offers real estate consultancy services via several strategic business units — Project Marketing, Investment sales, Valuation Department, Corporate Leasing and Auction Department. These strategic business units are headed by seasoned directors with years of experience in their relevant fields.
The Group has an established presence in Singapore's residential market, even as it continues to expand its suite of real estate services in Singapore and grow operations regionally. PropNex already has presence in Cambodia, Indonesia, Malaysia and Vietnam.
With a strong commitment to service excellence and quality, PropNex is the proud recipient of numerous accolades and is the recognized leader in real estate agency services.
For more information, please visit www.propnex.com