Home
> Articles > Press Releases >
2020
> Singapore Land Authority Launches 3D Singapore Sandbox at GeoWorks
Singapore Land Authority Launches 3D Singapore Sandbox at GeoWorks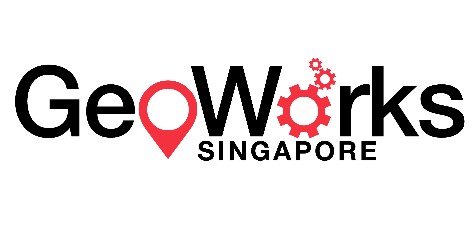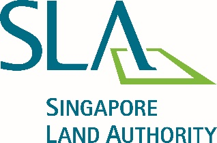 For the first time, nationwide 3D geospatial data to be made available for testing innovative solutions
Singapore Land Authority announces the launch of 3D Singapore Sandbox today, a first-of-its-kind collaborative environment for technology industry partners and developers. This initiative aims to encourage the use of 3D city models and geospatial data to develop and test new applications and services that can benefit both the public and private sectors.
2. The 3D Singapore Sandbox is open to industry partners who wish to leverage on 3D geospatial data to support better decision-making, and to develop smart solutions to drive operational efficiencies and value for business end-users.
3. "We believe the global geospatial industry is set to undergo a major transformation from 2D to 3D in the coming years. By making available 3D city models that we have built, as well as other geospatial data through the Sandbox, we hope innovators, entrepreneurs, industry partners and the technology community can develop and test new services and solutions that will add to Singapore's effort in becoming a smart city," said SLA GeoSpatial & Data Director and Chief Data Officer, Mr Ng Siau Yong.
4. The Sandbox will provide users with access to SLA's 3D geospatial data including 3D models of over 160,000 buildings mapped nationwide. Users will also have access to geospatial solutions provided by established industry partners Autodesk, Bentley Systems, Esri Singapore and Hexagon Geospatial. On top of that, SLA has collaborated with global data analytics provider LOTaDATA to provide access to "people movement intelligence" data for geo-analytics.
5. Businesses in the architecture, real estate, construction and logistics industries are identified as potential first movers. They are encouraged to leverage on the Sandbox to collaborate with industry partners to co-create and develop innovative solutions to enhance their business operations and processes. For example, real estate developers could use the Sandbox's 3D geospatial data, models, and tools to visualise how their new building construction would synergise with the surrounding urban environment to improve overall livability for the neighbourhood
6. The Sandbox is located at GeoWorks, the geospatial industry centre first set up by the Singapore Land Authority (SLA) in 2018 to promote business growth, drive innovation and foster a well-connected community of geospatial firms.
7. GeoWorks currently hosts 42 companies, otherwise known as GeoMembers, which consist of a combination of geospatial scale-ups and large established geospatial organisations. These GeoMembers come together to share and build expertise, network access, and business opportunities for the whole geospatial industry.
8. Businesses interested to use the 3D Singapore Sandbox can visit www.geoworks.sg for more information.
=== End ===
Annex A: Information on Industry Partners
Annex B: Quotes from Industry Partners
Annex C: Image references of the 3D Geospatial Platforms
Issued by:
The Singapore Land Authority
22 March 2020
Annex A: Information on Industry Partners
About Autodesk
Autodesk is the Architecture, Engineering, and Construction (AEC) industry's partner in the future of building, moving the industry toward more automated and collaborative ways of working. For decades, Autodesk's Building Information Modeling (BIM) software solutions have been a key ingredient in creating the world's building and infrastructure communities. For more details, visit www.autodesk.com
About Bentley Systems
Bentley Systems is the leading global provider of software solutions to engineers, architects, geospatial professionals, constructors, and owner-operators for the design, construction, and operations of infrastructure, including public works, utilities, industrial plants, and digital cities. Bentley's MicroStation-based open modeling applications, and its open simulation applications, accelerate design integration; its ProjectWise and SYNCHRO offerings accelerate project delivery; and its AssetWise offerings accelerate asset and network performance. Spanning infrastructure engineering, Bentley's iTwin Services are fundamentally advancing BIM and GIS to 4D digital twins. For more details, visit www.bentley.com
About Esri Singapore
As the country's foremost GIS authority, Esri Singapore delivers progressive 3D solutions through its world-leading ArcGIS platform. A new dimension to your data can now be added to help you understand the bigger picture – and more. By bringing your raw data to life through models and visualisations, you'll discover unknown patterns, trends, and relationships to enhance decision-making, decrease costs, and improve overall efficiency. For more details, visit www.esrisingapore.com.sg
About Hexagon Geospatial
Hexagon is a global leader in sensor, software and autonomous solutions. We are putting data to work to boost efficiency, productivity, and quality across industrial, manufacturing, infrastructure, safety, and mobility applications. Our technologies are shaping urban and production ecosystems to become increasingly connected and autonomous — ensuring a scalable, sustainable future. Hexagon (Nasdaq Stockholm: HEXA B) has approximately 20,000 employees in 50 countries and net sales of approximately 3.8bn Euro (4.3bn USD). Learn more at www.hexagon.com and follow us @HexagonAB.
About LOTaDATA
LOTaDATA is short for "lot of data". We are a San Francisco-based GovTech company with offices in Singapore, Bangkok, and Sao Paulo. True to our name, we source, collect, and analyze enormous amounts of data every day. Our fresh, accurate, anonymized, crowdsourced mobile GPS, WiFi, and Beacons datasets are available for 1450 cities and metro areas worldwide through the CityDash.ai platform.
Our goal is to provide "People Intelligence" for smarter cities and smarter businesses. We defined "People Intelligence" as an extension of geospatial intelligence for inferring people-presence, activity, and movement in the real world. We've been honored to be included in the GovTech 100 list of companies providing the most innovative technology solutions for government customers for the past three years: 2018, 2019 and 2020. While we specialize in technology for civic use cases, we also provide AI insights for retail customers, commercial real estate operators, hotels and hospitality businesses, banks and financial institutions, architecture and urban planners, consulting and research organizations, as well as academia. Visit www.lotadata.com for more information.
Annex B: Quotes from Industry Partners
Matthew Dewees
ASEAN Head of Architecture, Engineering, & Construction
Autodesk
"We are delighted to support the Singapore Land Authority in its ongoing efforts to build a more liveable environment in land-scarce Singapore through digital transformation. With Integrated Digital Delivery (IDD) a key thrust in Singapore's Construction Industry Transformation Map, I am confident that Autodesk solutions can improve infrastructure planning and design sustainability through better collaboration and workflows. We have supported many organisations on similar journeys and are committed to continue helping SLA achieve its goals."
Kaushik Chakraborty
Vice President – Southeast Asia and India
Bentley Systems
"Bentley systems is pleased and proud to join Singapore Land Authority's 3D Singapore Sandbox initiative, to collaborate with the infrastructure ecosystem partners in delivering value to the citizens. As a forward-thinking nation, Singapore has always pushed the boundaries in terms of setting up best-in-class infrastructure across transportation, utilities, housing, etc., to improve the quality of life for its citizens and residents. With our global experience in working with users that design, build, and operate infrastructure, we are looking forward to actively contribute to this initiative."
Thomas Pramotedham
CEO
Esri Singapore
"The Singapore Land Authority continues to lead efforts to leverage geospatial technology and practices – to continuously discover and expand space possibilities within the country. As a long-time partner, Esri Singapore is proud to be part of this ongoing collaboration to drive geospatial innovation through the offering of an open and interoperable platform within the 3D Singapore Sandbox. We hope to continue making progress through this enduring partnership towards building geospatial competencies for Singapore's future."
Dirk Wagemans
Vice President, Asia Pacific
Hexagon Geospatial
"Hexagon is committed to putting data to work to make cities safer and more sustainable. We are honoured to be part of the Geowork's Sandbox initiatives, where different organisations can leverage our cutting-edge location intelligence solutions, connecting to different information and interactively visualise and analyse all these information to drive real-time decision making."
Apu Kumar
CEO
LOTaDATA
"LOTaDATA invented 'People Intelligence' in 2017. Our fresh, accurate, anonymized, daily crowdsourced mobile datasets about people-presence, activity, and movement, are available for 1450 cities and metro areas worldwide. We are delighted and honored to be part of the GeoWorks family at the Singapore Land Authority, by joining forces with SLA, we have made our datasets accessible to the geospatial community to solve real-world problems ranging from urban planning, mobility, transportation, economic development, public health, and disaster resilience."
Annex C: Image references of the 3D Geospatial Platforms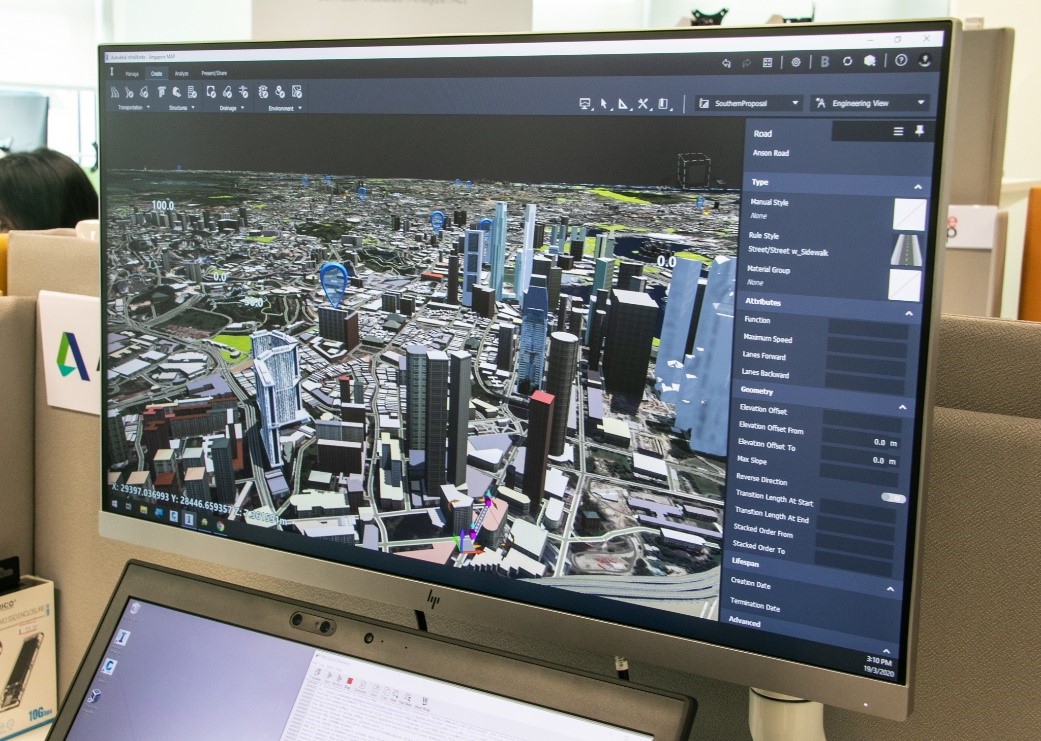 Autodesk: A virtual model of Singapore with a wide pool of data that allows a user to not only explore and conceptualize their infrastructure projects, but also optimize their designs by using flood simulation and dynamic site analysis. These processes help to improve to design accuracy and provide a better understanding of the impact in less time.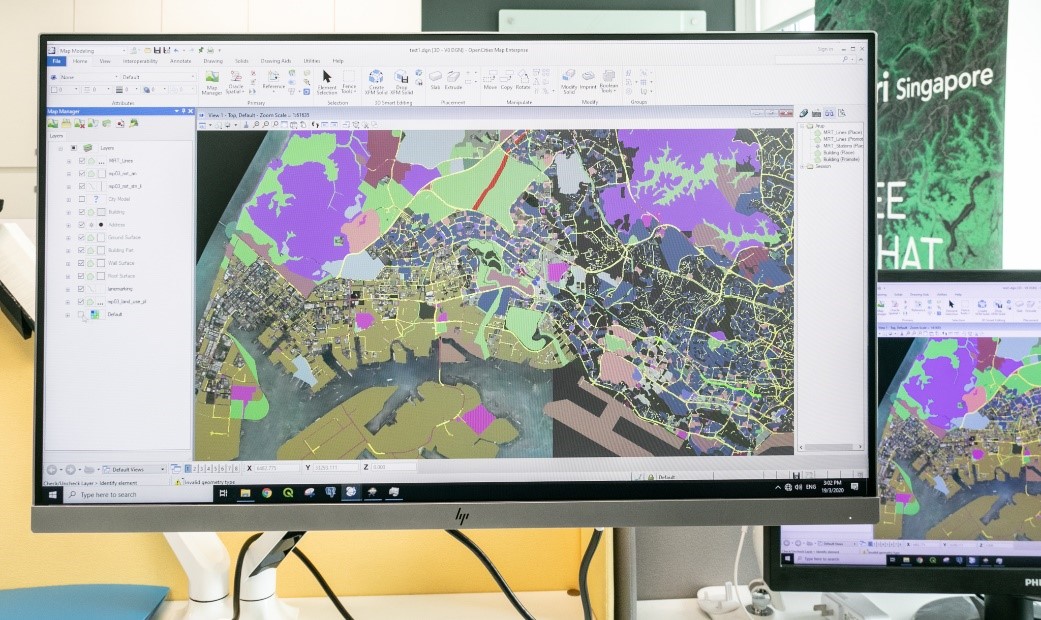 Bentley Systems: Bentley Systems' open and federated workflows enable data sources from various agencies to be integrated while keeping it in its native file format. Above shows data from CityGML, GeoTiff, Shape and DEM files. In addition, data from spatial databases, reality meshes, CAD data, Geodatabases and Pointcloud can be integrated. This otherwise restricted data is now available for organisations to use and introduce their own design elements to run checks and analysis with existing as-built context.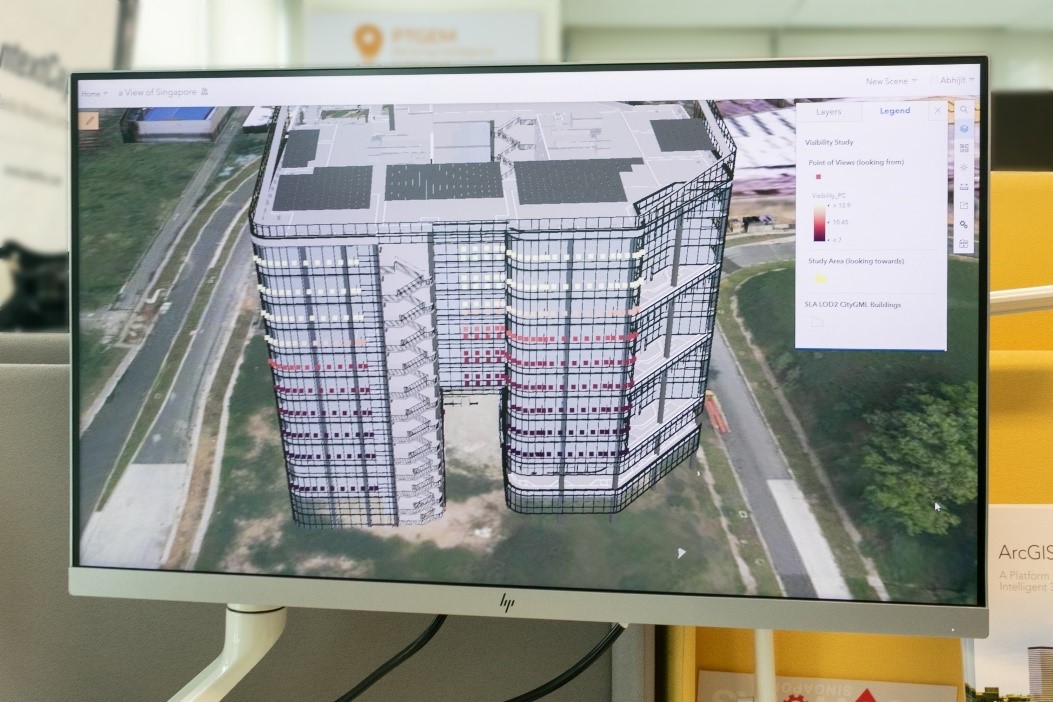 Esri Singapore: The Visibility Study conducted on this 3D-rendered building on the ArcGIS platform allows users to identify the clearest line of sight at each level, gauged by the distance of the furthest visible point.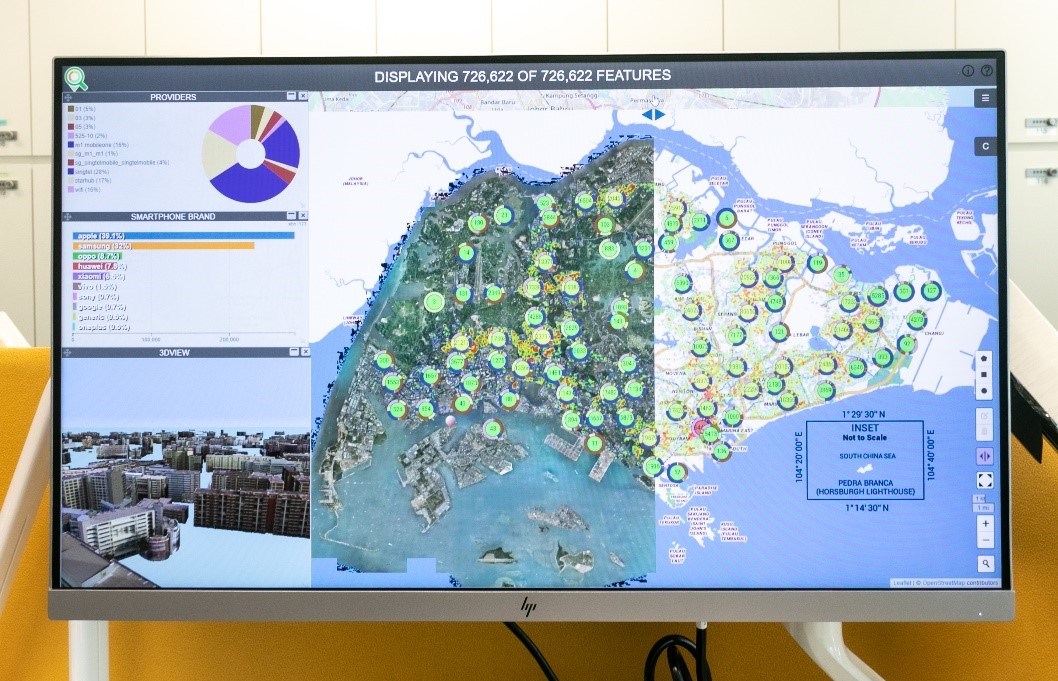 Hexagon Geospatial: The Smart M.Apps is a user friendly, lightweight map application that allow users to gain insights through visual analytics with the addition of Location Intelligence and other big data to develop business solutions.