Tuas West Extension Stations Unveiled Better Connectivity for Workers to Jurong and Tuas Industrial Estates
Home
> Articles > Press Releases >
2011
> Tuas West Extension Stations Unveiled Better Connectivity for Workers to Jurong and Tuas Industrial Estates

Joint News Release
Date of Issue: 11 January 2011
1. The Land Transport Authority (LTA) is pleased to announce the rail alignment and station locations for Tuas West Extension.
2. The new MRT line is an extension of the East-West Line from Joo Koon Station, consisting of a 7.5km long twin tracked viaduct and four aboveground stations. Please refer to Annex A for the Tuas West Extension alignment.
3. The stations - Tuas, Tuas Crescent, Tuas West and Tuas Link – will improve the MRT connectivity that is currently lacking in the Tuas area. With the Tuas West Extension, commuters working in the Jurong and Tuas industrial estates will enjoy significantly better public transport connectivity and enhanced accessibility. Commuters to the Tuas area can also look forward to savings in travelling time by up to 35 minutes. Please refer to Annex B for some examples of travel time savings.
4. When operational in 2016, Tuas West Extension is expected to serve about 100,000 commuters daily.
5. A 26-hectare depot will also be built to provide stabling and maintenance facilities for the additional 13 North-South-East-West Line (NSEWL) trains that will be bought for the Extension, as well as to cater for future capacity expansion for the NSEWL.
6. In addition, a road viaduct will be constructed to provide motorists an alternative to the busy Pioneer Road. The 4km-long dual 3-lane viaduct will run along Pioneer Road to join Tuas South Avenue 3 with 2.4km of the road viaduct integrated with the rail viaduct. Please refer to Annex A for the road viaduct alignment and Annex C for the artist's impression of the two viaducts.
7. All efforts have been made to minimise land acquisition for Tuas West Extension. The acquisition will affect nine properties and 49 part lots along Pan Island Expressway, Joo Koon Circle, Tuas Road, Pioneer Road, Tuas West Road, Tuas South Avenue 3, Tuas West Drive. The Singapore Land Authority has gazetted the land affected by acquisition today.
Annexes:
Annex A: Alignment of Tuas West Extension
Annex B: Examples of Travel Time Savings with Tuas West Extension
Annex C: Artist's Impression of Rail and Road Viaduct Integration


Annex A: Alignment of Tuas West Extension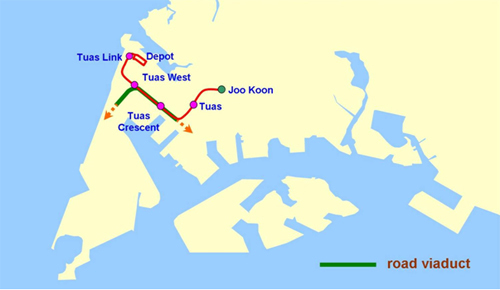 Annex B: Examples of Travel Time Savings with Tuas West Extension
| Origin | Destination | Today (minutes) | With Tuas | Time Saved (minutes) |
| --- | --- | --- | --- | --- |
| Clementi | Tuas Crescent | | | 25 |
| Choa Chu Kang | Tuas Crescent | | | 25 |
| Lakeside | Tuas Crescent | | | 25 |
| Bedok | Tuas West | | | 30 |
| Woodlands | Tuas West | | | 30 |
| Ang Mo Kio | Tuas West | | | 25 |
NSL: North South Line
EWL: East West Line
CCL: Circle Line
Annex C: Artist's Impression of Rail and Road Viaduct Integration