NHB-SLA press release on request-for-interest for integrated museum and art facilities at Queen Street and Loewen Road
Home
> Articles > Press Releases >
2008
> NHB-SLA press release on request-for-interest for integrated museum and art facilities at Queen Street and Loewen Road

PRESS RELEASE
Embargoed till noon on 15 October 2008
Singapore, 15 October – Singapore's heritage landscape will receive a fresh boost today. TheNational Heritage Board (NHB) and Singapore Land Authority (SLA) are inviting proposals to develop, operate and manage integrated museum and art facilities. A total of three State properties in prime sites will be made available through this Request-for-Interest (RFI) exercise.
2 The properties are at 222 Queen Street, 27A and 27B Loewen Road. This is the first initiative launched under NHB's Assistance in Infrastructure for Museums (AIM) scheme, together with the SLA. It is also the first time SLA is releasing State properties for niche arts and heritage related uses through an RFI.
3 Said Mr Michael Koh, Chief Executive Officer of NHB: "NHB is very happy to partner SLA in making the properties at Queen Street and Loewen Road available for mixed arts and heritage uses. These developments complement existing museum and art facilities, and create greater synergies. Through such inter-agency partnerships, we hope to encourage private collectors and museum operators to anchor themselves in Singapore. This can create more buzz and excitement in Singapore's heritage scene for all."
Assistance in Infrastructure for Museums (AIM)
4 As Singapore's reputation as a regional heritage and cultural hub grows, NHB has seen more local and foreign private collectors wishing to establish a base for their collections here. Many are attracted to Singapore's leadership in museum curation, collection management, conservation, art logistics, exhibit design and related services. Many have expressed interest in sites and buildings to establish their own private museums and cultural developments. NHB's AIM scheme is therefore developed to assist in this area.
Benefits of Integrated Museum and Art Facilities
5 The development of integrated museum and art facilities paves the way for new and refreshing mixed-use developments in Singapore's heritage scene. It offers private entrepreneurs creative opportunities to play a role in catalysing the growth of Singapore's heritage eco-system. With the likes of private museums, artist studios and residencies, galleries, F&B outlets or retail spaces under one roof, these lifestyle facilities will further enrich and enhance our cultural landscape.
6 Making prime sites available for the development of integrated museum and art facilities affords private collectors a launch pad for their ideas and aspirations on several different levels. Firstly, all three sites are highly accessible and located close to the city centre. These make them ideal locations for museums and cultural lifestyle spaces.
7 The properties are also close to complementary developments. 222 Queen Street is at the Bras Basah-Bugis arts and entertainment belt, while the Loewen Road properties are just next to the Dempsey lifestyle precinct of chic F&B outlets, antique shops and art galleries.
8 Finally the adaptive reuse of these former state properties and older buildings helps private collectors avoid the high costs involved in building museums from scratch. This makes it more attractive for them to invest in this concept.
More State Buildings Converted For Arts and Heritage Purposes
9 As the custodian of State properties, SLA helps meet mixed and varied land allocation needs from public and private agencies. This is the first time SLA has permitted State properties for such use through a RFI exercise. The tenancies are for an initial term of three years, with an option to renew for two further terms of three years each, subject to agreement.
10 Said Mr Teo Cher Hian, SLA's Director of Land Lease (Private): "SLA identified the Loewen Road properties to be suitable for museums and arts use and for fulfilling our vision of Tanglin Village as an integrated lifestyle, arts and education enclave. They will create synergies with similar offerings from Red Sea Gallery, Loewen Gardens and Renaissance Antique Gallery. State properties like 222 Queen Street, a former school with classrooms and huge halls, are also well-configured and suited to be converted into art galleries and thematic museums. As State properties often come with lush backyard greenery, there are opportunities to create outdoor touchpoints to erect art installations in the open for greater visibility."
11 In recent years, more State properties have been optimised and adapted as lifestyle destinations for more to enjoy. In 2007, SLA publicly tendered out approximately 72,334 square metres in gross floor area (GFA) (equivalent to about 18 properties) with arts and heritage as allowable uses. Examples of successful adaptive reuse include Old School at 11 Mount Sophia, Emily Hill at Wilkie Road, Waterloo Street and Little India. These tie in with SLA's mission to optimise land resources for both economic and social needs, while enabling a diverse mix of land use.
222 Queen Street
12 222 Queen Street is a charming four-storey building occupying some 5,200 square metres in floor area. It was formerly the Catholic High Secondary School. This property is within close proximity of existing museums and art groups like the Singapore Art Museum (SAM), 8Q sam, Sculpture Square, Action Theatre and the Young Musician's Society Arts Centre. Centrally located in the Bras Basah arts and heritage district, it is also strategically placed next to the future Bras Basah MRT Station and close to the upcoming Bugis and Selegie entertainment areas.
Loewen Road Cluster (27A/30B/30C and 27B)
13 The Loewen Road properties form part of the hip and happening Tanglin Village precinct. The larger property at 27A includes two smaller buildings, 30B and 30C. With a combined GFA of approximately 1,500 square metres, the two locations are ideal for boutique-sized heritage developments.
14 Transformed over the past few years into a chic lifestyle destination, the Tanglin Village area boasts popular F&B outlets such as PS Café and White Rabbit, as well as antique galleries, eclectic furniture shops and wine bars. The introduction of private museums, artist residences and associated developments will complement the precinct's existing mix of lifestyle tenants.
Request-for-Interest (RFI) For Development of Integrated Museum and Art Facilities
15 Together with SLA, NHB is launching a RFI exercise to request for interest and proposals from the public to develop these three sites. Information packages with details of the three sites can be collected from NHB's counter during office hours – 9.00am to 5.00pm – from 15 October 2008. Interested parties will be given one month to submit their proposals.
16 Proposals will be evaluated by a committee comprising NHB, SLA and other relevant technical agencies based on several key criteria. They include the overall concept, quality of museum and collections, management experience, track record as well as the relevance of the proposal in enhancing Singapore's heritage industry.
17 Only short listed proposers will be notified in the week of 24 November 2008 to attend interviews by the committee. Selected proposers will be notified in early December 2008. A closed-door briefing will be held for all proposers who are keen to learn more about this initiative and may wish to participate. Details of the briefing are as follows:
Date:
22 October 2008
Time:
10.00am
Venue:
Hillview Room
National Heritage Board
140 Hill Street
#03-02 MICA Building
Singapore 179369
18 SLA will conduct site show-rounds on 22 October 2008. Those who would like to view the sites at other times can contact Ms Kellyn Chng at (65) 6323 0278 or kellyn_chng@sla.gov.sg to make an appointment.
Submission of Proposals
19. All proposals should be submitted together with the submission form to the following address no later than 5.00pm, 14 November 2008:
National Heritage Board
140 Hill Street
#03-02 MICA Building
Singapore 179369
(Attention: Ms Joanna Han)
20 For enquiries, please contact Ms Joanna Han at (65) 6332 4419 or joanna_han@nhb.gov.sg.
- The End -
For maps of all three sites, refer to Annex A.
For details of all three sites, refer to Annex B.

About the National Heritage Board
The National Heritage Board (NHB) champions the development and promotion of a vibrant cultural and heritage sector in Singapore. It makes heritage enriching, relevant and accessible to all through staging innovative programmes and forging collaborative partnerships. NHB leverages on technology and refreshing new approaches to make heritage more dynamic, alive and exciting for different audiences. It also manages both national and public museums, the National Archives of Singapore, and the Heritage Conservation Centre. Please visit www.nhb.gov.sg for more information.
About the Singapore Land Authority
Singapore Land Authority (SLA) is a statutory board with the Ministry of Law. Its mission is to optimise land resources for the economic and social development of Singapore. SLA is responsible for the direct management of some 14,000 hectares of State land and about 5,000 buildings. It is also in charge of land sales, leases, acquisitions and allocation, developing and marketing land-related information, and maintaining the national land information database through digitised land information services. SLA is also the national land registration authority for property transactions, and the issuance and guarantee of land titles in Singapore. It also manages and maintains the national land survey systems, including the defining of boundaries or legal limits of properties based on a coordinated cadastre survey systems. Please visit www.sla.gov.sg for more information.
Map of 222 Queen Street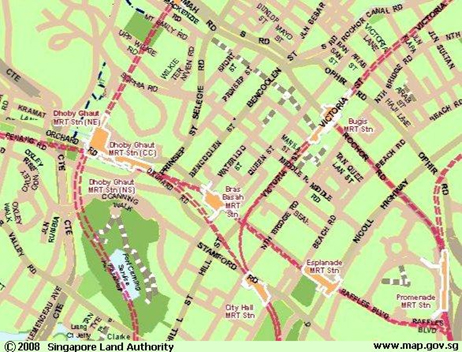 Map of 27A and 27B Loewen Road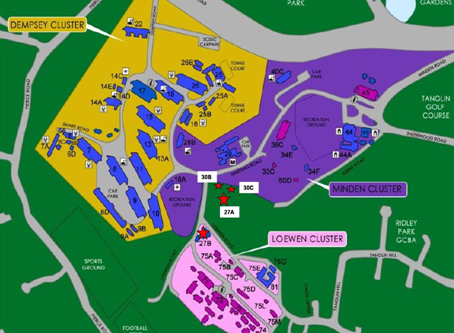 | | |
| --- | --- |
| Annex B: List of Proposed Properties | Annex B |
| Option | Property(s) | Details in Annex | Tenure/ Lease Period | Estimated Gross Floor Area (sqm | Estimated Land Area (sqm | Rent per Month | Rental per Sqm per Month | Public Site Show-round |
| --- | --- | --- | --- | --- | --- | --- | --- | --- |
| 1 | Former Catholic High Secondary School | A | 3+3+3 years | 5,248.9 | 1,559.4 | $42,516 | $8.10 | 22 Oct, Wed, 2.00pm |
| 2 | 27A, 30B & 30C Loewen Road | B | 3+3+3 years | 1,045.5 | 13,106.5 | $12,337 | $11.80 | 22 Oct, Wed, 4.30pm |
| 3 | | C | 3+3+3 years | 406.2 | 3,512.2 | $5,159 | $12.70 | 22 Oct, Wed, 4.30pm |
For all properties above, up to a maximum of 20% of GFA has been approved for commercial uses. Possible commercial uses could include, but are not limited to, F&B outlets, commercial galleries, shops and specialty retail, etc.