Minister for Law appoints Mr Tham Khai Meng as a new Member of the Singapore Land Authority
Home
> Articles > Press Releases >
2008
> Minister for Law appoints Mr Tham Khai Meng as a new Member of the Singapore Land Authority
FOR IMMEDIATE RELEASE
2 Jun 2008
Mr Tham Khai Meng, Co-Chairman Asia Pacific for Ogilvy & Mather Worldwide, has been appointed by the Minister for Law, Mr K Shanmugam, as a new Member of the Singapore Land Authority for a two-year term, effective 1 June 2008.
2. Mr Tham who is listed as ''One of the most influential people in the communication business'' by Advertising Age, a New York based publication, has more than 20 years experience in advertising, working in London, New York and across Asia. He is internationally recognised as a world-class advertising person and has been named by Campaign Brief Asia as the Number One Creative Director in Asia for seven consecutive years. Mr Tham and the existing members will lead and guide SLA in the discharge of its statutory responsibilities to optimise Singapore's land resources. (Please refer to Annex A for more information).
3. The Minister for Law has also re-appointed Mr Greg Seow as Chairman SLA. Three other members were also appointed for a further 2-year term effective 1 June 2008. They are:
| | |
| --- | --- |
| a. | Mr Yap Kim Wah, Senior Vice President, Singapore Airlines Ltd; |
| b. | Mr Latiff Ibrahim, Managing Partner, Harry Elias Partnership; |
| c. | Ms Koh Lin-Net, Deputy Secretary (Trade) (Designate), Ministry of Trade and Industry; |
4. The other Members of the Authority are:
| | |
| --- | --- |
| a. | Mr Ong Chong Tee, Deputy Managing Director, Research, Monetary Policy & Investments, Development and External Relations, Monetary Authority of Singapore; and |
| b. | BG (NS) Lam Joon Khoi, Chief Executive, SLA |
| c. | Mr Chaly Mah, CEO & Country Managing Partner, Deloitte and Touche, Certified Public Accountants; |
| d. | Mr Ed Ng, President and CEO, Southeast Asia, GE Commercial Finance; |
| e. | Ms Rita Soh Siow Lan, Director, RDC Architects Pte Ltd; |
| f. | Professor Pang Eng Fong, Vice Provost (Academic Strategic Planning), Dean, Lee Kong Chian School of Business, Singapore Management University; and |
| g. | Dr Lee Tsao Yuan, Executive Director, SDC Consulting. |
5. Chairman, Board and staff of SLA also place on record their appreciation for the outstanding service rendered by Mr Jimmy Tay, Chief Executive, Southeast Asia and Senior Vice President, Asia Pacific, Hill & Knowlton, who retired as Member of the Authority on 31 May 2008.
For media queries, please contact Ms Margaret Chee, Assistant Manager, Corporate Communications at Tel: 63257180 or Email: Margaret_Chee@sla.gov.sg.
Issued by:
The Singapore Land Authority
2 June 2008
About SLA
Singapore Land Authority (SLA) is a statutory board with the Ministry of Law. Its mission is to optimise land resources for the economic and social development of Singapore. SLA is responsible for the direct management of some 14,000 hectares of State land and about 5,000 buildings. It is also in charge of land sales, leases, acquisitions and allocation, developing and marketing land-related information, and maintaining the national land information database through digitised land information services. SLA is also the national land registration authority for property transactions, and the issuance and guarantee of land titles in Singapore. It also manages and maintains the national land survey system, including the defining of boundaries or legal limits of properties based on a coordinated cadastre survey system.
-End-
Annex A: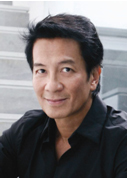 Mr Tham Khai Meng is Co-Chairman for Ogilvy & Mather Asia Pacific. He started his advertising career in London and joined Ogilvy & Mather in 2000. Five years later, he was elected to the Ogilvy & Mather Worldwide Board.
Having won more than 500 accolades at an international level, Mr. Tham is one of the most awarded creative directors in the world. Having won numerous Gold accolades at international advertising award shows including Cannes, Clio, The One Show and Communication Arts. He was also Chairman of the Clio Jury in 2005 - the first Asian to be given this honour. The Annual Clio Awards recognizes advertising and design excellence worldwide in the areas of TV, Print, Outdoor, Radio and Innovative media. It is widely considered one of the most prestigious awards shows on the international advertising circuit, held annually in Miami Beach, Florida, USA.
Mr Tham is also a member of the Urban Redevelopment Authority.
He holds a BA (1st Class) from Central St Martin's, UK, and a MA (summa cum laude) in film and History of Art from the Royal College of Art, United Kingdom.