This year, the Singapore Land Authority's (SLA) GeoWorks organised the Singapore Geospatial Week+ 2020, an extended virtual edition of the Singapore Geospatial Week that was held from 7-18 September 2020. An annual event that brings together the geospatial community for an exciting calendar of activities focused on location-based and mapping innovation and technology, the Singapore Geospatial Week+ 2020 attracted over 2,300 unique participants from all over the world, as well as 80 speakers and partners. The event also featured over 60 webinars spanning themed tracks such as Built & Infrastructure, Mobility & Logistics, Real Estate & Retail and Urban & Environment, as well as Open Houses comprising developer workshops and more!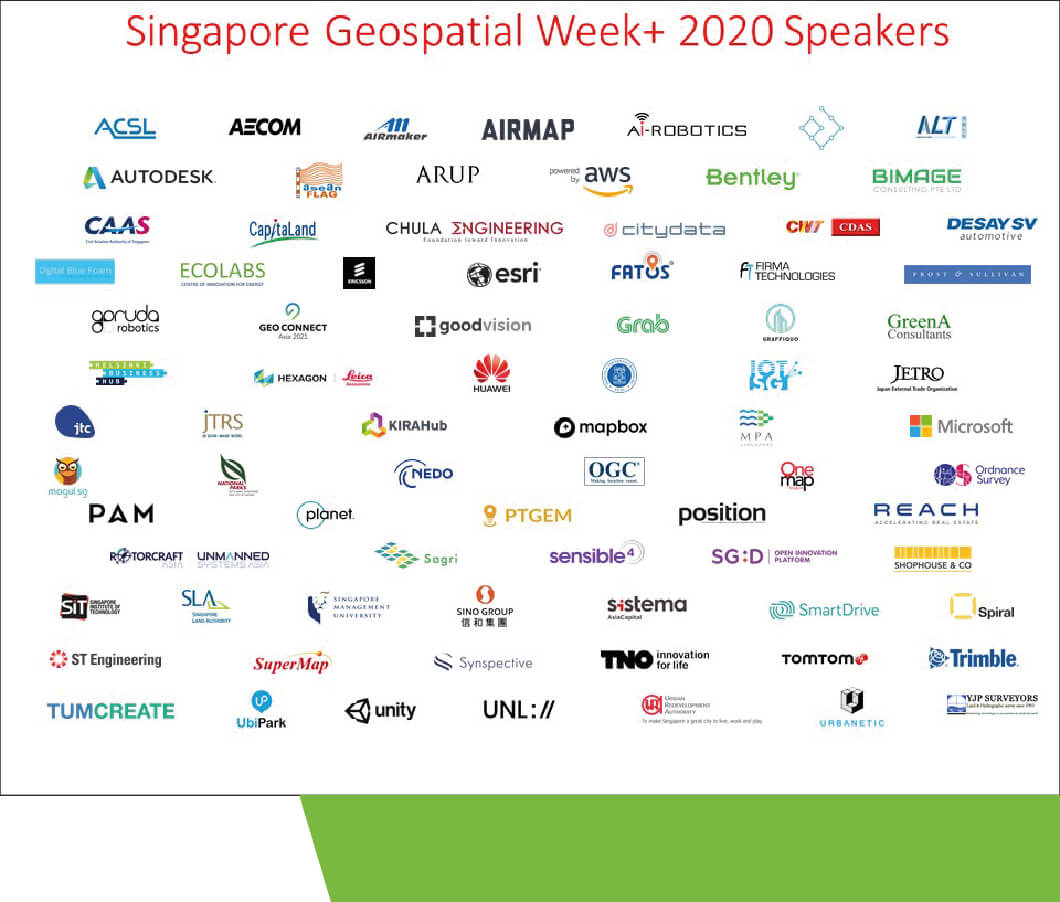 The event featured over 80 speakers from a wide range of organisations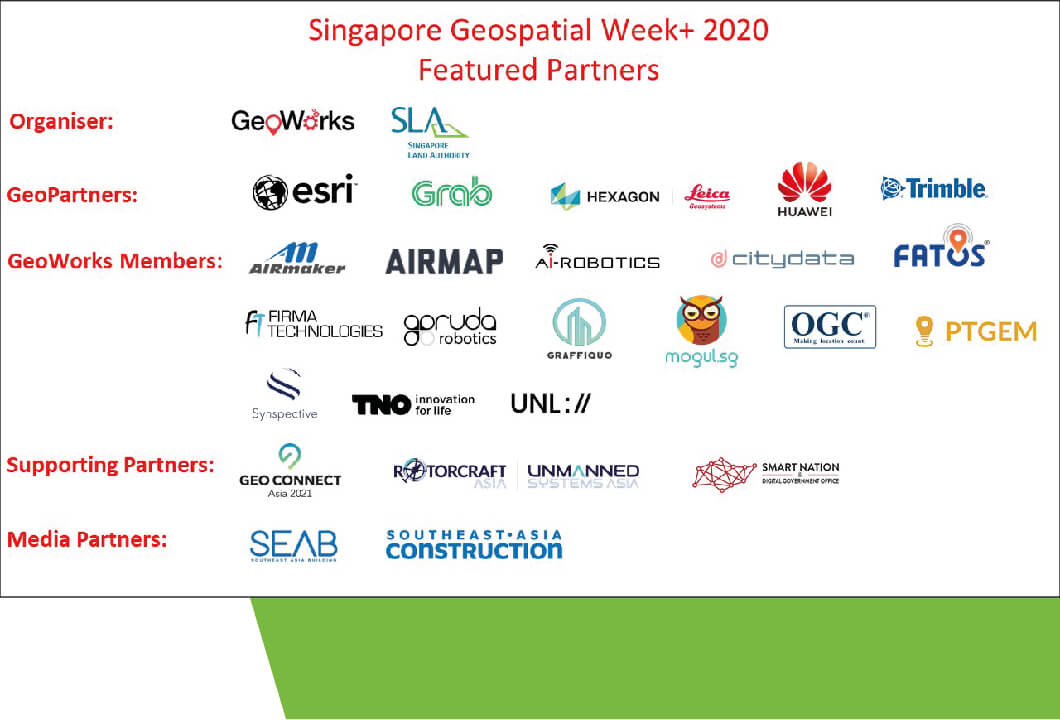 GeoWorks' own partners too are prominently involved in the event
The two week-long geospatial celebration was launched by Mr Simon Ong, SLA's Acting Chief Executive, as well as Mr Tan Kok Yam, Deputy Secretary, Smart Nation and Digital Government.
Watch the Singapore Geospatial Week+ 2020 launch video here: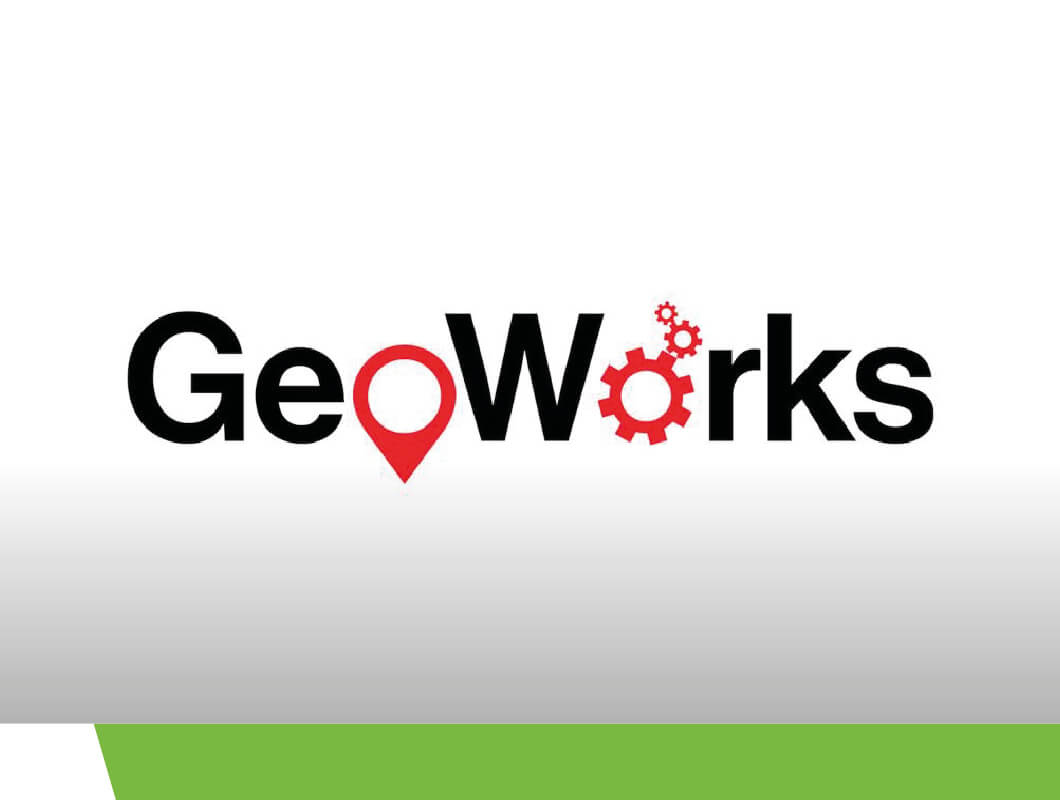 Singapore Geospatial Week+ 2020 Launch
In Mr Ong's welcome speech, he said: "When we first mooted the idea of creating a Singapore Geospatial Week a year and a half ago, we did not anticipate we would get such an overwhelming response from the geospatial industry. We thought it was a good occasion to celebrate and encourage the use of geospatial technology and information supporting our Smart City initiatives. We had imagined a limited one-week event, attended by a selection of experts and attended by a small group of geospatial enthusiasts.
"We did not imagine that in just our second year, we would be organising an expanded two-week programme, speaking to an international audience, playing host to over 60 webinars, and having over 80 speakers and panellists from around the region contribute their time, knowledge and expertise to our event. I am deeply humbled by the industry's response and would like to thank everyone here today who has contributed to the success of Singapore Geospatial Week+ 2020."
Launch of OneMap3D Beta
One of the highlights of Singapore Geospatial Week+ 2020 was no doubt the launch of the OneMap3D (OM3D) Beta, SLA's open-source 3D city map portal. OM3D Beta is now available for trial by businesses, developers and members of the public. For more information, visit www.OneMap3D.gov.sg.
Watch the GeoWorks OneMap3D Beta Launch video here:
However, the OneMap3D Beta Launch was not the only highlight of the Singapore Geospatial Week+ 2020!
Covid-19-themed webinars: Managing safety for the community
A spotlight feature of the Singapore Geospatial Week+ 2020 was the COVID-19 webinar series, which showcased the use of geospatial solutions to better manage public safety efforts in a pandemic. Led by industry speakers – including GeoWorks' GeoTechs CITYDATA, TNO, and GeoPartner Grab, amongst others – the webinar series highlighted how geospatial technologies could be leveraged in an urban environment and integrated into a new normal for the community.
International knowledge sharing
GeoInnovation from Around the World was introduced as a dialogue segment to promote geospatial sharing across borders for industry professionals. Hosted by GeoWorks' GeoCommunity partners from around the globe, this knowledge sharing initiative was led by start-ups and agencies from countries including Australia, Finland, Japan, the United Kingdom and the United States, and was aimed at building global geospatial interest and expertise sharing.
Geospatial data and analytics in public sector
Geospatial data and analytics have helped government organisations make better and more efficient decisions when it comes to city planning. The public sector sharing segment drew focus to the use of geospatial technologies to achieve better governance, and looked at how it has been adopted by public agencies for land and sea planning, the development of liveable cities and even the urban management of trees and greenery.
For example, SLA collaborated with the National Parks Board (NParks) on the use of location- based information to drive efficiency in the management of green spaces. Leveraging the OneMap base map as a visualisation tool, maintenance information is streamlined on a single platform to identify gaps and minimise overlaps in service delivery. Featuring updated counts and location information of trees to be maintained, this platform is also used for service and operation planning.
Regional Geospatial Youth Forum
For the second year running, SLA also held the Regional Geospatial Youth Forum in conjunction with the Singapore Geospatial Week to generate and build geospatial interest, awareness and a vibrant community among young professionals and students from Singapore and various ASEAN countries and regions.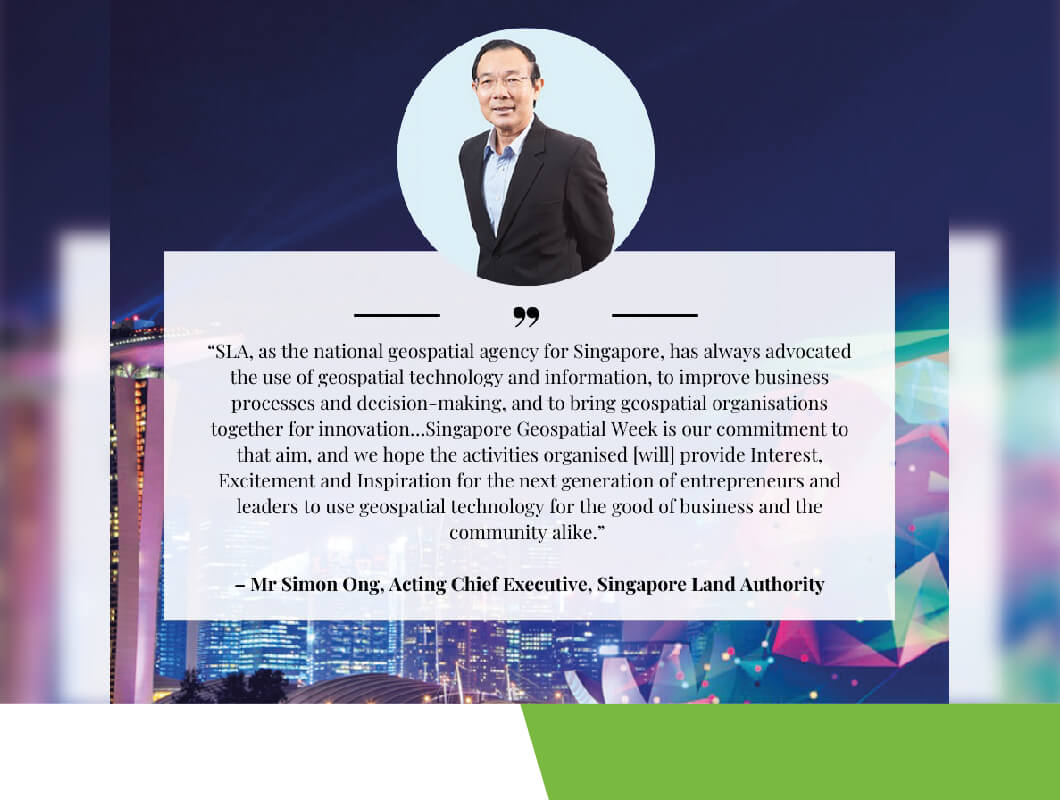 SLA's commitment to spur
the geospatial growth
Mr Ong also said that he hoped that the event would encourage other organisations to consider holding their own geospatial days in Singapore or elsewhere in the world, so that everyone becomes aware and familiar with the power that geospatial technology can bring.
"Perhaps one day in the future, we can look back to 2020 and see Singapore Geospatial Week as the seed that would eventually grow to become the premier regional or global geospatial celebration. We look forward to that day," added Mr Ong.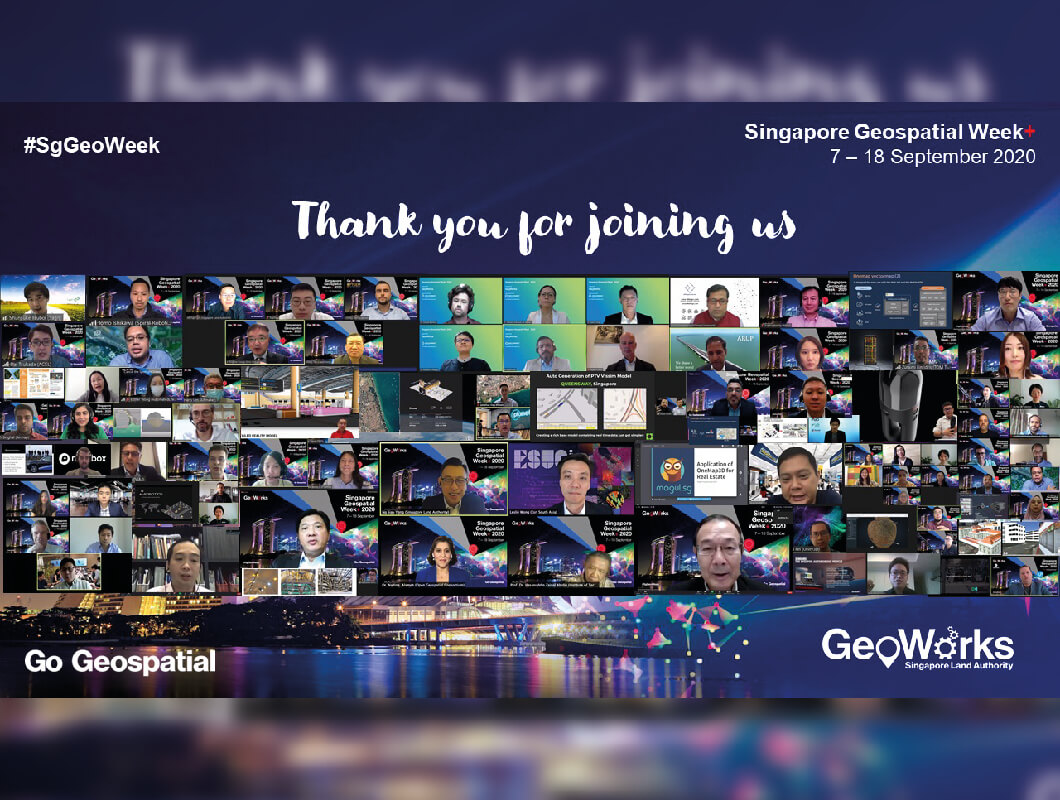 SLA would like to extend its appreciation to everyone who played a part in making this event a success. Here's to an even bigger and better Singapore Geospatial Week next year!